100+ genuinely sustainable brands to shop now and build a better tomorrow
Unsure which brands are doing their bit for the planet? We've got you covered.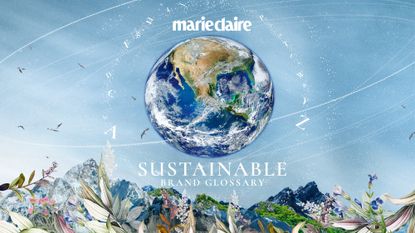 Unsure which brands are doing their bit for the planet? We've got you covered.
Welcome to the Marie Claire Sustainable Brand Glossary: an A-Z of the brilliant brands doing their bit to change how we shop for good.
From beauty to fashion, health and wellness to homes, consider this your ultimate guide to the eco-friendly brands worth having on your radar. If you're keen to make sustainable living a part of your day-to-day, our advice is: do your research, support certified brands (look out for whether brands are a certified B-Corp brand and so on), and remember that where you spend your money - and further, which brands you choose to support - has a huge amount of power.
Do note: the majority of the brands in this glossary have already succeeded in building both eco-friendly workforces and products, while others are on the journey. All are making a notable effort, at varying levels, to build a better tomorrow. We've indicated in the copy whether they're certified as fully sustainable, at current, or on their way to being 100% eco-friendly.
No greenwashing, over here...
Sustainable brands to shop now to build a better tomorrow
A
Leading the charge in skin supplements since 2006, Advanced Nutrition Programme is a gluten- and artificial flavouring-free supplements brand. Having eliminated single-use plastic in favour of environmentally responsible paper-based pots printed with vegetable ink, the brand scrupulously screens all its ingredients and triple tests for quality and purity.
The first period care company to certify as a B Corporation, Aisle offers a sustainable collection of reusable menstrual products – including period underwear, cloth pads, and menstrual cups. Using rigorous ethical and sustainability standards in its supply chain, a 2020 third-party Life Cycle Assessment of the brand's products found that, compared to disposables, Aisle products reduce waste by 99%, and CO2 emissions and energy consumption by 50%. The brand also ensures that its suppliers comply with a signed code of conduct, and adopt a thorough research and development process to ensure it sources the most sustainable textiles possible.
Luxury natural beauty brand Albiva is on a mission to minimise its environmental footprint, while maximising its social good – all while creating innovative, results-driven skin care. Having recently been awarded the Butterfly Mark by Positive Luxury in recognition of its efforts, Albiva ensures its ingredients and materials are responsibly sourced and preserve natural habitats, while supporting local economies and providing communities with work, too.
Inspired by its founder's idyllic upbringing in Mauritius, ALICIA SWIM cuts its swimwear from recycled Econyl yarn – most of which is sourced from fishing nets intercepted in coastal areas. All of the brand's swimwear is manufactured locally in Mauritius, and the brand uses recycled packaging and boat cargo to transport raw materials in an attempt to reduce its environmental impact.
Aligne makes modern clothes for modern women, so it only makes sense that sustainability is a huge part of its brand ethos. Focusing on near shore production, Aligne's garments are currently produced in ethically audited factories in Portugal, Turkey, Romania, China and India. Additionally, all garments are transported to retailers by road, reducing carbon footprint, and the brand's care labels, swing tickets and packaging are all made from recycled and organic materials.
Recognising that the climate crisis can't be tackled by one brand alone, Allbirds is calling for carbon labelling to become as ubiquitous in the fashion industry as nutrition labelling is in the food industry. Allbirds' journey towards carbon neutrality is threefold: first, it measures its impact using an LCA tool, then it reduces it by investing in natural materials and better practices, and, finally, it offsets what is left through verified emissions reduction projects. As a result, the brand achieved carbon neutrality throughout its entire business in 2019 and, in a move towards total transparency last year, became the first fashion brand to label all of its products with carbon footprints.
With many meal delivery services offering vegan options that are little more than an afterthought, sometimes the faff of grocery shopping, cooking and washing up can seem like the only way for vegans to eat well. Enter: allplants. In just four years, allplants has grown to become the number one plant-based brand in the UK – not bad, considering it started life as a supper club for friends at its founder's kitchen table. A certified B Corp, allplants takes the perceived effort out of switching to a plant-based diet by offering nutritionally balanced, healthy, chef-made vegan meals that can be frozen and heated up at your convenience.
From solar powering its factory and Queensland HQ, to converting its inorganic waste into high-grade premium soils, soil conditioners and potting mixes for use in land rehabilitation projects, Alpha-H have always had an innate connection to the earth. Additionally, all its products are cruelty free, free from any ingredients that might harm the planet or its people, and packaged sustainably.
It isn't hard to see why Ancient + Brave was recently declared the number-one bestselling health and wellness brand at Selfridges. The ingredients in its nutrient-rich supplements are sourced from environmentally conscious, sustainable, and organic suppliers where possible, and the brand is also a member of the ESGmark and 1% for the planet (with B Corp certification pending).
Using the best of New Zealand's native ingredients, plant-powered skincare brand Antipodes has never compromised on clean formulations. All products are certified vegetarian, 28 are totally vegan, and all are certified organic. Oh, and the only animal products you'll find here are those which come from lovingly kept bees. Hello, ethically sourced Manuka Honey.
It may have only been founded in 2019, but Aqua & Rock already has some pretty impressive innovations under its belt. From its AquaTriblend fabric, which reuses plastic waste, to its Bio-circular leather, which reuses agricultural waste (all of the leather used in Aqua & Rock's clothes and trainers is fully compostable and goes on to become an organic fertiliser) this is one fashion brand on a mission to remedy our throwaway culture – one innovation at a time.
Chances are you've heard of (and/or pined for) Aromatherapy Associates. Revolutionising wellness at home, this pioneering brand is best known for its Atomiser – a technical breakthrough that diffuses 100% natural pure essential oil blends straight from the bottle; no water or heat necessary. Having recently achieved B Corp certification, Aromatherapy Associates believes that businesses should have a legal obligation to protect people and the environment, and is pushing for its suppliers to also become B Corps, so it can ensure the highest standards of ethics throughout its supply chain.
Aspiga's mission is simple: to work with its suppliers in India and Kenya to achieve a more socially and environmentally conscious future for the fashion industry. Launching its Beach Clean-up programme in Malindi, southeastern Kenya, which takes place once a month and is helped by young volunteers who in return for their work, receive full payment of their annual school fees, Aspiga collected over 1.5 tonnes of plastic from Kenya's beaches in 2020 – all of which was taken to a recycling plant in Watamu. The brand has now taken its Beach Clean Campaign to the UK, too, joining monthly beach clean ups near its two Cornish shops, and trialling one near its head office on The River Thames.
Designed to be handed down through generations, iconic accessories brand Aspinal of London is a champion of responsible luxury. Currently focusing its advocacy on the protection of bees, the brand is running the Aspinal Bee Sanctuary – a conservation programme established to help combat the decline of British bees by providing the perfect surroundings for them to thrive – straight from its headquarters in the South Downs. Aspinal has also pledged to remove all single-use plastic by the end of 2022, and continues to cut carbon emissions by transporting products via sea or road rather than air freighting wherever possible.
Kind to skin, kind to planet and people, Aurelia London is committed to reducing its reliance on single-use plastic for packaging purposes. Using recyclable glass bottles and jars for a large percentage of its range, the beauty and wellness brand also partners with PhytoTrade Africa to ensure a sustainable supply of African botanicals, as well as fair trade for the communities who harvest them.
On track to reduce its virgin plastic usage by 50% in shampoos and conditioners by the end of 2021, Aussie recently introduced a new aluminium reusable shampoo bottle which, the haircare behemoth estimate, will result in around 10 million fewer virgin plastic bottles being produced every year. Result!
Authentic Beauty Concept makes professional haircare with purpose. Used by salons and hairdressers across the globe daily, the brand's products are packed with carefully selected vegan hero ingredients that are entirely free from silicones and sulfate surfactants. Up to 95% of ABC's ingredients are derived from natural origin, and all of its vegan products are registered with the Vegan Society, too. We also love that the brand collaborates with partner salons to help create a more mindful industry from the ground up. It's an A+ from us.
Putting a fresh (and sustainable) spin on traditional calvados (an apple brandy from Normandy) Avallen is made with nothing but apples, water, and time. Only 1.2l of water is used to produce a bottle of Avallen, compared to the 13 litres it takes to make a bottle of bourbon. 100% of the apple waste from the production process is collected and either used in a local bio-digester to make biogas or sold to local farmers as feedstock. A member of 1% for the planet, the brand's impact-led production methods, which ensure to protect biodiversity; eco-friendly packaging, some of which is made from apple pulp; and streamlined ingredients list make this a booze brand worth having on your radar.
Plant-powered hair care brand Aveda has been partnering with charity: water since 1999 to provide clean water to people in need. (In fact, the brand is on a mission to raise more than $2million this year alone to protect and provide clean water to people in India, Nepal, Madagascar and Ethiopia.) Through its annual Earth Month campaign, Aveda has raised almost $65 million for environmental causes around the world, and this year celebrated the day by donating all sales online at aveda.co.uk to its charity partner.
Avène's Skin Protect, Ocean Respect initiative is committed to using innovative ocean friendly sun filters, without compromising your skin. Respectful of marine biodiversity, and non-toxic for three key species of marine biodiversity – a coral species, a phytoplankton species and a zooplankton species – the brand's Intense Protect sunscreen continues its legacy of melding great skincare with eco-consciousness. Check and check.
Distillery is Avon's more sustainable skincare and make-up offshoot, combining high-performance, vegan-friendly ingredients with environmentally-conscious packaging and accessible price points. It's also Avon's first ever product-line packaging that's certified by the Forest Stewardship Council – marking an exciting step towards a more sustainable future for this iconic beauty brand.
B
Though beginning as a well-heeled wellness space in the Cotswolds, Bamford has since developed a range of home, beauty and fashion products, in keeping with its gentle, holistic outlook. The brand's fashion offshoot, The Bamford Wellness Collection, is a soft, breathable range of low-impact exercise and athleisure wear created through a supply chain that has been rigorously checked by The Global Organic Textile Standard (GOTS). Additionally, the collection is cut from an innovative fabric that uses a mixture of certified organic cotton and recycled polyamide; the latter of which is created by re-melting waste fibres that would have otherwise been disposed of – using a mechanised process, rather than chemicals.
A two person start-up, the empowering messages carried by Bands of Courage's accessories extend to its business model, too. For every band sold, the brand plants 10 trees, proof of which you'll receive in the form of a personalised planting certificate and card. Currently in the process of applying for B Corp certification, the brand also uses recycled card and biodegradable packaging, weaves and dyes fabrics by hand by India, and has so far planted over 161,000 trees in a bid to remain carbon negative.
Free from nasties like parabens, mineral oil and coal tar, and cruelty-free right from its beginnings, bareMinerals are specialists in beauty that's kind-to-skin, while being kind to the planet in the process. 71% of its formulas are vegan, including every new product since 2020, and the brand is committed to working with partners that source ingredients ethically.
Bath House is a small fragrance and skincare brand founded in 1997 by a creative team of artists and designers who live and work in the Lake District. Seeking inspiration from nature, its fragrances are infused with evocative aromas (if you want to be transported to the Norfolk coast in the shower every morning, this brand's your answer) and pure, natural ingredients.
It makes perfect sense that Baukjen has secured the position of highest-scoring Fashion B Corp in the UK. Committed to disrupting the fast-fashion industry, Baukjen collections are now made from 92% responsibly sourced fibres, most of which are natural and biodegradable. All of the brand's cotton is organic or from the Better Cotton Initiative, while all its viscose is now EcoVero – which not only has a smaller environmental impact, but supports responsible forestry too. The brand also works collaboratively with manufactures to adopt a zero-waste approach, and recycles 90% of its textile waste.
A mainstay in bathrooms across the country, Baylis & Harding's commitment to sustainable luxury in recent years is impressive. Take, for example, their Goodness collection: a plant-based, affordable range that boasts a 98% naturally derived formulation in 100% recyclable (and recycled) packaging.
Small fashion brand Bee&Sons takes a no-nonsense approach to the S word. The brand's cosy cardigans are designed to be disassembled and recycled into fresh new fibre through its take back service. Where most brands overproduce, Bee&Sons makes its clothes in batches of 100, and if need be, simply takes pre-orders before creating another 100. Crafted from natural, recyclable yarns, all of Bee&Sons' clothes are made in the UK, reducing CO2 and supporting UK garment workers, too.
Sustainable fashion brand BEEN London turns unwanted certified materials into beautiful bags that are designed to last a lifetime. Handcrafted in East London, the bags are created using zero-waste pattern cutting techniques, with the brand also creating its linings from textile waste and some of its structural elements from discarded IKEA uniforms. (Yep, really.) Boasting a transparent supply chain, BEEN London estimates that its bags have almost 1/10th of the carbon footprint of those produced by high street fast fashion brands.
The first perfume brand to use mycelium (part of a mushroom) and agricultural waste as packaging, Bel Rebel is turning the fragrance industry as we know it upside down. Not only is the brand's packaging carbon negative, but its refillable bottles, Leaping Bunny approved formulas, and small batch approach to production cement Bel Rebel as a sustainable brand worth watching.
Launched in 2007, drinks brand Belu is on a mission to change the way the world sees water. The brand has invested over £5million with its impact partner WaterAid over the past decade, while its partnerships with luxury UK hotels and restaurants have helped businesses reduce their waste and carbon footprint by removing single-use bottles of water. A carbon neutral social enterprise, Belu is committed to delivering incredible drinks, while making it easy for the conscious consumer to build a better world through their buying decisions.
Icelandic skincare brand BIOEFFECT was created by three scientists who, after a decade of research, discovered a way to bioengineer a plant-based human replica of EGF (Epidermal Growth Factor) in barley plants. One of the most important growth factors for skin, EGF helps boost production of collagen and elastin to ensure skin stays healthy, plump and youthful. But the innovation doesn't end there. The brand's ecologically-engineered greenhouse is powered by sustainable, natural energy, using hydroponic cultivation that preserves more water, and volcanic pumice to make the cultivation even more clean. Nestled in the lava fields of Reykjanes Peninsula, only 50 km from the brand's Headquarters in Reykjavik, the greenhouse can nurture up to 130,000 barley plants at a time, and uses biotechnology to create clean and stable ingredients. Pretty swish.
With the knowledge that conventional polyester takes hundreds of years to biodegrade, yet accounts for 63% of the material input for textile production, BioFuze created a recycled polyester with biodegradable properties. By infusing a unique additive into its polyester during the melt spinning process, BioFuze creates a fabric that attracts and allows anaerobic microbes to break it down (i.e. biodegrade). It's no wonder, then, that the innovation was recently a finalist in Fast Company's World Changing Ideas awards.
You've probably seen Biossance in the beauty hall, but you probably didn't know just how clever this vegan skincare innovator is. Reinventing ingredients through biotechnology (think a shark-friendly, bioidentical alternative to hydrating hero squalene), Biossance are committed to finding new ways to make brilliant beauty that doesn't negatively impact the earth. We can only hope more brands follow suit.
With the knowledge that 80% of garment workers (including those working in sweatshops) are women, Birdsong was founded to create a fashion industry that feels inclusive, dignified and transformative for local economies. Working mostly with talented migrant and refugee women, as well as survivors of domestic abuse in London's Tower Hamlets, Birdsong is the only UK-based fashion brand specifically supporting local communities and marginalised women. Aiming to counteract funding cuts to vital women's services, and encourage Living Wages in a localised fashion industry, Birdsong is proof that fashion can be good for both those who wear it and those who make it.
BOL doesn't just make it easier for customers to get their five-a-day. The plant-powered brand also makes it easier for customers to do some good through their everyday consumer choices. Having achieved B Corp certification, the brand donated 100% of its first year profits to Action Against Hunger, and is committed to using less plastic, less water, less carbon and less land in its production process.
Bondi Sands' first foray into sustainable self-tanning is packaged in ethically sourced, 100% recyclable packaging, and is packed with skin-loving ingredients like Hyaluronic Acid for hydration, Vitamin C for radiance and Vitamin E for repair.
Crafted from organically grown bamboo, Boody makes everyday basics that are built to last. Using bamboo because of water-use efficiency and natural resistance to pest and fungi infestation (meaning it can be grown without the use of harmful pesticides, insecticides or fertilisers), the brand's breathable signature fibre is suitable for even the most sensitive of skin types.
Luxury retreat Borgo Santo Pietro, located in the heart of the Tuscan countryside, is a fully self-sustainable eco-getaway of over 300 acres with 300 sheep, 20 pigs, 15 alpacas, 175 free-range chickens, 70 rabbits, 11 acres of gardens and herb fields, two acres of vegetable gardens, one Herb House and one Fermentation Lab. (In keeping with the five-star luxury, of course.)
Bower Collective is on a mission to eliminate plastic waste and create a more sustainable world. A treasure trove of minimum-waste home and personal-care products – from fabric conditioner to toothpaste – the company boasts a unique closed-loop packaging system that allows customers to decant their products, then send the packaging back in a pre-paid envelope. With a recent Life Cycle Analysis showing that its system is 90% more carbon efficient than single-use packaging, creating a sustainable (and chic) home has never been easier.
Bulldog Skincare is on a mission to bring razors into the circular economy. Exactly how, you ask? Well, the brand's Original & Sensitive Glass Razors are crafted using at least 70% recycled glass from discarded beer bottles. The handles themselves are then 100% recyclable, and when they reach the end of their lifecycle, they too can be turned back into – yep, you guessed it – beer bottles. (Or just, you know, anything else made of glass.) Pretty neat.
C
Elastane, a non-biodegradable synthetic fibre, is a popular fixture in today's denim, owing to its exceptional stretch. Which is why Italian fabric brand Candiani set out to create an alternative that's every bit as form-fitting, but without the environmental price tag. COREVA™ is an innovative technology that uses a plant-based yarn obtained from natural rubber to replace synthetic, petrol-based yarns. The world's first compostable stretch technology on the market, COREVA™ has since been adopted by the likes of DENHAM and Stella McCartney.
Members of the 1% for the Planet network since 2012, beauty editor beloved skincare brand Caudalie contributes 1% of its global turnover to environmental associations every year for the planting of new trees. This makes the brand Europe's largest contributor and the world's top contributor among cosmetic stakeholders. That means that the brand have so far planted over 8 million trees in the eight key zones of deforestation around the world, and covered their CO2 emissions 4 times over in the process.
Created, tested and produced in Dorset, Chāmpo Haircare puts its formulations through rigorous microbiological testing to assess the microbiological quality of both the raw materials it uses and the overall formulations. Focusing on ingredients that are classified as naturally derived, all the brand's haircare treats are vegan, too.
Cult French beauty brand Chantecaille has a 20-year history of environmental philanthropy – raising awareness of everything from dwindling numbers of Monarch butterflies, to endangered sea turtles, coral reefs, gorillas, wolves, bees, elephants, giraffes, and more. (To date it's donated just over $2 million to such causes.) The brand's "naturally beautiful" ethos is one that's reflected in its approach to production, too, with all botanicals used in Chantecaille's skincare sustainably sourced, and most of its packaging from stock that is FSC- or SFI-certified.
Believing that convenience is key to convincing more people to adopt a refillable lifestyle, Circla takes the faff out of refills by delivering direct to your doorstep. (Think the milkman, but ten times more exciting.) Since launching last March, Circla has curated a range of 25 independent brands on its platform, showcasing the best of British sustainable, vegan and organic beauty, and its widely recyclable packaging can be reused more than 50 times. Oh, and it goes without saying that all its deliveries are emissions free, too.
Circular&Co. is on a mission to educate and inspire people about welcoming circularity into their everyday lives. Launched in 2018, its Circular Cup is the world's first reusable cup made from single-use paper cups. Designed with both practicality and circularity in mind, the brand's sleek, sustainable travel mug is 100% leakproof, designed for ten years' use and is 100% recyclable, too. Christmas list? Sorted.
Clarins is committed to using fewer resources, and creating less waste – whether that's through its 250 ingredients-strong herbarium, or its commitment to preserving the rich biodiversity of the Alpine region. Having performed its first carbon assessment in 2008 in France, and gradually extended the practice to all of its businesses in Asia (2012), the United States (2014) and Europe (2015), 63% of the brand's packaging materials are now recyclable.
You've probably heard of (or indeed own a number of) CLOUD NINE's beloved styling tools, but did you know about its industry-leading recycling scheme? Armed with the knowledge that 80% of electrical waste is sent to landfill, the brand launched its Straightening Iron Recycling Scheme in 2019, and have since saved over 60,000 from going to waste. (That's the equivalent weight of three London double decker buses, FYI.) On a mission to save 1.5 million hair styling tools – no matter their condition – from ending up in landfill, CLOUD NINE allows customers to recycle their old tools for free, regardless of the brand.
Whether it's the wild harvesting of organic raw materials, or green polyethylene packaging, Codex Beauty Labs are committed to integrating environmental practices and sustainability principles into their core business strategy. On track to have zero carbon footprint by 2025, the brand's products are produced according to Current Good Manufacturing Practice (CGMP) standards, and are also Leaping Bunny (i.e. cruelty free) and MyMicrobiome certified.
A B Corp since 2016, sustainable beauty brand Comfort Zone offset all emissions with the help of the EthioTrees project – an initiative compensating C02 by planting native tree and shrub species. Joining a number of other B Corporations at the UN COP25 Climate Change Conference in Madrid in December 2019, the brand has also committed to becoming "net zero emissions" by 2030. (That's a whole 20 years ahead of the Paris Agreement deadline!)
One of the most trusted beauty retailers in the biz, Cult Beauty has always insisted on transparency from the brands it carries, and was the first retailer to require a full ingredients list and independently written descriptions for each product on its site upon launching back in 2008. The retailer took things a step further last year when its partnered with blockchain transparency platform, Provenance.org, to launch Cult Conscious. Using blockchain technology to digitally verify the (routinely sweeping) claims made by beauty brands, Cult Conscious allows shoppers to do due diligence around the products in their basket, by independently verifying whether a brand's claims on sourcing, efficacy and sustainably actually stand up.
D
A takeaway business like no other, DabbaDrop is London's first plastic and emissions-free takeaway subscription service – promising minimal food waste, reusable packaging, emissions-free delivery and some of the best vegan food we've ever eaten. Taking inspiration from the Indian Dabbawalla delivery system, DabbaDrop serves wholesome vegan curries in stainless-steel tiffin containers that are delivered by bicycle.
The brand behind the first completely carbon neutral shampoo, Davines provide salon quality results without harming the planet in the process. Over four years of research and 262 different formulas went into its now-iconic A Single Shampoo, the final result of which is a gentle but effective everyday formulation that's 98.2% biodegradable with 95% natural-origin ingredients. Swoon.
Taking its moniker from the timeless beauty of the dahlia flower, Dear Dahlia is as committed to preserving the future beauty of our planet as it is, well, you. 100% vegan and cruelty-free, the brand is also on a mission to further reduce its carbon footprint; expanding its refillable and reusable product range, and working towards a 2025 goal of becoming fully sustainable.
Following on from the success of its impressive community fund (which has donated $120,000 across 12 causes that directly affect the neighbourhoods where the brand's stores are located), cult skincare brand DECIEM founded the Good Fund in 2020. An initiative that donates to causes supporting 'People, Earth and Animals', the brand have so far made contributions to organisations supporting the Australian bushfires, the Lebanon disaster and anti-racism.
Dermatology M – a results-driven skincare brand rooted in traditional Chinese medicine – buy raw herbs directly and support businesses through every harvest. Having developed relationships at grassroots level with growers, the small brand want to ensure superior sourcing through continued herb quality and sustainable supply.
Sustainability is in the DNA of Dhow Nature Foods. The East Africa-inspired health food label was founded on a love for the environment, and now gives as much back to the farming communities it works with as it does the earth from where it sources its produce. The brand's regenerative permaculture farming practice ensures the maintenance of a natural ecosystem, which, in turn, curtails mass deforestation. Not only that, but the brand is committed to adding value to the agricultural sector in Tanzania, too – educating the next generation about the importance of organic agriculture for the wellbeing of both planet and people.
Too often, the onus falls on small beauty brands to do all the hard work. Which is why when the big beauty players commit to a more sustainable future, we sit up and take note. Though its focus has been largely on abolishing animal cruelty in the beauty industry, Dove has some exciting plans around reducing plastic waste in the offing, too. Aiming to reduce the manufacture of more than 20,500 tonnes of virgin plastic per year by 2025, among the brand's current initiatives are making the iconic Dove Beauty Bar packaging plastic-free globally, launching new 100% recycled plastic bottles, and trialling a new refillable deodorant format that radically reduces plastic use. Watch this space.
Located at the brand's HQ in southern Germany, the Dr. Hauschka medicinal herb garden is the source of many of its ingredients – which, with over 150 different plant species flourishing in the 2.5 hectare plot, shouldn't come as a surprise. Continuously tended to by gardeners using biodynamic methods, rainwater is saved for watering the plants, compost created in the garden improves soil structure and promotes healthy growth, and its closed loop nature means providing a better habitat for wild plants and animals.
Dressarte is an eco-friendly online couture service. Implementing 3D design, the service enables virtual measurements and digital consultations, to offer customers made-to-measure garments and capsule wardrobes that have been crafted from dead stock, surplus and recycled fabrics.
E
Founded by Trichologist and cosmetic scientist Tony Maleedy, Earthkind are an eco-conscious haircare brand that take the less is more approach to their natural shampoo and conditioning bars. While traditional liquid shampoos contain up to 95% water (not to mention the fact that they're typically packaged in single-use plastic) EarthKind's products contain no water, and are formulated with only essential, natural and biodegradable ingredients. And of course, they're all packaged in vegan and plastic-free packaging.
ECONYL regenerated nylon has been providing a more responsible solution for the fashion and interior world for the past ten years. Utilised by many of the brands in our glossary, this infinitely recyclable yarn is created from nylon waste (including fishing nets, old carpets and nylon industrial waste) to create a truly circular material that boasts the same qualities as conventional nylon. Oh, and it reduces the problematic fabric's global warming impact by up to 90%.
What would a circular beauty industry look like? The answer just might lie with luxury skincare brand Emma Lewisham. Launching its Beauty Circle Recycling Programme last year, the initiative became a first in New Zealand, accepting all facial brands' skincare products – yep, even those of rival brands – for recycling, at no cost to consumers. On a mission to become the world's first circular beauty brand by August of this year, Emma Lewisham plans to design its products to fit within a circular system, using refillable packaging only. Watch this space.
Luxury skincare favourite ESPA is on a journey towards sustainability on three fronts: by introducing more sustainable packaging (though they haven't achieved 100% recyclable packaging across their range just yet), by enhancing their formulations and achieving COSMOS Natural Certifications, and simplifying their product categories. Case in point: last year, the brand introduced their new Essentials range of 9 everyday products available as refillable pouches, which use up to 60% less plastic than a regular plastic bottle.
evian requires no introduction, but it's worth having on your radar what this iconic brand is doing to future proof our planet. From introducing (re)new, a new in-home, 5L 'water bubble' that reduces plastic packaging by 60% (it's also surprisingly chic, FYI) to the launch of evian bottles made from 100% recycled plastic (with the goal of all plastic bottles being made from 100% recycled materials by 2025), this is one heritage brand adapting to our changing times for the better.
F
FaceGym takes sustainable packaging seriously – from its Supreme Restructure 'Forever Pots', crafted out of aluminium, to its 50% post-consumer recycled plastic tubes, glass serum bottles, and 100% FSC paper cartons.
If you haven't already heard of Face Halo, the reusable, machine washable make-up removal pads, prepare to be changed. The perfect solution to environmentally damaging single-use wipes, Face Halo uses HaloTech fibres, which are 100 times finer than human hair, to remove even the toughest of make-up on dirt – no micellar, cleanser, or make-up remover needed. Just add water and voilà!
Sustainability probably isn't the first thing that springs to mind when you think of a global group of luxury hotels, but Fairmont has been driving eco-innovation through its award-winning Sustainability Partnership for the past 30 years. In fact, it was the world's first luxury hotel brand to embrace environmental stewardship. Between vowing to eliminate any remaining single-use plastics in guest rooms, meeting areas and restaurants by the end of 2022, to joining Accor in committing to the goal of reaching net-zero carbon emissions by 2050, Fairmont is a true champion of sustainable tourism.
Sustainability isn't a new venture for Faith in Nature. Champions of the green-beauty movement, the brand has actually been using 100% recycled and recyclable bottles since 1999, and has managed to save an incredible 340 tonnes of plastic from landfill in the intervening years. It's likely that the brand will save hundreds more, too, thanks to its new refillable product stations, and work towards eliminating virgin plastic from the supply chain.
Champions of the increasingly popular upcycling movement, Fanfare Label is a circular clothing brand on a mission to change the way we buy, wear and consume clothing. Fanfare Label's collections are made ethically in London, and crafted entirely from materials that would otherwise end up in landfill.
Green hair care brand FEKKAI repurposed around 7 million plastic bottles in its first year alone thanks to its 95% high-grade repurposed and recyclable plastic packaging. Sourced from nature and perfected in the lab, the brand's dreamy vegan formulations – specifically designed for glossing, repairing, strengthening and protecting the hair – are free of nasties including parabens, sulfates, silicones and phthalates, too.
Placing equal emphasis on style, sustainability, and social impact, lifestyle brand Fifth Origins works with rural artisans to empower craft and enrich its products with '100% humanity'. The brand's Cape Infinity line of luxury capes has been designed with sustainability and multi-functionality at its core, using biodegradable and environmentally friendly wool ethically sourced from local communities in the Himalayas. Based on a zero waste concept, each cape is made using wooden handlooms, thus significantly reducing carbon footprint (no electricity here), and bringing more rural women into the work force.
Responsible fragrance brand Floral Street has been applying the four Rs (rethink, reduce, repurpose and recycle) right from its beginnings in 2017. All of the the brand's vegetable-printed packaging is recyclable, and its biodegradable wood-pulp carton is a first in the fragrance industry. Additionally, the brand's box-production process has been independently verified to use less energy, water and raw materials than alternatives, and any waste water is cleaned and recycled. Floral Street also carbon balances via the World Land Trust, and its 2020 certificate confirms that it has balanced the equivalent of 9,362kg of carbon dioxide.
Beginning as a soup and sandwich counter in California over 50 years ago, Follow Your Heart continues to elevate vegan cuisine. From vegan cheeses, to salad dressings, and yes, that incredible vegan mayo, Follow Your Heart has it all – including a pragmatic approach to sustainability. With much of its produce manufactured in its own solar-powered facility in California, Follow Your Heart's Earth Island is the first plant-based manufacturing facility in the US to achieve Platinum Level Zero Waste Certification by TRUE certifications. Additionally, the brand diverts over 98% of waste from landfill by recycling over 270 tons of materials, re-purposing 200 tons, and composting 100 tons. Pretty neat.
In a wellness industry intent on looking inwards, Form goes against the status quo by striving to bring social conscience to its customers. The first and only UK B Corp-certified supplement brand, Form aims to allow people to be the best version of themselves – both through taking care of their body, and by caring for the earth. The latter is made all the more easy by Form Nutrition's fully sustainable packaging (you won't find an ounce of plastic here) and commitment at the UN Climate Change Conference in 2019 to accelerate the reduction of its greenhouse gas emissions to reach net zero by the year 2030 – that's 20 years ahead of the 2050 targets set in the Paris Agreement!
You've probably heard of influencer-favourite custom haircare brand Function of Beauty. But how do its sustainable credentials stand up? Well, each of the brand's products is individually formulated using science-backed ingredients that are 100% vegan and cruelty-free. Its range – which also span skin and body care – is free from nasties like sulfates, parabens, and phthalates, too, and the brand is committed to constant improvement in the area of sustainability and ethical business.
G
Gaâla makes polished clothes in timeless, classic cuts from deadstock fabric (i.e. that which most large fashion brands would usually send straight to landfill). Handmade in Belarus by a small team of seamstresses, the brand's collections are made all the more stylish by the fact that those who make them are paid a fair wage.
Sold in 64 countries, with 1.8 billion products produced each year, Garnier is one of the largest brands that Cruelty Free International has ever approved under the Leaping Bunny programme, with all Garnier products across the globe now officially cruelty free. Not content with just stopping there, though, Garnier has even bigger plans for its future. By 2025, the brand hopes to have eliminated virgin plastic, to have turned its industrial sites carbon neutral, and have made all of its plastic packaging recyclable, reusable or compostable.
Having upgraded its refillable handles so that they're all made with at least 30% recycled materials, or designed with metal for durability and control, Gillette has taken a number of impressive steps to tackle the climate crisis in recent years. The brand's refillable razors are now in fully recyclable cardboard packs (made from at least 40% recycled materials and with FSC-certified paper) and its continuing partnership with TerraCycle means all Venus razors are fully recyclable.
Believers in responsible ingredients sourcing, Armani beauty favours working with local NGOs to source sustainable, ethical ingredients that support the communities from whence they're derived. Take, for example, the vanilla blended in the brand's MY WAY fragrance. Sourced in Madagascar through an inclusive sourcing program that champions social inclusion, the brand prioritise suppliers who provide reliable work and income for vulnerable people who would usually be excluded from the labour market.
PSA: Beauty subscription favourite GLOSSYBOX has a skincare range, and it's 100% vegan. (And rather brilliant, too.) Developed and produced in the UK, the affordable range uses planet-considerate ingredients like COSMOS approved naturally derived emollients in its cleansers, Inca Inchi oil that's both Fairtrade and organic, and natural Cornish Clay sourced from open-cast pits in, you guessed it, Cornwall. Added bonus: the brand retains full control over its supply chain, allowing it to place the environment at the forefront of everything from formulating to filling.
Just as hand care brand gloved, which was launched in the summer of 2020 by fine fragrance creator Tom Daxon, uses only the best ingredients in its formulas, its packaging also places an emphasis on quality; using glass bottles, aluminium caps and recycled cardboard boxes. Additionally, while the brand's bottles feature a plastic pump, its refill incentive (which grants £1 off per refill) encourages customers to buy once and keep forever.
Taking inspiration from South Korea's buzziest new skincare trends, vegan and cruelty free brand Glow Recipe has been quietly making waves in the beauty industry since launching in 2014. Its pretty-as-a-picture packaging is recyclable through the brand's partnership with TerraCycle, and a recent partnership with non-profit Climate Neutral means the brand is on its way to becoming Climate Neutral certified by 2022.
Developed by leading dermatologist Dr. Goldfaden, Goldfaden MD does skincare that's problem-solving but plant-based – offering physician-strength results, with a focus on pure formulations. Additionally, the brand's packaging contains over 70% recycled plastics and is 100% recyclable, while its shipping boxes are made from 100% recycled paper.
Listen up, interiors enthusiasts. A trailblazer in the paint industry, Norfolk-based Graphenstone offers the world's most certified eco paint. How? Well, it's the only paint in the UK to contain Graphene – a non-toxic pure carbon and the strongest material known to science. Where many of the paints dominating the UK decorating market are made with polluting acrylics, plastics and oils, Graphenstone's products are made from natural elements (and that goes for its packaging, too, which is made from 100% recycled materials).
As its name would imply, Green Salon Collective helps make salons more sustainable by 'recycling the unrecyclable'. Launched in July 2020, the organisation focuses on finding circular solutions for salon waste – recycling, composting and recovering everything from hair, to used foils, empty colour tubes, chemicals, PPE and even salon towels.
Greensand Ridge Distillery is the first carbon-neutral distillery in the UK – a remarkable feat, given that energy and water use are two of the hardest things for a small distillery like theirs to mitigate. By using 100% renewable power, the brand aims to be plastic-, chemical- and waste-free in all distillery operations.
Guerlain have been championing bee preservation for over ten years. The brand's World Bee Day initiative last year saw them hold an international fund drive to raise up to one million euros in aid of the Guerlain For Bees Conservation programme, and they continue to push their commitment to the increasingly endangered species.
H
Known for its New Wash hair cleanser, a detergent-free, 100% biodegradable alternative to shampoo, Hairstory's products try to be as kind to the earth as they are the scalp. Having eliminated plastic bottles across its New Wash range in favour of more environmentally-friendly pouches (which use 63% less plastic) the brand is also part of One Percent for the Planet – donating one per cent of New Wash sales to water-related causes.
Handbag Clinic is the longest established luxury restoration and resale service in the UK, restoring around 700 bags each month and reselling around 300. Encouraging customers to prolong the lifecycle of their bags through resale and authentication, the clinic also trains future generations in specialist artisanal skills and the dwindling art of craftsmanship.
With reef friendly ingredients and packaging made from 45% recycled plastic, Hawaiian Tropic's Aloha Care collection is the brand's most sustainable to date. With the knowledge that coral reefs account for less than 1% of the world's marine habitat, yet they support more than 25% of all life in the ocean, the PETA-certified brand also recently teamed up with Reef Life Foundation to help plant a Coral Reef Garden to revitalise, restore and protect at-risk coral reefs in Hawaii.
HIGHR is on a mission to build one of the cleanest supply chains in the biz. Not only have their plant-based lipsticks been manufactured with 100% clean solar energy, but they also offset their operational carbon with the help of certified B Corp Native Energy.
Novelty biscuits shaped like a full English breakfast? Personalised pencil-shaped biscuits to wish someone all the best in a new job? You name it, Honeywell makes it in biscuit form. Currently working towards B Corp certification, the brand's commitment to sustainability is far from a laughing matter, though. All of its packaging is recyclable and most of it is compostable, ingredients are sourced locally, the energy the brand uses is 100% renewable, and it offsets its carbon using Ecologi, too.
The first supplement company to transition its bottle packaging to 100% ocean-bound plastic, HUM Nutrition estimates that its sustainable packaging initiative will prevent the equivalent of six million water bottles from entering the ocean this year alone. Additionally, the brand hopes that by 2025 it will have prevented the equivalent of more than 50 million water bottles from entering our oceans. Impressive or what?
I
Having witnessed the widespread issue of waste management on Corfu Island, the team at IKOS Dassia devised a solution in a three-fold, zero-waste programme. By vowing to find the best solution for reducing and recycling all materials produced at the resort, to manage and biodegrade organic waste, and to train all staff to work to a zero-waste brief, IKOS Dassia is ensuring long-term luxury by preserving its stunning natural surrounds.
Accredited as a 'cruelty-free brand' by PETA, Illamasqua has been staunchly anti-animal testing since its very beginnings. Being an international cosmetics brand, this does, of course, present its challenges. But Illamasqua review all global demands for the brand carefully, and its cross border e-commerce structure means orders for the likes of China (where animal testing is standard) are fulfilled outside the country's mainland, meaning it has no obligation to test on animals.
Working in a sustainable economic, social and environmental system that champions indigenous craftswomen from the Argentine North, ILLARI designs, develops and sells fabrics that are traceable, use natural fibres from animals raised by highland herders, and crucially, empower the artisans who make them.
Immaculate Vegan was one of the first large scale multi-brand retailers of 100% vegan and sustainable premium fashion. From vegan shoes, bags and accessories, to ethically-made clothing and homewares, the platform allows environmentally-conscious customers to shop some of the world's best vegan brands all in one place.
The very first UK brand to be accredited as 100% organic by COSMOS, Inlight Beauty uses only organic, raw ingredients for its formulations which, according to the brand, have been designed to "protect people's health, the environment, and the future of our planet". Its waterless and alcohol-free formulas also mean no need for synthetic preservatives, and its recyclable packaging and use of green energy keeps its impact on our planet to a minimum.
Using the purest, organically grown ingredients that are ethically harvested and sourced from trusted suppliers, Innersense packages its luxury haircare products in recyclable plastic (most of which is PCR), and has pledged to continue to clean up more plastic than it produces through partnerships with Plastic Bank and Plastic Pollution Solutions.
Irene Forte Skincare champions both ethical ingredients (sourcing from both its organic farm in Sicily and reputable farmers in Trentino) and more sustainable packaging. With boxes made from 100% recycled fibres, bottles and jars made out of recyclable glass (with 30% now made from post-industrial recycled material), and refillable options now offered on all Irene Forte 30ml and 50ml products, this is one beauty brand well on its way to achieving its eventual goal of becoming a B-Corporation.
Isle of Paradise's skin-loving and streak-free tanning products are free from both animal-derived ingredients and a range of other nasties, like parabens and sulfates. As part of the brand's promise to deliver a cleaner, greener glow for all skin types and tones, all ingredients are sourced responsibly, as well as being PETA-approved and certified organic. In fact, the brand is actually the world's first 100% vegan and cruelty-free colour correcting self-tanning brand. Now that brings new meaning to the idea of a natural tan.
J
jakke. makes sustainable outerwear that's as cruelty-free as it is chic. Encapsulating the ethos of 'free from', the brand doesn't use any fur, leather, wool or silk in its pieces, instead opting for sustainable fabrics and offcuts from previous collections. Also good: the brand's Wear & Care range includes recycled polyester fabrics that are made from a blend of 100% recycled plastic bottles, giving second life to a material that's not biodegradable and would otherwise end up in landfill or in our oceans. Such is its commitment to sustainability that 75% of the label's AW21 collection is either made from certified recycled fibres or is biodegradable.
Jo Malone's charity candle collection is a key part of the brand's ten-year commitment to shining a light on mental health. With 75% of the retail price of each Charity Home Candle going directly to supporting mental health projects – including creating charity gardens where people can discover the restorative effects of nature – through the initiative, the brand have to date donated over £2.5million to their partner charities. In addition, over 75% of Jo Malone London's current packaging is recyclable (though the brand is on a journey towards improving this further), with the brand estimating that 75-100% of its packaging will be recyclable, refillable, reusable, recycled or recoverable by 2025.
Have you joined the CBD skincare club yet? Thought to calm, rebalance and soothe the skin, CBD isn't just a passing beauty fad – it's here for the long haul. J'Tanicals aims to take the confusion out of CBD beauty, by offering luxury, vegan and 100% natural skincare solutions formulated with high quality CBD isolates and natural botanicals. Champions of transparent sourcing, J'Tanicals sources its CBD from high-quality hemp farms in Switzerland.
K
KANKAN is a solution-led brand on a mission to make low-waste, refillable beauty the norm. Offering a range of natural personal care products in an aluminium can, thus eliminating plastics from our bathrooms and making refills easier than ever (hello, dream beauty travel companions), the brand also plants one tree per can sold; furthering its commitment to carbon neutrality.
Through its Recycle & Be Rewarded scheme, Kiehl's encourages customers to bring their empties back to the brand, having so far reclaimed over 13 million empty jars and bottles globally as a result. All of the brand's boutiques now offer empties recycling in exchange for loyalty stamps – thus incentivising recycling for its customers, and helping the planet in the process.
High quality, low impact is the line taken by sustainable jewellery brand Kimaï – and it's clearly working, given that it's one of the fastest-growing ethical fine jewellers to enter the market in recent years. Crafting contemporary jewellery from responsibly-made lab diamonds and 100% recycled gold, Kimaï's pieces are handmade by independent artisans in Antwerp through a made-to-order model that reduces waste. What's more, the brand can trace exactly where and when each diamond is made, and unlike mined diamonds, which change hands up to 15 times, Kimaï's change hands just six times (and it's happy to tell you whose).
It goes without saying that the Great British bathroom has a packaging problem. From shampoos to shower gels, shaving foams to body lotions, high water content products encased in harmful plastics abound in the average bathroom, which is where family friendly brand KinKind come in. Offering plastic free, low carbon footprint bars that will change your mind about plastic for good, KinKind's hand-made bath and shower products can be purchased as a one-off, or on a flexible subscription, so you'll never again run out of shampoo mid-lather.
KINN Living creates eco-friendly alternatives for everyday products. The brand's line of laundry and cleaning products are biodegradable, made using plant based ingredients, and available to buy in concentrated refills that drastically reduce packaging waste. Oh, and they smell so dreamy.
Fine jewellery brand KINRADEN never involves the use of virgin metals in its pieces, instead opting for recycled gold and silver. Aiming to create a closed loop, the brand insists on using the purest possible materials so that its jewellery can be reused or reengineered, and also aims for neutral energy consumption and zero waste, including from its multi-use organic paper packaging.
Armed with the knowledge that the synthetic materials that enable our outdoor adventures are also the very ones that pollute the planet they help us explore, Kintra Fibers creates human-made materials that offer a more sustainable alternative to popular outdoor fabrics like nylon and PET. The brand's plan of action is threefold: to tackle fashion's dependency on fossil fuel-based materials, microfibre pollution, and textile waste. How does it do this? By creating a polymer with an intrinsically-compostable structure that can be industrially composted, depolymerized, or mechanically recycled at the end of its life-cycle.
A free app designed to reduce household food waste, Kitche allows users to scan their grocery receipts, store their shopping in a virtual food store, and check which items they have at home without having to check the fridge. Pretty clever, right? Users can also receive reminders to use up certain foods before they go off, and can view a virtual breakdown of how much of each product they have wasted, and the associated costs of doing so.