14 iconic Paris Fashion Week moments we'll simply never forget
As the biannual fashion circus pulls in to its final destination, we chart the greatest-ever Paris Fashion Week moments…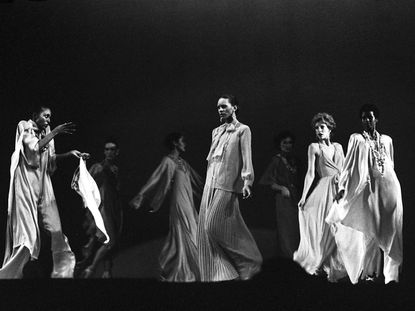 As the biannual fashion circus pulls in to its final destination, we chart the greatest-ever Paris Fashion Week moments…
Paris Fashion Week is always a biggie as editors, buyers and bloggers from around the globe flock to take in the offerings of the world's hautest houses, live in the French capital. Forget small-timers, we're talking about the Louis Vuittons, the Christian Diors, Chanels and Célines of this world. Every show on the schedule is bound to be brimming with très chic new trends and every stage is an opportunity for some epic showmanship (we're looking at you, Kaiser Karl).
The first Paris Fashion Week took place in 1973 and, more than 40 years on, the designers, sets, clothes and FROWs have never seen us go home on the Eurostar feeling disappointed. From the ultimate fash-off in Versailles in 1973 to Karl Lagerfeld's unforgettable supermarché sweep in 2014, let's celebrate some of the most iconic moments from Paris Fashion Weeks gone by…
1973: Let The Style Battle Commence… In the now-legendary catwalk fash-off of 1973, it was the kings of French chic (Yves Saint Laurent, Christian Dior, Hubert de Givenchy et al) versus the new names from New York (Oscar de la Renta, Halston and Anne Klein). At stake? The designers' pride, but also a joint goal to raise money to restore the palace to its former glory. Set up by the founder of New York Fashion Week, Eleanor Lambert, along with Versailles curator, Gerald Van der Kemp, the Battle Of Versailles Fashion Show opened the first official Paris Fashion Week with a bang and proved that even fashion people are quite nice really.
2013: Marc Jacobs' Louis Vuitton Swansong There wasn't a dry eye in the house when Marc Jacobs bid au revoir to Louis Vuitton back in 2013, 16 years after he took to the helm. To 'celebrate' he re-purposed parts from his archive of spectacular sets, but painted them all black to match his sombre showgirl collection. One of the iconic images to take away from the day was centrepiece Edie Campbell (wearing nothing but shackles, feathers, and a slick of Stephen Sprouse's classic graffiti logo) as the designer took his final bow.
1997: John Galliano Makes His Dior Debut John Galliano enlisted as many supermodel BFFs as possible to support him on his debut at the helm of Christian Dior back in 1997. Naomi Campbell, Eva Herzigová and more turned out to congratulate the British designer on his major new appointment and, in return, he delivered a collection of hats that Pharrell would be proud of.
2012: Alexander Wang's Balenciaga Debut At only 29, American designer Alexander Wang was one of the youngest designers ever to get the top job at haute house Balenciaga. His first collection, a perfect mixture of his signature sporty aesthetic and the brand's classic couture codes, left the fash pack in raptures, defining a fresh look and winning a legion of younger new Balenciaga fangirls.
2014: Supermarket Chic at Chanel Never one to do things by halves, Karl Lagerfeld turned his catwalk into an actual supermarket for Chanel's AW14 show. The set resembled that of your local Tesco – if your local Tesco offered €8,300 shopping baskets and Cara Delevingne trolley surfed down the aisles with Rihanna.
2009: Alexander McQueen's Last Ever Show Alexander McQueen always pushed the boundaries in fashion and his SS10 show, 'Plato's Atlantis', was typically avant-garde. McQueen delivered his now iconic Armadillo shoes, some out-of-this-world digital prints and the first-ever fashion week live stream, all in a single show. We didn't know at the time that this collection would be his last which, in hindsight, makes it even more special.
1992: Madonna Goes Topless For Jean Paul Gaultier Jean Paul Gaultier created Madonna's infamous 'cone bra' for her Blonde Ambition world tour in 1990. So, where do you go from there? Well, Madge ditched the bra and proudly walked au natural down Gaultier's runway in 1992.
1997: Stella McCartney Presents A New Vision For Chloé We love it when a Brit-born talent goes international. Stella McCartney proved she was more than up to the challenge of running iconic French fashion house Chloé when she showed her debut collection just two years after graduating from Central Saint Martins.
1995: Stella Tennant And The Itsy Bitsy Bikini As small bikinis go, this one's microscopic. Logo-mania ruled in the Nineties and Chanel made its stance clear by sending Stella Tennant down the runway in nothing but its iconic interlocking Cs in 1995.
2011: Kate Moss Is Smoking Hot On The Runway On the UK's national No Smoking Day (when else?) Mossy dared to puff on a single Marlboro Light on the Louis Vuitton catwalk, grabbing headlines around the world. Egged on by designer Marc Jacobs, she embodied the smouldering vamp look of the season.
2010: Horses at Hermès Jean Paul Gaultier spent seven years at the helm of Hermès and so, to celebrate his departure, he staged a stampede. Leather capes, equestrian boots and hats from the Seville riding school formed the look and the show was set in an authentic riding arena, complete with chandeliers. Now that's what we call an exit.
1997: Alexander McQueen Takes Over At Givenchy Yet another Brit storming the French fashion scene, Lee Alexander McQueen presented his first show for Givenchy in 1997 to much critical acclaim. The designer asked mates Naomi Campbell and Kate Moss to model his gilded corset designs and topped every look with an extreme mohawk.
2011: Florence Welch Sings In A Giant Chanel Shell Forget the Birth Of Venus, the SS12 Chanel show saw Florence Welch bellow like a boho-angel from an underwater dream set, assembled in pure white stone to Kaiser Karl Lagerfeld's specifications. Her echoing vocals (combined with a few hot-bod harpists) made this Chanel show one to remember.
2012: Kanye West Does A Fashion Line Don't you just love a celebrity fashion line? But for the industry dahlings, Kanye West's debut at Paris Fashion Week didn't quite hit the spot. The rapper's response? 'This is my first collection. Please be easy. Please give me a chance to grow. This is not some celebrity s***. I don't f*** with celebrities.' Erm…
Celebrity news, beauty, fashion advice, and fascinating features, delivered straight to your inbox!