'I will talk about Margaret forever' Vanessa Kirby on The Crown, Time's Up and the text she got from Helena Bonham Carter
She shot to stardom with her mesmerising performance in The Crown. So where does Vanessa Kirby go from here? Straight to Hollywood. Martha Hayes meets the Brit actress to talk fame, fate and filming with Tom Cruise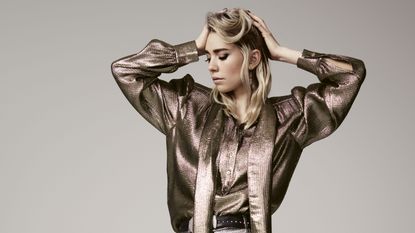 She shot to stardom with her mesmerising performance in The Crown. So where does Vanessa Kirby go from here? Straight to Hollywood. Martha Hayes meets the Brit actress to talk fame, fate and filming with Tom Cruise
Midway through lunch at The National Theatre's riverfront cafe, Vanessa Kirby is distracted by a man walking past our table. Startled is probably more apt; her head turning, her piercing blue eyes following him urgently through the crowd, as though she's spotted an old flame. And in a way, she has. 'Is that Ben Miles?' she enquires, squinting. 'He looks… different. I don't want to go and hug him in case it's not him. Why's he in a suit? No… it's not him.'
She's referring, of course, to the actor who portrayed Group Captain Peter Townsend in the first season of Netflix's award-winning historical drama The Crown. He was the dashing divorcee with whom Kirby's Princess Margaret fell hopelessly in love; theirs was the ill-fated union her sister the Queen (Claire Foy) refused to consent to. The storyline and her scene-stealing, career-defining performance cemented the 30-year-old's status as the beating heart of the series, and won her a BAFTA earlier this year.
Kirby is visibly relieved she didn't just gallop across the cafe shouting, 'Peter Townsend!' 'That's so something I would do,' she admits. 'I get myself into some embarrassing situations. I'm a liability most of the time. I need to learn how to self-edit. My dad is always like, "I think you need media training urgently."'
She really doesn't; and I'm glad she hasn't because the Wimbledon-born actress wouldn't be half as much fun. And for fans of The Crown this is important. You want the woman behind the chain-smoking, rule-breaking, wry-humoured princess to be unfiltered and every bit as fabulous. Although her time on the show has finished (in season three Helena Bonham Carter will play Princess Margaret to Olivia Colman's Queen Elizabeth) and Kirby's moved on to a whole host of exciting new projects (more of which later), HRH is still very much her favourite topic of conversation.
'I could talk about it forever, and I will talk about Margaret forever because I'm absolutely obsessed,' she laughs, recalling the time she went on a night out accidentally wearing a flashy diamanté necklace from the set. 'Everyone was like, "What is that?"' Was it real? 'It was plastic. We didn't wear any real jewels,' she confesses. 'The costume designer was like, "Don't tell anyone that!" They couldn't trust us not to run off with them in the night. No, they couldn't trust me, because I'm so clumsy. The girls [in the costume department] called me Bambi, because I'd fall over things and burn cigarette holes in my costumes.'
When we meet, Kirby is in the middle of rehearsing for the lead title role in Julie – playwright Polly Stenham's cool and contemporary adaptation of August Strindberg's 1888 classic Miss Julie – about an upstairs/downstairs flirtation between a privileged earl's daughter and his servant. Physically, the actress is world's apart from her royal alter-ego – all wavy beach-blonde hair in a messy half-bun, ripped blue mom jeans and a stripy cropped jumper – but emotionally, she's in a similar, and acutely familiar, headspace. 'What I loved about Julie (on paper) was that there was definitely an element of Margaret in her,' she says, tucking into a plate of steamed fish and root vegetables. 'She vibrates in technicolor and feels things extremely deeply. I love exploring characters like that.'
It's a seamless translation of an archaic play which, in our post-Weinstein world, has more relevance than ever. 'I think that what [it] is doing really cleverly – and it's dangerous in that sense – is looking at the insidious questions of, not just race and gender, but positions of service, and what it is to be an economic migrant in this country today,' she nods. 'The responsibility, culpability and complicity within that dynamic; the idea that we're liberal and yet we have these subtler values underneath that actually aren't that inclusive… even in myself, I'm looking at them. I'm beginning to ask the questions, am I complicit? What am I complicit in? What is my place in the world? I'm questioning everything in my daily life.'
The conversation shifts to Time's Up and the responsibility Kirby feels as a rising star in her industry. 'The women we portray on screen are the images that go into our psyche and so it's up to us to fight for women [we] believe to be real,' she says. 'I don't want to watch fantasy figures of women seen through the male lens; I want to see idiosyncratic, messy, vibrant, layered, weird women… because we are weird.'
I wonder how she feels about the gender pay gap between Claire Foy and Matt Smith on The Crown (Foy is set to receive £200,000 in back pay). Should it be discussed so publicly? 'I think it's really important, because if we discuss it at our level, then hopefully it will give people a voice, and not be at a disadvantage just because they are a different gender; it makes absolutely no sense.'
Kirby was relatively unknown before she landed The Crown in 2015 – most notably, she played Estella in a 2011 BBC adaptation of Great Expectations and Stella in A Streetcar Named Desire on stage opposite Gillian Anderson in 2014. Is she getting better at knowing her monetary worth and asking for what she deserves? 'Definitely, and my agents feel like that too,' she explains. 'Literally on a day-to-day basis they feel better able to ask for something we wouldn't have done [before] because we wouldn't have wanted to seem difficult.'
As well as Julie, this summer, Kirby can be seen in cinemas alongside Tom Cruise in Mission: Impossible – Fallout, the sixth film in the multimillion-dollar action franchise. She was so nervous before the first meeting with Cruise about her character (arms dealer The White Widow) that she binged on the previous films in a single sitting the night before. 'I was like, "I can't not know what I'm talking about,"' she says. 'And then in the meeting, of course, we didn't talk about any of it. My boyfriend [War & Peace actor Callum Turner] was like, "I will have that theme music in my head for the rest of my life."'
Is it difficult not to have preconceptions about someone as famous as Tom Cruise? 'I tried to just meet the man really, and the man is so different to any stuff you'd read, because it always is,' she ponders. 'It helped me to see that all the stuff that gets written is just such a load of bullshit about everyone.'
Kirby learned this the hard way, after a brief kissing scene between her and Cruise was caught by paparazzi. 'Even though the [film] crew were there, it was all [in the tabloids] like, "The next wife falls at his feet,"' she says, shaking her head. 'The most disconcerting thing was the people I didn't think would believe it, did, and they were texting my boyfriend, asking, "Are you OK?" I don't think they believe anything they read now because you just can't. None of it is real. To be getting married to him? Not even a snog, it was marriage.'
Has this insight into the absurdity of fame impacted on how she'll navigate her relationship in the public eye? 'It is a weird feeling. I definitely don't feel it yet. I've been lucky because I barely get recognised, and I keep my relationship super private. [Callum's] just completely wonderful and he's my best friend, so that's…' she breaks off. 'I guess you can either choose to talk about it or not. If you talk about it, it becomes interesting to people, but if you don't, then it's not.'
Today, Kirby lives with her younger sister Juliet and two friends in Tooting, south-west London, not far from where she was brought up in Wimbledon. As the middle child of three (she also has an older brother) born to a prominent urologist and an editor, the actress had a liberal and affluent upbringing, but pointedly describes herself as 'incredibly sensitive'.
'I was badly bullied for three years in primary school and that was one of my darkest times,' she explains. What was the reason for the bullying? She shrugs. 'Just being me. I still haven't got to the bottom of it, but I was massively affected, and I got this tropical [intestinal] disease, giardia, and had two years of treatment and hospitals. I think it was all linked, really. Now when I look back on it, I feel like those three years gave me a kind of empathy or emotional understanding.' She discovered early on what made her happy. 'I found an acceptance in acting that I couldn't find anywhere else; it made me feel alive when I was a kid.'
But there were more hurdles to overcome, including being turned down for a place at the Bristol Old Vic Theatre School when she was 18. 'In my heart, I was longing for it, but I knew I wasn't ready,' she reflects.
Admirably conscientious, Kirby used the opportunity to take a gap year abroad (studying conflict resolution in Africa – a far cry from working the beach-bar circuit) before embarking on an English degree at Exeter University.
Having appeared in countless student plays, when she eventually graduated (with a first, no less) she felt ready to take up her vocation. 'Whenever I meet younger actors, I always say, "Trust the timing"; everyone's time is different. Some people are ready at 18, some are ready at 12, others are ready at 28. For me, I'm so glad that I didn't get in [to Bristol] because I'd be a different person.'
She did, however, need to convince her parents. 'They were really doubtful to begin with,' she says. 'My dad would be like, "Well, do you know what, I think you'd be really good at PR." I was like, "Are you sure? No, Dad, I really want to act." Now they've fully accepted it, but it took them a while, just because they were worried for me.'
Next up, Kirby will play an investigative journalist in the politically charged Gareth Jones, alongside James Norton, and has been working with UK charity War Child for the last year. 'Honestly, it's changed my life; it's everything I've wanted,' she says. 'And that's not a martyr thing. It's more exciting and fulfilling than any acting job I could ever get.'
I wonder, given the astounding success of The Crown, if she feels her acting career has peaked. 'Yeah, totally!' she shrieks, without hesitation. 'That's why I cried at the end. I did a joint interview recently with Claire Foy, and she said, "You had such a synergy with Margaret. I never had that with Elizabeth; I never felt like I accessed her on a deep level."'
Did Princess Margaret pave the way for Meghan Markle, and what would she make of that? 'It's interesting, isn't it. I can't help but think she did,' she says. 'Margaret knew when she got involved with Peter Townsend that her family wouldn't approve, and yet she wasn't going to give up. I think she was trying to modernise the royal family from the inside and make it better for people later on. I heard she was still very bitter about it 20 years on. That really informed how I wanted to play her because if you're bitter [years later] about somebody else being able to marry [a divorcee], it suggests your wound is very deep.'
Before we part, Kirby shows me a photo on her phone that Helena Bonham Carter recently texted her when she and Olivia Colman met up for the first read-through of season three. They're both pulling terrified faces and the caption reads: 'The baton's being passed. Think we dropped it!' It must be difficult to hand over a role you've put your heart and soul into to another actor, but Kirby's face is beaming with pride when she looks at the picture. She says, '[This] just encapsulates Helena, because she's hilarious, gracious and thoughtful about knowing how it must feel for me, you know? She's magic… and she loves Margaret as much as I do.' I think that's Kirby's way of saying she's finally ready to move on.
Julie is at The National Theatre until 8 September. Mission: Impossible – Fallout is in cinemas from 26 July
Julie will be screened in cinemas on Thursday 6th September
Celebrity news, beauty, fashion advice, and fascinating features, delivered straight to your inbox!