Meghan Markle is shortlisted for this incredible Ethnicity Award
She is up against Gemma Chan, Idris Elba and Naomi Campbell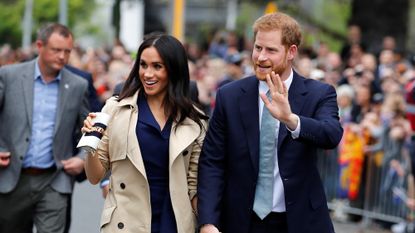 (Image credit: Getty Images)
She is up against Gemma Chan, Idris Elba and Naomi Campbell
As the first African-American member of the royal family, Meghan Markle's ethnicity has been making headlines since she started dating Prince Harry. However, this might be the most exciting news surrounding her biracial background yet, as the Duchess of Sussex is named as one of the contenders for an HSBC UK Ethnicity Award.
Shortlisted in the category 'Inspirational Public Figure', Meghan is up against the likes of Alesha Dixon, Dev Patel, Gemma Chan, Idris Elba, Lenny Henry, Naomi Campbell, Steve McQueen, Thandie Newton and will.i.am.
'The 2019 Ethnicity Awards works to promote the achievements of ethnic minorities and strives to improve lack of representation,' said Sarah Garrett, founder of the Ethnicity Awards. 'In the current social climate, it's imperative to advocate and celebrate the positive impact of ethnic minorities in the UK.'
'It's great to see so many celebrities, influencers, brands and politicians' commitment to raising awareness, and who work so hard to improve equality,' she continued. 'It is great that Meghan Markle is on the shortlist too, she is an incredible role model for women and girls all over the world.'
The news of Meghan's nomination comes days after Prince Harry spoke out about 'unconscious racism' in British Vogue. 'Despite the fact that if you go up to someone and say, "What you've just said, or the way you've behaved, is racist" – they'll turn around and say, "I'm not a racist," he mentioned during a conversation with Dr Jane Goodall.
The Duke of Sussex concluded: 'I'm not saying you're a racist, I'm just saying that your unconscious bias is proving that because of the way that you've been brought up, the environment you've been brought up in, suggests that you have this point of view – unconscious point of view – where naturally you will look at someone in a different way.'
The second edition of the Ethnicity Awards is taking place in London on October 25. The organisers of the ceremony are reportedly in talks with Kensington Palace to discuss the Sussexes' attendance, so let's cross our fingers Meghan makes an appearance.
Celebrity news, beauty, fashion advice, and fascinating features, delivered straight to your inbox!