Everyone thinks my mum is my sister—and I think it's down to these 12 products she borrows from my stash
I'm a beauty writer, and my mum is *always* pinching these products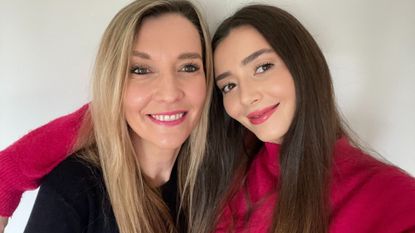 (Image credit: Dionne Brighton)
My make-up obsession can be credited to my mum, Lucy, who gifted me a mascara to wear to school at 14 even though it was definitely not allowed. Who knows, if I hadn't watched my mum apply her make-up every morning, I may not even be a beauty writer now.
Now I'm 24, and while I still have to check out every new foundation release, I'm way more focussed on my skincare regime. Turns out, I've brought the mother along with me for the ride. It seems the tables have turned, because nowadays I'm the one nagging my mum to please apply her skincare in the right order—cleanse, tone, serum and moisturise. Oh, and I'm forever having to remind her to apply her eye cream with her ring finger gently. And it's clearly paying off because everyone is always mistaking her for my sister.
As a beauty journalist, I get to test a hell of a lot of products. The one perk of having a stay-at-home, beauty writer daughter? A bathroom (and a spare room) full of beauty products. For mama bear, every day is like Mother's Day, because all the skincare products that are a little too thick or potent for me get passed on to her. When my acne-prone skin can't handle a thick formula, hers can.
At least a few times a month, she will ask me to do her make-up before she heads out for a dinner or date night, and to be honest it's one of my favourite things to do.
These days, my mum being confused as my sister is something I take pride in, as I credit it to the skincare routine I make sure she follows (and, of course, my make-up skills).
But recently, as I passed the bathroom while she was getting ready for bed, I was horrified. Not just by her application technique, but also at the fact it was my night cream was slathering onto her face. And it turns out, that isn't the only product she's been pinching from my dressing table. In fact, I'm having to top up a whole bunch of my products that never make it back from my mum's make-up bag or bathroom cabinet.
And I figured, if these products are good enough for me and my mum, then they've got to be pretty special (they also make incredible Mother's Day gifts, btw). So I thought I'd share them with you. Here are the 12 products that both me and my mum can't get enough of...
1. Elemis Pro-Collagen Cleansing Balm
Elemis Pro-Collagen Cleansing Balm
I was reluctant to try this for so long, having combination, acne-prone skin, but I've now used it every single night for a year, and I will never be able to use anything else. It takes off an entire face of make-up in one go, and the scent is simply divine. It has a calming effect that my evening routine just can't do without. (I still stick with a Simple face wash in the morning). One pot should last you ages, but granted not as long as it should if you're sharing it with your mother, as I have ended up doing.
2. Garnier Hyaluronic Aloe Micellar Cleansing Water
Garnier Hyaluronic Aloe Micellar Cleansing Water
My mum and I go through this like water—quite literally. I use it after cleansing my face to make sure I've got every bit of make-up off or if I'm being lazy in the morning and don't have time to wash my face. It's also the best at removing mascara and any accidental make-up mishaps.
3. RoC Multi Correxion Hydrate + Plump Serum Capsules
RoC Multi Correxion Hydrate + Plump Serum Capsules
To be honest, I don't use these anymore because my mum has well and truly claimed them for herself, while simultaneously waxing lyrical to me about how good they are. And I let her have these ones because her skin does look more plump, I'll give her that. The capsules are 100% biodegradable by the way, otherwise I wouldn't let her near them. When I am able to get my hands on them, my skin feels incredibly smooth.
4. Olivanna London Intense Repair Night Cream
Olivanna London Intense Repair Night Cream
It's not just because this is a mother/daughter brand that we love this. I've just never been so attached to a night cream. Usually I am always switching it up and wanting to try something new, but as soon as I tried this cream, I've never gone back. This is the same cream I first caught my mother using, and now we are on our third tub.
5. Omorovicza Deep Cleansing Mask
Omorovicza Deep Cleansing Mask
There's something magic in this mask because my skin feels brand new after I use it. I like to remind my mum how much it cost me when I catch her using it. But it's worth it IMO. Balancing, pore cleansing and anti-inflammatory all at once, I haven't been swayed by any other mask since.
6. Kate Somerville EradiKate Blemish Mark Fading Gel
Kate Somerville EradiKate Blemish Mark Fading Gel
Picking at a breakout is a bad habit that has 100% been inherited from my mother (I'll be a hypocrite here and remind you not to do it, anyway). But when I do let the bad habit get the better of me, I'll make sure to use this—and remind my mum to put it on before her night cream, too.
7. Sudocrem Antiseptic Healing Cream
Sudocrem Antiseptic Healing Cream
My mum now knows to get the massive family-size version of this because we both end up using it at least once a week. I vividly remember the day I first used Sudocrem on a juicy breakout and have recommended it to everyone who will listen ever since.
8. Ole Henriksen Banana Bright Eye Crème
Ole Henriksen Banana Bright Eye Crème
I started using this eye cream a few months ago as part of my morning routine. I thought it was running out super quickly before I discovered out my mum had seen me use it and decided she should too. I can't be mad though—I had been complimenting her on her make-up the week prior. I thought her concealer was doing a magical job of getting rid of her dark circles, but it turns out it was this.
9. CurrentBody Skin LED Lip Perfector
CurrentBody Skin LED Lip Perfector
It was only a few months ago I noticed the fine lines around my mouth (I've since stopped pouting in photos). I've been using this LED tool with a lip mask once a week, and I haven't seen them get any worse (thankfully). I've bought this for my mum for Mother's Day, and I know she'll love it every bit as much as I do.
10. Nursem Caring Hand Cream
Avène Cicalfate Restorative Hand Cream
This is always in my bag, and if it's not it's because it 'accidentally' made it into my mother's. I usually gift my mum a hand mask or cream for Mother's Day because she is always complaining about "old looking hands". This is the only cream I find to hold up with needing to be reapplied five times a day.
11. Drybar Detox Dry Shampoo
I know this isn't skincare, but it deserves a mention. If there's one beauty product you're always guaranteed to find in the Brighton household, it is dry shampoo. We used to be Batisse girlies. But then we tried this and now we fight over it. It actually makes your hair feel cleaner, instead of just getting rid of the greasy look.
12. NARS Orgasm Blush
Celebrity news, beauty, fashion advice, and fascinating features, delivered straight to your inbox!
Dionne Brighton is a writer at Marie Claire UK, specialising in all things shopping, beauty and fashion. Born and raised in North London, she studied Literature at the University of East Anglia before taking the leap into journalism. These days, you can find her testing out the latest TikTok beauty trends or finding out what the next full Moon means.