The 10 most googled beauty questions of 2016
And all the answers you've been searching for...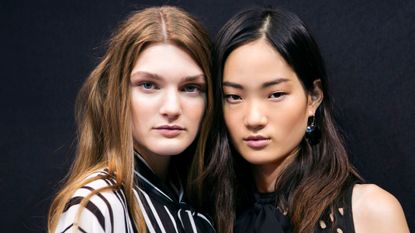 (Image credit: Imaxtree)
And all the answers you've been searching for...
There are so many beauty-related questions. And this year, there seemed to be more than what we're used to. Questions like 'how do you remove gel nail polish at home?' 'how do I get those beachy waves?' 'did Kylie really dye her hair, though?' flooded the search bar of Google throughout 2016. And we're not surprised. After all, Google is usually the place we go to when we need these time-sensitive answers. But, there were 10 questions in particular that just kept being asked. Here they are...
It's one of those hairstyles that just keeps coming back because it's just as easily created for a big red carpet event as it is for a day at the beach. The key is to part your ponytail in two. Then take a small section from under your right pony and pull it up and over your right pony to join the left hand pony. Repeat this step on the opposite side and move down your ponytail as you go. Get to grips with it by watching our hair tutorial.
Gel nails are amazing because they dry instantly and last weeks. But, taking them off can completely ruin your nails all together. However, there are 3 ways to take off gel nails, gently and safely - soak, foil, or use a kit. And it only takes a few minutes.
There are specialised products out there that disinfect your brushes with one wash. But if you don't have one handy, just use mild soap and warm water. Swirl the brush in a circular motion on your hand to really get rid of all the make-up. And swirl in circular motions when you dry against a soft towel or tissue. Don't go back and forth - this ruins the bristles.
There are several ways to do this. You can curl your hair using a straightener, you can curl your hair with a curling wand, you can even curl your hair with a pencil. Yes, really.
This all comes down to 'mapping' your face because when it comes to brows, it's not a one size fits all situation. Generally, you need to work out where your brow starts (in line with the side of your nose), arches (where your eye pupil is) and ends (the continuation of a line from your nose, past the outer corner of your eye, to your brow). Once you know how to employ this method, you can get the perfect eyebrows for any face shape.
If you want to brighten up your skin or get rid of dark circles under your eyes, you need to know how to apply your concealer. Always draw a triangle underneath your eyes to hide bags. Covering just the dark area, will make it more noticeable, whereas the triangle brightens up the whole area. Still stuck? Watch our video below.
See above.
If you follow these 9 easy steps, you'll have longer hair in no time. And, if you want to take extra care of your hair let our sister site Powder help you find a hair serum!
There's a plethora of brow products out there, including kits, eyebrow pencils, pomades, mascaras and powders. If you use pencil, the best way to fill your brows is to use short, sharp flicks, so you get the effect of hair. Only fill in the sparse areas, otherwise your brows end up looking unnatural. If you prefer brow mascara, pomade or powder, simply brush through with a spoolie or brush. Follow the natural shape of your eyebrow and focus more on the arch to bring attention to this area.
What do all Victoria's Secret models have in common? They've all had balayage at some point in their careers as angels. This hair colouring technique has been around for ages, but it seems we still haven't gotten to grips with exactly what it is. Basically, balayage is applied on the surface and not saturated through the section until the very tips. It's also applied freehand, so you end up with more natural looking highlights rather than streaks.
Celebrity news, beauty, fashion advice, and fascinating features, delivered straight to your inbox!