Balayage is the low-maintenance hair trend we always recommend—here's why
Low maintenance colour without compromising on quality? Sign. Us. Up.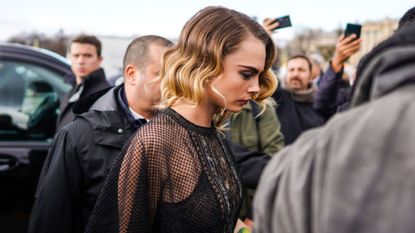 (Image credit: Photo by Edward Berthelot Getty Images 1218861857)
Balayage has been around for a while, but this timeless technique has crept its way back into the best hair salons as one of the most popular and requested styles.
Want the low-down on its sheer magic? We've spoken to the some of the leading experts to get some professional insight into this much-loved hair trend.
For more inspiration for your next trip to the hairdresser, don't forget to check out our guides to cherry red and copper hair.
What is balayage hair?
The term balayage is taken from the French word for 'sweeping'. "It's a freehand hair colouring technique that gives a really blended, natural look with no harsh or obvious regrowth lines," royal and celebrity hairdresser Richard Ward tells us.
"I love balayage," says Adam Reed, founder of Arkive and editorial ambassador for L'Oréal Professionnel Paris. "It's such a beautiful technique and one that really showcases the craft and artistry of the professional and in-salon colour."
Balayage allows for a sun-kissed, natural looking hair colour, with softer, less noticeable re-growth. The principal idea being less is more when creating a natural, multi-tonal finish. The technique uses patches of light and shade to create multiple dimensions to the colour.
Balayage is quite different to traditional highlights, because no foil is used and the colour is painted on freehand. The finished result is "less uniform than typical highlights" says Ward. If you've ever been worried about having stripey colour after a visit to the hairdresser's, balayage is a sure way to avoid that harsh contrast between colours – especially if you're going blonder.
The colour created is totally bespoke to you and can even be placed in a way to compliment or distract attention away from certain features on the face. It's a great method if you want to refresh your colour but don't want a bold overhaul of your look.
How do you create the perfect balayage?
The secret ingredients to a perfect in-salon balayage are normally kept under wraps. Thankfully, we have Daniel Galvin OBE on hand to share his top tips for the best balayage.
"First is the blend, it's super important that the colourist has the skill to apply the colour properly. They must use the right technique so that it looks like the colour comes from nowhere. Then, the colour choice should never be more than three shades lighter than the natural hair colour, this will ensure you get a 'sun-kissed' look."
Want to ensure your stylist is putting the colour in the right places? Daniel has the answers: "The front section should be the lightest part of the hair as this is what shapes your face. Also, your colourist should allow your natural colour to take centre stage, this is how to achieve the best results."
How is balayage applied?
Balayage is painted on the surface of the hair strand and not saturated through the section until the very tips. This ensures a smooth, blended stroke of colour. It can also be called a freehand technique because no foil or meche are used to create the highlights.
How long does it take?
"The depth of balayage can vary so much from a few small highlights that will only take a matter of minutes to a full on, triple process look that can take up to 3 hours," says Josh Wood, master colourist and Redken's global colour creative director.
It can take quite a long time to do a multi-tonal, layered balayage compared to regular colour. But the benefit of the application means you will be able to leave longer between your next colour appointment. If you want a few balayage babylights, this can take as little as 45 minutes.
Why is balayage so popular?
Ten years ago balayage wasn't the colouring phenomenon it is today, it's quite a specific method of colouring that hasn't been widely taught in the UK until recently. "It's especially popular with celebrities and is a classic look for the red carpet," says Ward. After spotting it on celebrities like Gisele, Chrissy Teigen and Jessica Alba, there has been a surge in interest for the technique as people are requesting the look.
"There is currently a slight turn away from the standard balayage look to something more subtle," explains Josh. "We are looking at low-fi colour but high-fi condition. Multi-tonal, natural effects are what we've been perfecting for the runway and now in the atelier.
"You should question whether it's actually coloured or not; it's about a low-key, hyper-natural vibe. For the high-fi condition, I would recommend the Redken in-salon glossing treatment. The Redken 'Toning Tweakments' in-salon service menu includes the 'Balayage Booster', a Shades EQ gloss shot.
"These are demi-permanent colour that have been coined the 'lip-gloss' of hair, due to their conditioning properties that give a flawless shine and vibrancy. Non-committal, easy in-salon use – colour that enhances hair condition."
Some celebrities who love balayage include Rosie Huntington-Whiteley, Olivia Palermo, Jessica Biel, Jennifer Lopez, Kim Kardashian and Miley Cyrus.
Does it require a lot of maintenance?
"Typically balayage requires far less maintenance than traditional colour. It grows out beautifully and there are no strong regrowth lines," says Ward. "It also means you can wait for longer between appointments so it's the perfect technique for a modern, busy woman."
"If you want to make your balayage last as long as possible, opt for a babylight – it's the most subtle type of colour you can go for," advises Wood. Investing in some good quality colour care styling products is also advisable to keep your colour looking fresh for longer. For example, have a look at hair toners or one of the best purple shampoos.
If your colour turns brassy after a while, Wood says you can refresh it without going for a full top up with a toner or gloss to give your shine back.
Grace Lindsay, Marie Claire UK's beauty writer, loves her balayage because of how easy the upkeep is. "I will never go back to highlights after getting balayage. It allows me to lighten my hair without having to get my roots touched up every couple of months. Plus, I only have to get it done about twice a year, so I save money too."
Is it suitable for all hair types/lengths?
"Balayage is for all, all hair types and hair colours," says Reed. "It's a wonderfully beautiful technique that can be dialled up or down, perfectly personalised depending on the desired end finish. The key to maintaining this look on all hair types is colour maintenance."
It works on both light and dark hair depending on how much lighter you want to go and all hair textures. You can ask for balayage to blonde or balayage for brown hair or dark hair, and your colourist will be able to tailor the style to you. Straight, wavy or curly; whatever category your hair, the colour can work well and look great.
"Balayage works on all hair lengths apart from on very short or cropped hair (think Pixie crops)," advises international hair colourist, L'Oréal Professional ambassador and Marie Claire UK's 2018 Colourist of the Year Jack Howard.
The technique is particularly popular amongst celebrities with long, textured hair as it creates a beautiful, beachy style.
If however, you have balayage on your short hair – let's say a bob – and then want to try the long beach style, Hershesons recently launched a range of balayage tape hair extensions, that will seamlessly blend in. The 60-minute service includes a colour-matching consultation, fitting, cut, wash and blow-dry and the tapes should last you up to eight weeks, and the hair can be re-used up to three times.
How long does balayage last?
"One of the biggest perks of this style is that it doesn't require as much upkeep as traditional colour," advises Wood. The blended finish means you can leave longer between your salon appointments. And depending on the style you go for you can leave up to four months between top-ups.
Maintaining balayage at home
Reed explains that balayage looks its best when it's super vibrant and glossy. "My favourite product to keep hair healthy and offer that glass hair effect is L'Oréal Professionnel Mythic Oil. Use this once a week and leave-in hair overnight for a deeper treatment for luscious, high-shine hair
"My top tip for anyone looking to have their colour done for the best result long-term is to add-on the L'Oréal Professionnel Metal Detox in-salon treatment. This is an incredible innovation that works to help neutralise copper levels in our water and pipes that can cause hair breakage during the colour service. This is a game changer."
Don't have time to go to a salon? L'Oréal Professionnel's at-home treatment protects your hair from that pesky copper in under five minutes. Simply, cleanse your hair with the L'Oréal Professionnel Serie Expert Metal Detox Anti-Metal Cleansing Cream Shampoo. Then slather some of the Serie Expert Metal Detox Anti-Deposit Protector Mask on your mid-lengths and ends. Et violà, you've banished any damaging metals.
How to refresh your own balayage
If you are desperate to refresh your colour at home, read our guide on how to dye your own hair at home, and follow Carolyn Newman's below tips on how to refresh a blonde balayage, using Schwarzkopf Permanent Colour.
Apply some of the enclosed treatment sachet to the lengths and ends to protect the existing blonde. This will help protect the hair – do not colour this section.
Mix and apply the colour to your roots first – the first 1-2 inches of your hair – and leave to develop for 15 minutes.
Then, using a tangle teezer style brush or wide tooth comb, pull the root colour down another 1-2 more inches, using a brush to blend so you don't get a line and leaving the conditioner-covered mid lengths and ends. Develop for a further 10 minutes.
Rinse really thoroughly with shampoo (do two shampoos if required). Then use the rest of the Colour Expert treatment sachet, apply to the lengths and ends and leave to soak in for 2-5 minutes. Rinse and style as usual.
What to buy to keep your balayage looking vibrant and glossy
Keep on scrolling to shop some of the best products to help keep your colour looking fresh in between appointments.
John Frieda Violet Crush Intensive Purple Shampoo
This is one of our beauty editor's favourite purple shampoos, and is perfect for keeping brassy tones at bay if you've opted for blonde balayage. Not only is it super affordable, but you'll see results in just one wash. Top tip: be sure to wash your hands thoroughly afterwards.
Redken Color Extend Brownlights Shampoo
For those with brunette hair, this blue shampoo by Redken combats those unwanted orange tones. It works for natural and highlighted hair, and the brand recommends using it four to six weeks after having your balayage done.
L'Oréal Professionnel Serie Expert Metal Detox Anti-Metal Cleansing Cream Shampoo
As mentioned above, this shampoo is designed to brighten and protect colour-treated hair, by washing away copper deposits. Clever, right?
Sisley Hair Rituel Regenerating Hair Mask
Our beauty writer swears by this hair mask to keep her blonde balayage looking shiny. Although it's not specifically designed for coloured hair, the oils nourish the hair fibre, helping to counteract dryness from the bleach.
For a glossy finish, try the Olaplex No.7 Bonding Oil. It contains the same clever technology as the rest of the range, helping to tame flyaways and enhance colour vibrancy.
What's the difference between ombre and balayage hair?
Balayage is a totally blended hair look, there are no lines or blocks of colour and the graduation between shades is much more subtle. Some lengths of the hair are kept darker for a seamless colour finish.
Ombre hair has a more defined contrast between the roots and tips of the hair with colour starting mid-way down the strands. "Ombre colour is a more noticeable, statement look compared to balayage," says Ward. Want to know more? Check out our roundup if you want to find out more about ombre.
Does balayage work on grey hair?
"The style works for all colours but the only thing is it won't cover grey hair," advises Wood. "It will only help blend in the grey to disguise it, so if you want full coverage for greys it might not be the right choice for you."
Does balayage damage hair?
Some good and bad news for you here. Lots of stylists agree that balayage is a lot less damaging than a full head of bleach or getting your roots done every six weeks. Thanks to the lack of foils and heat, your hair will be less dry and processed when your do is complete. That said, balayage is a chemical treatment so expect for some dryness.
Don't worry too much though, our handy guides to the best shampoo for dry hair and best hair masks will bring back any lustre you've lost.
What makes it timeless?
Balayage creates a totally bespoke, personalised colour finish. Healthy, natural looking hair will always be 'in', which is why the technique has remained popular for so many years. Depending on what you're looking for the finish can be subtle or quite bold. It's the ability to completely tailor the colour effect that makes this such a popular colour choice.
So, there you have it, everything you need to know about balayage. Be right back, off to book a hair appointment...
Celebrity news, beauty, fashion advice, and fascinating features, delivered straight to your inbox!
Katie Thomas is the Senior Beauty Editor at Marie Claire UK. With over 10 years of experience on women's luxury lifestyle titles, she covers everything from the best beauty looks from the red carpet and stand out trends from the catwalk, to colonic irrigation and to the best mascaras on the market. She started her career on fashion desks across the industry - from The Telegraph to Brides - but found her calling in the Tatler beauty department. From there she moved to Instyle, before joining the Marie Claire digital team in 2018. She's made it her own personal mission to find the best concealer in the world to cover her tenacious dark circles. She's obsessed with skincare that makes her skin bouncy and glowy, low-maintenance hair that doesn't require brushing and a cracking good manicure. Oh and she wears more jewellery than the Queen.