The best make-up brushes for all budgets to fill your beauty tool kit
The industry-approved edit of the brushes you need to get your paws on, stat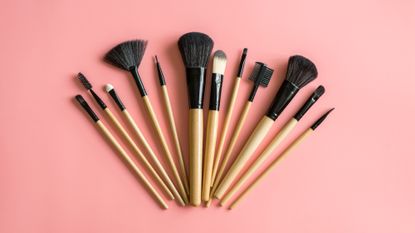 The industry-approved edit of the brushes you need to get your paws on, stat
Ask any good make-up artist and they'll tell you that, for the perfect finish, you need the best make-up brushes you can get your hands on.
But it's a bit of a minefield out there, and it's easy to get overwhelmed by the sheer volume of brush choices on the market. That's where we, your handy make-up brush testers, step in with this shoppable guide to the best make-up brushes money can buy.
From the best vegan make-up brushes to the best make-up brush for the best blusher, the best foundation, eyes and more, we've handpicked this edit for all budgets, for all of your make-up needs. Keep reading for your induction to the very top tools out there.
Make-up brushes: the bare essentials
Whether you're a contour connoisseur, or you take the naturally does it approach, there are some make-up brushes that everyone should have in their kit.
'Really you only need a few brushes,' says Zoë Taylor, CHANEL Make-up Artist. 'I really couldn't live without a fluffy brush for eyeshadow; a foundation brush (consider your skin type when deciding which is the right brush for you); a powder brush; and of course, a brow brush, unless you like to use gel.'
Should I opt for natural or synthetic brushes?
It's the great make-up brush debate: natural or synthetic, and what's the difference?
Well, it's all about the bristles. Natural brushes are typically made from various animal furs and hairs, while synthetic brushes are usually made from plastics like nylon.
'Natural brushes are best used with dry products and water-based products as it is easy to clean these formulas off the brushes without damaging the hairs,' explains Taylor. 'Synthetic brushes are far more robust but they often lack the finesse and finish of a natural brush. You can use anything with synthetic brushes, they are far more versatile. It is worth investing in synthetic brushes as you really want the ones with the finest hairs, to get a truly flawless finish.'
Best way to clean make-up brushes
You've spent all your money on these beautiful tools, now you want them to last. And one of the best ways to prolong their life is by ensuring you clean them – properly and regularly. If you use your brushes daily, washing at least once a week is a must. Wondering how to clean make-up brushes properly? Swot up with our handy guide to make sure you're doing it right.
Ready to take the plunge? Scroll down for our pick of the best make-up brushes to transform your kit. Enjoy!
Best make-up brushes to fill your beauty tool kit