Beauty insiders swear by this simple treatment for shaving time off their make-up routines
Get your appointments booked ASAP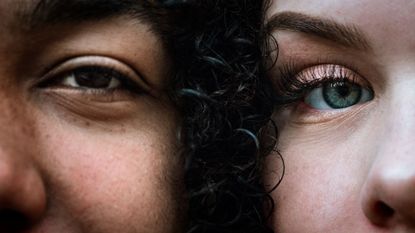 (Image credit: Getty Images RyanJLane 125377489)
Here at team MC, we're suckers for beauty treatments. While there's no doubt we love a great product, something has to be said for the long-lasting benefits of an in-salon treatment. From smoothing Olaplex treatments to a brightening face peel, these professional pamper sessions might cost a little more than an at-home product, but they sure do deliver.
And look, we get it, beauty treatments can be spenny but there is one we're happy to spend on time after time. Enter: LVL lashes—a treatment which rivals even the very best mascara.
LVL lashes stands for length, volume and lift. You'll recognise at least one of these beauty buzzwords from pretty much every one of the best mascaras on the market, but it's rare that all three would appear together because, let's be honest, that'd have to be quite the multi-tasking mascara.
Lucky for us, though, LVL lashes manage to do all of the above in one sitting. That's lengthening, volumising, and seriously lifting all in one easy treatment. But what exactly is it, how much does it cost, and where should you be booking your LVL lash lift appointment?
Here's everything you need to know about this brilliant – and we mean brilliant – lash-lift treatment.
What are LVL lashes?
The LVL lash lift by Nouveau Lashes is a treatment that combines both an eyelash perm and an eyelash tint treatment. The best thing about it is that it enhances the lashes that you already have.
How does the LVL lash lift work?
Your lashes are covered in a special serum that straightens them from the root – which, rather than actually straightening, gives them that super-curled look. Your lashes are then tinted and, if you're a little sparse, you might be offered some individual lash extensions as well.
What do you look like during an LVL Lash Lift?
This is what you look like... Don't be put off.
How long does the LVL lash lift take?
Typically, LVL lash treatments last between 45 minutes to an hour. Most of that time is spent waiting for things to develop – the serum, the dye, etc. Your eyes are shut the entire time, so you might actually find yourself falling asleep. This is not uncommon.
Do LVL lashes hurt?
They don't hurt one bit. If at any point, you feel any irritation or itchiness, make sure to tell you therapist straight away.
How long do LVL lashes last?
If you take care of them properly, then LVL lashes can last up to 6-8 weeks.
LVL lashes aftercare
For 48 hours after the treatment you're not allowed to get the area wet. This is worth knowing, as washing your hair can be tricky.
You're also not allowed to apply mascara for the first two days—but honestly, you won't want or need to, because your lashes will have never looked better.
Following those initial days, you shouldn't pull at your lashes. This might be obvious to most of you, but what they mean is not to tug on them when you're removing eye make-up. Rather than dragging a cotton pad along your lashes, press it onto your eye and hold for 10 seconds. Doing so will keep your lashes looking better for longer.
Will an LVL lash lift damage my natural lashes?
No, Nouveau Lashes products have been developed to be kind to your lashes.
How much do LVL lashes cost?
The cost varies between salons, but as a rule of thumb, LVL lashes can cost anywhere from £45–£70.
If you're sat there thinking that you actually prefer the natural lash look, well that's the beauty of the treatment. Yep, it accentuates what you've already got. If you want to amp it up, then a slick of dramatic mascara and the best eyeliner will define eyes beautifully, too.
Do LVL lashes require a patch test?
Yes. It's always best to err on the side of caution when undergoing a lash lift, so make sure to pop into your salon for a quick patch test before undergoing the treatment.
Can you do LVL lashes at home?
Never – always leave it to the professionals. What makes LVL lashes such a treat is that you'll never be able to replicate them at home, so it's best to boycott at-home lash lifts and instead, head down to your local salon. Not only that, but DIY lash kits can cause severe danger to your eyes if used without the correct training. So put down the ammonia, and instead pick up your go-to appointments booking app.
Where to book in for LVL lashes right now
So now that you're all clued up on the treatment's virtues, it's time to get a booking.
If you pop onto the Nouveau Lashes website it'll tell you where your nearest salon is.
Trust us when we say, the results really are amazing. So amazing, that you'll wonder how on earth you ever lived without this treatment.
So what are you waiting for? Get down to your salon ASAP.
Celebrity news, beauty, fashion advice, and fascinating features, delivered straight to your inbox!
Katie Thomas is the Senior Beauty Editor at Marie Claire UK. With over 10 years of experience on women's luxury lifestyle titles, she covers everything from the best beauty looks from the red carpet and stand out trends from the catwalk, to colonic irrigation and to the best mascaras on the market. She started her career on fashion desks across the industry - from The Telegraph to Brides - but found her calling in the Tatler beauty department. From there she moved to Instyle, before joining the Marie Claire digital team in 2018. She's made it her own personal mission to find the best concealer in the world to cover her tenacious dark circles. She's obsessed with skincare that makes her skin bouncy and glowy, low-maintenance hair that doesn't require brushing and a cracking good manicure. Oh and she wears more jewellery than the Queen.