Pumpkin spice hair is dominating right now—and it's the ultimate autumn colour trend
Anything but basic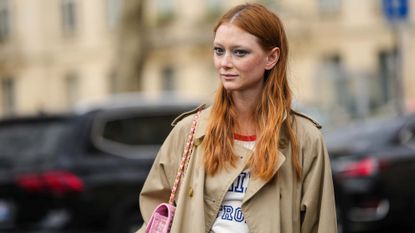 (Image credit: Getty Images / Edward Berthelot / Contributor)
We're officially in autumn. And with the unmistakable shift to crisp mornings, golden leaves and cosy knits, there's one seasonal signifier that is transitioning from our lattes to our hair colour—pumpkin spice. Yes, call me a basic millennial, but I need no convincing of the sweet and spicy joys of a pumpkin spice latte, so it comes as no surprise that it is dominating in the world of hair colour too. A mix of burnished copper, rich cinnamon red and a creamy hint of strawberry blonde, it's a milkier take on the more vibrant red shades that we've seen reigning in popularity over the summer months. (Pumpkin spice hair takes its cues from cowboy copper more than cherry red, for instance.) And with over 3.4 million hits for #pumpkinspicehair on TikTok at the time of writing, this hair colour looks set to dominate for the rest of the season.
To get the full lowdown on this sumptuous colour, we asked hair stylist and colourist Mary Forester, owner of Oak Hair Studio, to break down the pumpkin spice hair trend for us.
What is pumpkin spice hair?
"With more depth than the average copper, pumpkin spice hair is a gorgeous shade that is universally flattering," explains Mary. And much like the humble pumpkin spice latte uses a mix of ingredients to create its autumnal blend, pumpkin spice hair uses a combination of shades to add dimension. "A blend of softer mahogany shades [alongside the lighter coppers] underpins pumpkin spice hair and creates a richer reflect."
As for celebrity inspiration? "I love Sydney Sweeney as a redhead and think the pumpkin spice trend suited her colouring so well," says Mary. "I also still obsess over Emily Ratajkowski's copper hair moment, which shows how pumpkin spice works as a great shade and depth for darker hair too."

What should you ask your colourist for if you want to try pumpkin spice hair?
If you're feeling inspired to take the plunge but aren't sure what to ask for once you're at the salon, then listen up—the key to pumpkin spice hair is warmth. "Lots of clients will sit in my chair and say that they want to be copper, but not ginger—and pumpkin spice is actually the perfect shade for a neutral starting point," says Mary.
As for the specific shades? "Ask your colourist for something that has a warm, rich tone with depth," explains Mary. "A mixture of coppers, golds and mahoganies will have you on the right track in salon."
How to maintain pumpkin spice hair colour at home
If you're after something low-maintenance then pumpkin spice hair probably isn't it. "Copper is a high-maintenance colour, so it needs to be topped up in salon quite a bit," agrees Mary. "An at-home colour conditioner is an absolute must to keep pumpkin spice shades looking their best. They prevent colour fade and will keep pumpkin tones looking fresher for longer.
Pumpkin spice hair inspiration to take to your salon appointment
Celebrity hair stylist Dimitris Giannetos sparked our obsession with pumpkin spice hair with this covetable colour for Meredith Duxbury.
This fiery hair colour will turn heads—and that gorgeous shine is next level.
Megan Fox proves that pumpkin spice works well for a brunette hair makeover.
Mary still takes inspiration from EmRata's copper hair and we can see why.
This vibrant shade is exactly what pumpkin spice hair is all about.
Mahogany undertones lend a retro feel to Tessa Thompson's take on pumpkin spice hair.
The best products to look after pumpkin spice hair at home
Celebrity news, beauty, fashion advice, and fascinating features, delivered straight to your inbox!
Mica Ricketts is a freelance beauty editor and contributor to Marie Claire. She has written for titles including Refinery29 and Who What Wear UK, and also works with beauty brands on content messaging and marketing copy. She was previously Who What Wear UK's beauty editor. As someone that has tried basically every acne product on the market, she has a particular passion for debunking skincare myths and finding products that work. Plus, with two small children at home she is all about time-saving beauty routines that boost glow and disguise dark circles.