How often should you wash your hair? Turns out, it's not the same for everyone
It's all to do with your hair type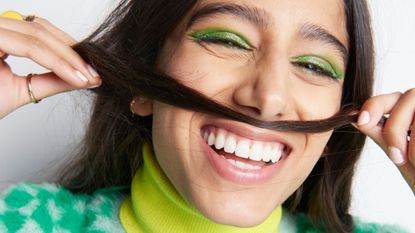 (Image credit: Getty Images We Are 1355079918 )
It's the bane of our lives a couple of times a week, but how often should you really wash your hair?
We spoke to some of the industry's biggest hair experts and top stylists to get an answer once and for all. But it's not a one-size-fits all situation.
"There really is no hard or fast rule to how many times you should wash your hair—you know that old wives tale about hair not being washed and it self-cleans? Well, it's kind of true, however your lifestyle choice and environment has a big part to play," celebrity hair stylist Paul Edmonds tells us.
"If you go to the gym a lot, swim, live in a highly polluted environment, colour your hair, use heat styling tools... these things all contribute."
Of course, it's also totally dependent on your hair type, so keep on scrolling to see what routine is best for you. Don't forget to check out our edit of the best shampoo while you're here.
Is it ok to wash your hair everyday?
Although it might be tempting to wash your hair everyday to keep it as clean and fresh as possible, this might be counter-intuitive.
"The less you wash your hair, the less you need to wash your hair!" says Gareth Williams, Headmasters artistic ambassador.
Edmonds agrees: "Generally my advice is not to use anything that is too overly stripping of the hairs natural oils or moisture, but removing chemical deposits such as chlorine etc. is important."
Not only that, but if you're washing your hair a lot, it probably means that you're using more heat on your hair, too.
So, if you avoid over-styling and limit the use of products on your hair, you should be able to reduce the amount of times you wash your hair each week.
And remember, how you wash your hair matters. If you're unsure, don't forget to check out our in-depth guide on how to properly wash your hair.
How many times a week should you wash your hair?
Want a bit more of a guide? Don't worry, we've got you covered.
Thin and fine hair
"Fine hair can often need washing every day or every other day as it can get oilier quicker and won't hold its style for long," says Skye Edwards, artistic director at Gielly Green.
Craig Taylor, creative director of HARI's salons, agrees. "Oily hair should be washed every day with a shampoo that has extra-mild sulphate-free surfactants and no conditioning agents, silicones, oils or pearlising agents."
If you don't know how to style your hair, we've rounded up the best hairstyles for fine hair. You're welcome.
Thick hair
Edwards explains that thicker hair will last longer so will not need washing quite so often. "Most textures of hair will be better when washed two to three times a week to keep the scalp clean and healthy as this will promote healthy hair."
Curly hair
Curly hair can also get away with being washed less often than thin or fine hair. Eugene Smith from John Frieda Salons recommends washing hair every three to four days. "Start with working the shampoo on the scalp to work up a good lather, proceed down the hair to the ends. If you notice there are no suds forming on the first wash, that means you need to rinse and shampoo again."
Coily hair
If you have coily hair, then Smith says you don't need to wash it more than once a week. "To be sure the hair and scalp is properly cleaned, be prepared to do a few shampoos." Smith recommends using a clarifying shampoo first to get rid of any residue.
Celebrity news, beauty, fashion advice, and fascinating features, delivered straight to your inbox!
Grace Lindsay is currently Junior Beauty Editor at Who What Wear UK and previously was Marie Claire UK's E-Commerce Writer. With over three years of experience in the fashion and beauty industry, she covers everything from the best make-up and skincare deals to how to shop the stand out trends of the season. When she's not typing away at her laptop, Grace can be found shopping her favourite vintage markets IRL, or catching up on her never-ending list of books to read.