Thought contouring was just for your make-up routine? This simple haircut achieves the same result
Here's what to know about the contour cut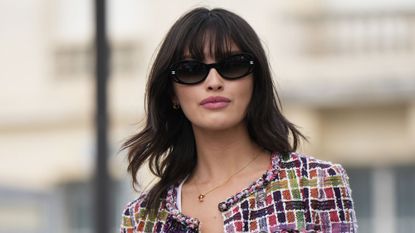 (Image credit: Getty Images / Edward Berthelot )
With every new season comes a fresh batch of hair trends, and 2023's autumn hair trends are no exception. We've been loving floating layers, neptune waves and the pouf hairstyle. Lately, it's the contour cut that's caught our eye. A technique rather than a specific trend, this is all about creating smart layers that work in the same way as make-up contouring, to highlight particular aspects of your face shape and features.
The best part? This cut is for everyone and anyone and can be adapted to suit face shape, hair texture and your styling routine. Here's everything we think you should know about the contour cut, plus plenty of inspiration to take to your next salon appointment for inspiration.
What is the contour cut?
The contour cut is essentially a cutting technique called contour cutting. "It involves creating a more personalised cut that uses layering (and even bangs) to emphasise the cheekbones and jawline, much like face contouring with make-up," explains Elizabeth Wilson hair expert at Live True London. The good news is that these layers can be anything you like; "choppy and short like a shag, and more long and sweeping like a butterfly cut," she adds. It all depends on your preference and face shape, which your hairstylist can discuss during your consultation. "For example, a shoulder-length look with choppy layering may help to lengthen round faces and define the jaw," says Elizabeth.
Who is the contour cut best for?
Anyone! And that's the beauty of it being more of a technique than one, defined style. "The idea behind this cut is that it is adapted for each individual, so it can look great on almost anyone," says Elizabeth. "It works in multiple lengths and can be adapted for any hair texture, as the spirit of this cut is simply layers that are adjusted for you."
If you're a bit of a lazy styler then this cut is also for you. Elizabeth notes that it's particularly great if you want movement and shape but limited day-to-day styling.
How can people adapt the contour cut to suit their hair type?
Although your hairstylist can help you adapt the cut specifically for you, generally thin hair types tend to work with longer layers, this avoids removing too much weight. "For thicker or curly hair, you may want to have shorter layers to provide some shape to the hair," Elizabeth says. Coarser hair can be a little more liberal with layering, "creating the desired type of layers with much more definition," she explains. Hair that lacks a little density may want to opt for "subtler, softer layering to avoid the hair appearing flat."
What to ask for in the salon
Elizabeth says that you should ask for a layered cut, with plenty of framing around the face to emphasise your facial shape. Make sure to discuss your natural texture with the stylist, as well as your typical styling routine, so they can make sure it works for your everyday and make it as easy to recreate as possible. Oh, and don't forget to take a bunch of photos as inspiration so your stylist can get a feel for your ideal look.
Downsides of the contour cut
"For some, this look can mean additional styling so the layers don't fall flat, such as blow drying with a round brush to create volume or using pomades and hairsprays to add additional volume in a more mussed style." It can be a little more maintenance than the average cut, "as soon as the layers grow a bit too long, you'll lose the contouring effect you're after. To avoid this, make sure you're booking in for a trim every 6 weeks," says Elizabeth.
Contour cut inspiration
Celebrity news, beauty, fashion advice, and fascinating features, delivered straight to your inbox!
Tori is a freelance beauty journalist and contributor for Marie Claire. She has written for various titles, including Allure, Glamour, Elle, Refinery29, Brides, and more. Currently training to be a nail tech, Tori is a total nail enthusiast and always has time to talk all things nail art. When she's not writing about beauty and testing products, Tori can be found walking her rescue dog Pip, drinking great coffee, and eating as many croissants as humanly possible.