As an editor, my beauty collection is vast—these are the only products I deemed worthy of adding this month
This month's Beauty Desk Drop is all about rethinking your shopping habits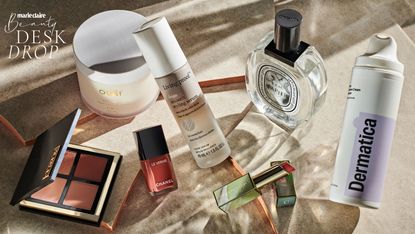 (Image credit: Future)
Welcome back to Beauty Desk Drop, where I talk you through some of the best things to have landed on my desk over the past month—from serums and cleansers to bath soaks and perfumes. The truth is, shopping for beauty products has never felt harder—there's opinion overload everywhere we look—but I hope that this monthly round up acts as some calm amongst the chaos.
This month saw the arrival of spring and, with it, a whole load of new beauty launches. So many new beauty products came my way, in fact, that I felt a bit overwhelmed. Don't get me wrong, the novelty of being privy to the best new beauty products is never lost on me (even after nearly a decade in the job), but something just felt off.
Over the past few months, myself and the rest of the beauty team here at Marie Claire have been focusing on testing the best acne treatments, best eye creams and best foundations by the bucket load—all so that we can ensure we're only recommending you the very best products. The reason we're putting so much energy into our testing process is because we know just how much waste there is in our industry at the moment. We're fed up of wasting our money, wasting our time and sending wasteful products to landfill. Our mission is to make sure that you only ever need to buy one of something, sticking with it until every last drop is used up.
And the journey in which I've found myself on at work has caused a shift in the way in which I shop and, as a result, the relationship I have with the products landing on my desk day in, day out. You see, my at-home beauty collection is vast. But this month, I've embarked on a spring clean—it's out with what doesn't serve me. I have spent the past few weeks passing products onto friends and organising large donations to charity. Now, I only take home the products I know I'm going to use.
And genuinely, it's been freeing. It has stopped me craving more of everything and helped me realise that the next best thing isn't always out there, sometimes the best thing is the one right in front of you. Above all of this, it's forced me to slow down and carefully consider every product I consume. With the start of spring, I urge you to also take a look at your beauty collection and identify the products you really love to use—these are the ones you should use to inform future shopping choices.
So, without further ado, out of the hundreds of products that came my way this month (which, by the way, team Marie Claire always donate to a good cause), these are the 11 I took home...
The Best New Beauty Products Of March 2023
1. L'Oréal Paris Revitalift Clinical Vitamin C UV Fluid SPF50+
L'Oréal Paris Revitalift Clinical Vitamin C UV Fluid SPF 50+
Best new SPF
Specifications
SPF: 50+
Size: 50ml
Key ingredients: Vitamin C, SPF, Netlock technology
It has been a really long time since a new daily SPF came my way that I fell head over heels for—let alone a relatively affordable one. If you've long struggled to find a facial sunscreen that doesn't break you out, leave your skin feeling greasy or just generally upset you, this might just be the formula for you. It's almost impossibly lightweight and dries down in a matter of seconds. Plus, it harnesses a special 'netlock' technology, meaning it doesn't budge or run into your eyes throughout the day. With vitamin C, it delivers antioxidant protection while also boosting glow—and there's vitamin E and hyaluronic acid in there, too for ample hydration. All in all, it's a winner.
2. Dermatica Caring Squalane Cream Cleanser
Dermatica Caring Squalane Cream Cleanser
Best new cleanser
Specifications
Size: 150ml
Key ingredients: Squalane, glycerin, rice bran oil
I'm a real believer that you should cleanse your face with a wash-off cleanser twice a day—morning and night. In order to do that without upsetting your skin barrier, you should look for a gentle, cream cleanser to use in the morning and as a first cleanse to remove the day's dirt in the evening. This cleanser is just that. It's no frill and no fuss, just a really great cream cleanser that takes it all off without leaving skin dry, tight or irritated. With squalane and glycerin to keep your complexion dewy and plump, the cream-to-oil-to-milk formula is a joy to use.
3. Chanel Le Vernis Longwear Nail Colour in Rouge Cuir
Chanel Le Vernis Longwear Nail Colour in Rouge Cuir
Best new nail polish
When my nails aren't manicured in CND Shellac 'Bouquet' (it's my signature), they're usually bare. Why? Because I am terrible at painting my own nails. However, when this new polish landed on my desk, it called out to me. I was shocked. Not only am I not a polish-at-home kind of woman, I'm also not a colour kind of woman. My go-to mani of choice is milky, nude and barely-there. Regardless, something about this dusty, brick red spoke to me. Since bringing it home, I haven't booked in for a nail appointment (although my cuticles wish I would). What's more? I even find it easy to apply. It's so good, in fact, that someone asked after it when I was queuing for a coffee a couple of weeks ago.
4. Diptyque L'Eau Papier
Diptyque L'Eau Papier Eau de Toilette
Best new perfume
Specifications
Size: 100ml
Key notes: White musks, rice, mimosa, and blonde woods accord
I want to start by saying that Diptyque perfumes are my thing—there aren't many I don't like. The powdery and smoky Orphéon is my everyday go-to (I get compliments every time I wear it), and it was the last launch the brand conjured up. So, when I learned that a new Diptyque perfume was on the way, I was excited. L'Eau Papier lives up to my expectations. While Orphéon is still my go-to, L'Eau Papier has also proved a daily favourite—particularly for cosy weekends and laid-back affairs. It's warm, snuggly and skin-like in the most comforting of ways. It has a sweet freshness to it that merges with the skin of whoever is wearing it. While on me it's milky and wooly, on Marie Claire Editor, Sunil Makan, it's musky and a little deeper. A spritz of L'Eau Papier provides a calming sanctuary for a busy mind.
5. Susanne Kaufmann Body, Face & Scalp Wash
Susanne Kaufmann Body, Face & Scalp Wash
Best new multi-use product
Specifications
Size: 250ml
Key ingredients: Albatrellus mushroom extract and vitamin E
Typically, I like my body products to be scented—I'm all about the smellies. In fact, ask anyone who knows me and they'll tell you I am an oracle of wisdom when it comes to smellies. It's not the chic sort of beauty-editor niche I long for, but I'll take it. So when this unscented, 3-in-1 product landed on my desk from one of my favourite body care brands, it's needless to say I was a bit miffed. A body, face and scalp wash all in one?! Quelle horreur! But, I brought it home because I knew if I didn't get on with it, my fiancé certainly would. It's been a month now and he hasn't even had a look in. I'm a night-time bath person and this is when I do my full routine—filled with the most luxurious smellies. However, for my quick freshen-up shower in the mornings, this has proved tremendous. The fact it's unscented and full of skin-nourishing extracts means it doesn't disrupt the skin barrier in the slightest. If you have sensitive skin, this one is for you.
6. Living Proof No Frizz Smooth Styling Serum
Living Proof No Frizz Smooth Styling Serum
Best new hair product
Specifications
Size: 44ml
Key ingredients: Humectant polymers
I want to caveat this inclusion with the fact this product is not designed for me—but I took it home because I have a friend I thought might prove a good tester. Her hair is long, thick, coarse and has a natural wave. She has the sort of hair I long for. However, I also know she struggles with knotting and is always complaining of 'frizz' (her words, not mine). So when I got my hands on a sample of this a few weeks ago, I took it home with me to pass onto her. It contains a concoction of hydrating, humidity-repelling ingredients to keep hair smooth and free from knots. I checked in with her on it a few days ago and she told me she's already used the half the bottle and is quite set on never being without it—so I take that to be a win.
7. VIEVE Soul Shadows
VIEVE Soul Shadows
Best new eyeshadow
I am not an eye shadow person. If you're lucky, I might bother to scribble a taupe cream pigment over my lids and smudge it out with my finger before I leave the house—but that's typically as good as it gets. As a result, I parted with 99% of my eye shadow palette collection this month. I just don't get the use out of 12-pan palettes. For special events and evenings out, however, I do often want to get creative with shadows—but I only want palettes that contain genuinely wearable shades. This new quad from VIEVE is just the ticket. With warm browns and pinky nudes, it has proved the ultimate quad for this unskilled eye shadow sceptic.
8. TULA Skincare Triple-Hydra™ Complex Day & Night Serum
TULA Skincare Tula Skincare Triple-Hydra™ Complex Day & Night Serum
Best new skin serum
Specifications
Size: 30ml
Key ingredients: Hyaluronic acid, polyglutamic acid, squalane
The cold winter has left my skin in quite a bad way. As a result, I've been turning to moisture-boosting, skin-plumping hyaluronic acid serums more than ever, and this one has delivered exceptional results. Not only does it contain hydrating hyaluronic acid, it also contains polyglutamic acid to supercharge those results, as well as squalane to deliver long-term nourishment and skin health. And if that wasn't enough, it is also formulated with pre and post-biotics to help maintain skin balance. All in all, it's cooling, refreshing, plumping and glow-boosting and proves an excellent base for make-up. I'm in awe.
9. Ouai St. Barts Body Creme
Ouai St Barts Body Creme
Best new body cream
Specifications
Size: 212g
Key ingredients: Cupuaçu butter, coconut oil, squalane
Enter, the smelly. If you've never experienced the joy of smelling Ouai hair products, you're missing out. The brand got so good at making great-smelling hair products, in fact, the clever people behind it (including celebrity hair stylist, Jen Atkin) decided to try their hand at making perfumes and body care—and boy am I glad they did. St Barts smells like a tropical paradise. With dragon fruit, orange oil, orange blossom, tuberose and musk, it's like lounging on the golden sands of the Caribbean, surrounded by flowering trees and fruit smoothies. It helps that the body creme itself is also deeply nourishing and not at all sticky. I've nearly finished the tub.
10. Chantecaille Wild Meadows Lip Chic
Chantecaille Wild Meadows Lip Chic
Best new lipstick
Specifications
Shades: 3
Key ingredients: Hyaluronic acid
I adore Chantecaille's Lip Chics—always have, always will. If you have dry lips like I do then these moisturising, creamy lipsticks will please you greatly. They're expensive, yes, but they truly are good enough to convert the most lipstick-hating people out there. This particular rosy-coral shade has barely left my lips all month. I also adore the fact that buying a product from the Wild Meadows collection helps to support charities that protect wild spaces and natural landscapes in Romania.
11. Ren Everhydrate Marine Moisture-Replenish Cream
Ren Everhydrate Marine Moisture-Replenish Cream
Best new face cream
Specifications
Size: 50ml
Key ingredients: Algae extracts, hyaluronic acid, polyglutamic acid
Last but by no means least, Ren Everhydrate Marine Moisture-Replenish Cream has proved a real skin saviour for me throughout March. As I mentioned, my skin has been upset—right now, it's dry, lacklustre and prone to irritation and breakouts. This cream has proved a welcome addition to my night-time routine in a bid to get things back on track. It contains algae that works to lock in moisture and tend to a damaged skin barrier. For my combination skin, it's too rich to use in the daytime, but since I've been using it in the evenings (as the last step in my routine), my skin has been less red and blotchy, plumper and far more glowing come morning.
Celebrity news, beauty, fashion advice, and fascinating features, delivered straight to your inbox!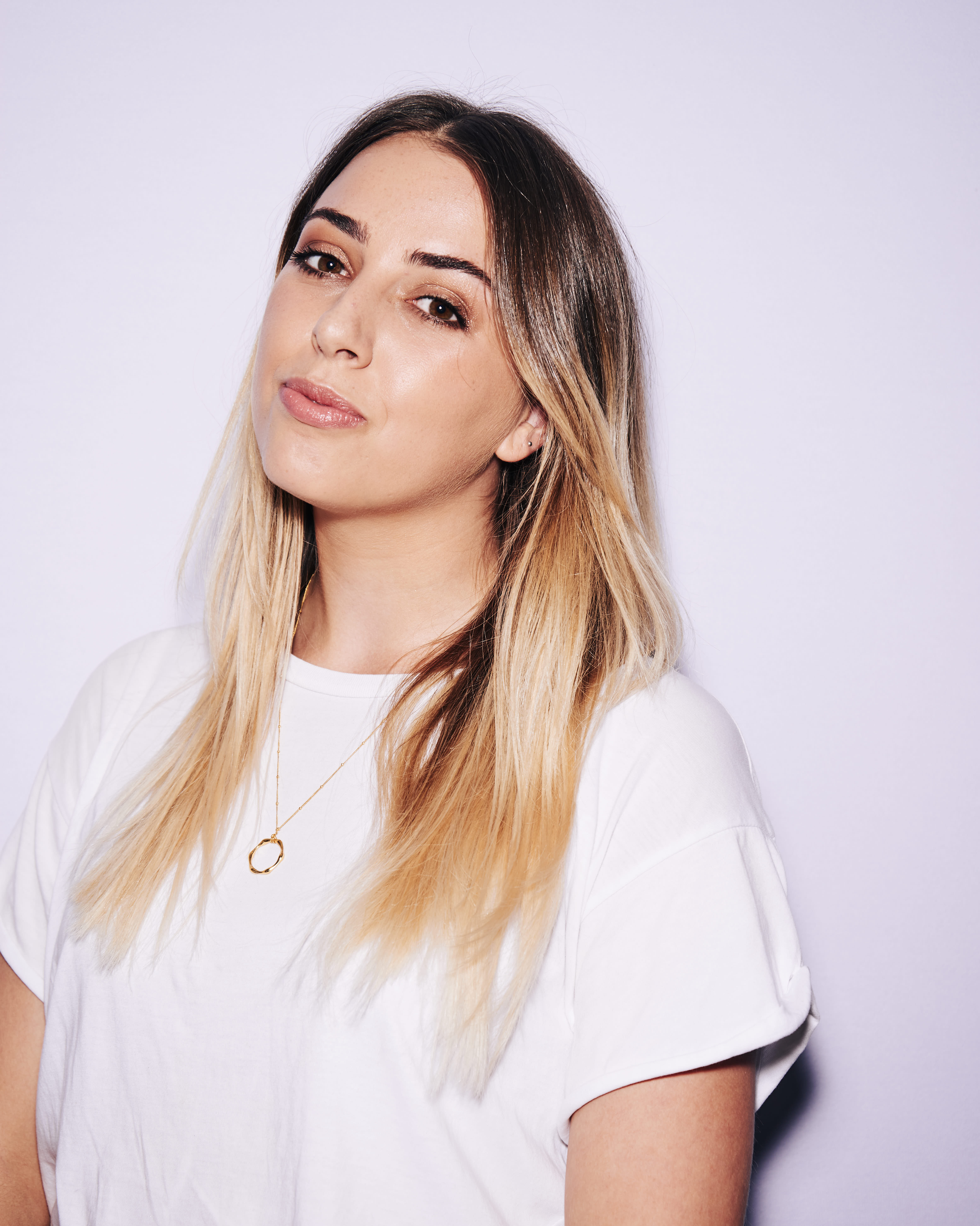 Shannon Lawlor is the Executive Beauty Editor at Marie Claire. With nearly a decade of experience working for some of the beauty industry's most esteemed titles, including Who What Wear, Glamour UK, Stylist and Refinery29, Shannon's aim is to make the conversation around beauty as open, relatable and honest as possible. As a self-confessed lazy girl, Shannon has an affinity for hard-working perfumes, fool-proof make-up products and does-it-all skincare.