Prince William and Kate Middleton will not have live-in staff at Adelaide Cottage
The royal couple don't want anything "too showy"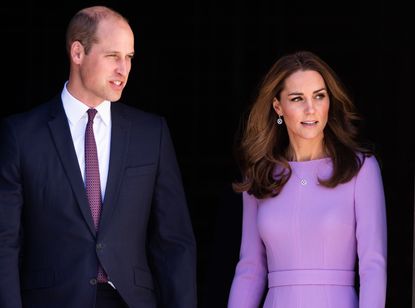 The royal couple don't want anything "too showy"
The Duke and Duchess of Cambridge are going to be living in Windsor. The big move is thought to be down to lots of factors. Not only is the residence the perfect family size, but it's also closer to the Queen.
The royals currently live in Amner Hall in Norfolk but are rumoured to be moving to Adelaide Cottage, which is a two-minute walk from St George's Chapel at Windsor Castle. This works perfectly, as the monarch is living in Windsor Castle for the foreseeable future.
The four bedroom home has been recently renovated and is perfect for Kate, William and their three children. A source says: "Kate and William were very keen for a modest home to start their new lives in Windsor. They were adamant they didn't want anything too showy or anything that needed renovating or extra security."
The Sun reports that there will not be any live-in staff at the cottage. Instead, aides will commute to the property as and when they are needed. The insider says: "Adelaide Cottage fits the bill because...(the family) do not need any more (space) as they have no live-in staff."
Thankfully, the family's move to the Grade-II-listed building is set to be an easy one. The property is thought to have been done up back in 2015 so they will only have to move their most treasured furniture and possessions into the new pad.
Adelaide Cottage is a short walk from Frogmore Cottage, where Prince Harry and Meghan Markle have reportedly just renewed their lease. It's thought that the brothers are spending more time in Windsor due to the Queen's deteriorating mobility.
Her Majesty has been pulling out of engagements recently due to discomfort. She has been unable to attend the Maundy Day at Easter and this year's Commonwealth Service, she also did not receive the Trooping of the Colour salute in June.
The new home is also perfect for the royal children. Prince Louis and George and their sister, Princess Charlotte, will go to a local school in Windsor. "The added bonus is they can send George, Charlotte and Louis to school together locally. The three children will enjoy running around and playing in the gardens, which is the kind of life they enjoy so much when at Anmer Hall," the insider says.
Celebrity news, beauty, fashion advice, and fascinating features, delivered straight to your inbox!
Grace Warn is the at Commercial Producer & Writer Marie Claire UK. From organising cover shoots and uncovering the latest news to creating social content, she loves the fact that no one day is the same!
Growing up just outside of London, Grace made the leap at 16 and started to intern. Juggling education, earning money, styling, producing and organising numerous fashion cupboards was as intoxicating as it was challenging and it's what's brought her here today.
After graduating in the pandemic, the only option was to take on as many freelance roles as possible. From demystifying health jargon to keeping up with the latest footwear drops, a strange concoction of health and footwear journalism became Grace's bread and butter but she always wanted a break in lifestyle journalism and production. Then she landed her dream role!
When she's not racing to deadlines, Grace can be found on anything that could pass as a dancefloor dancing to Diana Ross or scouting out vintage sales on the outskirts out South London - believe it or not, Beckenham is the place to go!