Yoga For Cats Is A Thing - And We Think It's Kind Of Wonderful
Yoga for cats: get on board.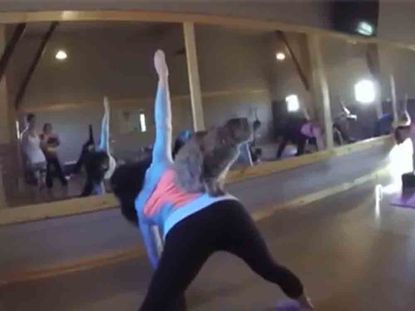 Yoga for cats: get on board.
These days you can't turn on your phone without seeing a cute cat photo on Instagram (#catsofinstagram, anyone?) or a LOLsome cat meme. Well now these furry felines are taking over your yoga class, too.
That's right, yoga for cats is a thing - and the reason behind it is really rather lovely.
It all started as a collaboration between the Homeward Bound Pet Shelter and Yoga at Connies in Illinois with the aim to raise awareness about the animal shelter and to possibly encourage people to adopt a cat.
You see, apparently only 37% of cats that arrive at shelters in the US are adopted, according to the ASPCA.
Enter Yoga For Cats, which saw six felines join a yoga class last week with cute and hilarious consequences. Watch the full video below.
'By taking the cats to something like a yoga class, people have the opportunity to see and interact with them outside the shelter,' said Jeanette Skaluba, who came up with the idea.
'It gives these cats exposure and shows their personality. I think people can envision these pets in their home easier because they're outside the shelter.'
We'll adopt all six, please.
Celebrity news, beauty, fashion advice, and fascinating features, delivered straight to your inbox!