Kate was reunited with a special guest at the Buckingham Palace garden party
They last met in person in 2017.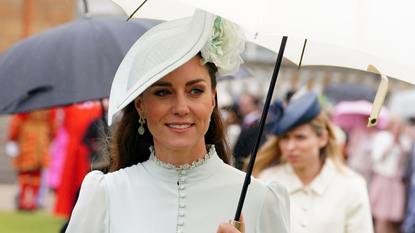 The Duchess of Cambridge was delighted to be reunited with Holocaust survivor, Manfred Goldberg, whom she first met in Poland almost five years ago.
Prince William and Kate first met Goldberg, along with his friend and fellow Holocaust survivor Zigi Shipper, during a visit to the Stutthof concentration camp during their Poland tour in 2017. It's where Goldberg spent eight-months during the Nazi occupation of Poland and also where he met Shipper.
Last year, the Duchess spoke with Goldberg and Shipper via video call, to mark Holocaust Memorial Day. Speaking at the time, Kate said: 'Manfred and Zigi, I never forgot the first time we met in 2017 and your stories have stuck with me since then.'
'It's been a pleasure to see you again today and you are right Manfred, it's important that these stories are passed onto the next generation.'
Last Wednesday, the Duchess was reunited with Goldberg, 92, at a Buckingham Palace garden party, with royal reporter Rebecca English commenting that 'Kate looked so genuinely delighted.'
In video footage shared on Youtube by The Royal Family Channel, Kate can be heard warmly greeting Goldberg by saying: 'Manfred. It's so lovely to see you again. How are you?'
Goldberg, along with his wife, Shary, were attending the event in the gardens of the Queen's home, which was hosted by the Duke and Duchess of Cambridge, the Earl and Countess of Wessex, Princess Beatrice and the Duke and Duchess of Gloucester.
Speaking of the reunion, Goldberg told the Jewish News: 'As she came along, she said, "Oh hello Manfred, how lovely to see you." She also thanked me for all the hard work I have been doing over the years, speaking to thousands of school children, mainly of A-level grades, who are old enough to really understand.
'Then I complimented her on remembering our previous conversations years back. She said, "I will never forget".'
Kate has also produced photographic portraits of Goldberg and Shipper, which appeared in Generations: Portraits of the Holocaust exhibition at the Imperial War Museum last year.
An Instagram post by the official account for the Duke and Duchess of Cambridge made reference to the 'poignant stories' that Kate has heard over recent years and signed off stating: 'It's vital these stories live on for younger generations.'
Celebrity news, beauty, fashion advice, and fascinating features, delivered straight to your inbox!
Amy Sedghi is a freelance journalist, specialising in health and fitness, travel, beauty, sustainability and cycling.
Having started her career in The Guardian newsroom working with an award-winning team, Amy's proud to have reported on a variety of topics, speaking to a range of voices and travelling far and wide to do so. From interviews on ski lifts to writing up breaking stories outside courtrooms, Amy is used to reporting from a range of locations (she's even been known to type up a story in a tent).
She also loves being active, spending time outdoors and travelling - with some of her favourite features she's worked on combining all three. Cycling and eating her way round the Isle of Man, learning to sail on the Côte d'Azur and traversing the Caminito del Rey path in Spain are just some of her highlights.
Covering a diverse range of subjects appeals to Amy. One minute she may be writing about her online styling session with Katie Holmes' stylist and the next she's transporting readers to the basketball courts of Haringey where she joined a group trying to lower knife crime in the capital.
While at university, Amy was awarded The Media Society bursary. Following her stint at the Guardian, Amy worked at Google and as well as writing for Marie Claire, she regularly contributes interviews, features and articles to National Geographic Traveller, The Guardian, The Independent, The Telegraph, Stylist, Refinery29, Glorious Sport, Cycling Weekly and Rouleur.
When she's not writing, Amy can be found trying to get through her towering stack of books-to-read, cycling down at Herne Hill Velodrome or looking for the next place to eat and drink with friends.