Tilda Swinton: Movie childbirth makes women feel inferior
Childbirth may be portrayed on the big screen as a calm and wonderful experience, but Tilda Swinton says the reality of having a baby is a truly murderous business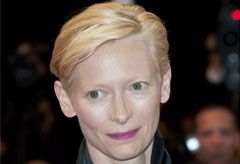 (Image credit: Rex Features)
Childbirth may be portrayed on the big screen as a calm and wonderful experience, but Tilda Swinton says the reality of having a baby is a truly murderous business
The romantic portrayal of childbirth in the movies makes mothers feel like failures, according to Oscar-winning actress Tilda Swinton.
Speaking at the Cannes Film Festival, the 50-year-old said: 'In the movies where people have babies, they are sitting in a hospital bed with flowers everywhere, beautifully made-up, with a baby in their arms and it is all very lovely.'
The mother of teenage twins says: 'Anyone who has been in that zone will know it's total fiction. It's a truly, truly murderous business. Giving birth is a violent thing to go through. It's a bloody business having a family.'
She added that many women do not feel an immediate bond with their children and often find it a struggle to adapt to motherhood. Her current role in the film adaptation of Lionel Shriver's book We Need To Talk About Kevin, describes one woman's battle to bond with her son and cope with his increasingly depraved behaviour.
Miss Swinton's forthrightness about motherhood is typical of the actress, who is known for being unconventional. In 2008 she disclosed that she lived with the father of her children, John Byrne, and her lover Sandro Kopp, describing them collectively as a family.
Explaining her relationship with her 71 year-old former partner, playwright and artist John Byrne, she says: 'We ostensibly live in the same house but I travel the world with another delightful painter.'
CANNES 2011: ALL THE LATEST PICS
Celebrity news, beauty, fashion advice, and fascinating features, delivered straight to your inbox!