Whitney Houston's daughter rushed to hospital
Distraught Bobbi Kristina has reportedly had 'a complete breakdown' over her mother's passing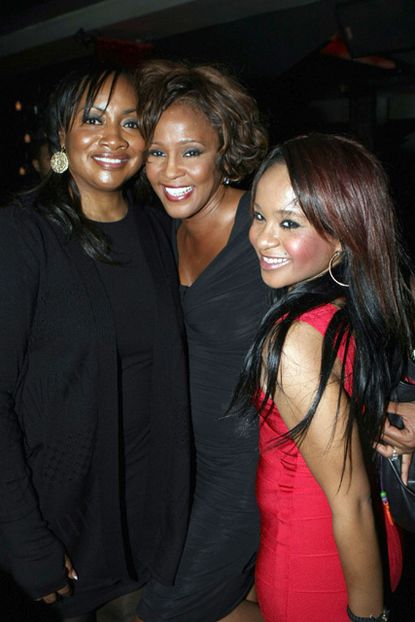 (Image credit: REX)
Distraught Bobbi Kristina has reportedly had 'a complete breakdown' over her mother's passing
Whitney Houston's grieving 18-year-old daughter, Bobbi Kristina Brown, is on the verge of 'having a complete breakdown' over her mother's passing, according to reports.
The distraught daughter of the late Whitney Houston was wheeled out of the Beverly Hilton Hotel on a stretcher after downing a combination of alcohol and sedatives, just hours after her mother Whitney died at the same hotel, it's being reported.
A source told The Sun newspaper: 'She tried to ease the pain of losing her mother by having a few drinks. She was distraught, on the verge of a complete breakdown.
'Someone tried to calm her with a sedative but she ended up passing out.'
The 18-year- old has been rushed to hospital twice in the 24 hours following the discovery of her mother's dead body in the bathtub of a Hollywood hotel and family members fear the singer's teenage daughter may be suicidal.
Whitney Houston's family have released a statement in the wake of the singer's death: 'We are devastated by the loss of our beloved Whitney,' the Houston family said.
'This is an unimaginable tragedy and we will miss her terribly.
'We appreciate the outpouring of love and support from her fans and friends.'
Since the tragic news broke on Saturday, tributes have been pouring in for the icon.
'Heartbroken and in tears over the shocking death of my friend, the incomparable Ms. Whitney Houston. My heartfelt condolences to Whitney's family and to all her millions of fans throughout the world. She will never be forgotten as one of the greatest voices to ever grace the earth,' said good friend Mariah Carey.
'We have lost another legend. Love and prayers to Whitney's family. She will be missed' said Christina Aguilera.
While Rihanna tweeted: 'No words! Just tears #DearWhitney.'
Jennifer Hudson honoured Whitney by taking to the stage at last night's 54th Annual Grammy Awards to sing an a cappella of Houston's hit 'I Will Always Love You.'
An autopsy on Houston will reportedly take place today.
WHITNEY HOUSTEN FOUND DEAD AT 48
Celebrity news, beauty, fashion advice, and fascinating features, delivered straight to your inbox!