Marie Claire is supported by its audience. When you purchase through links on our site, we may earn commission on some of the items you choose to buy.
The star's out to shock in her latest vid, filmed with her band the Pretty Reckless
Gossip Girl teen queen Taylor Momsen is set to shock again, releasing a controversial 'Last Supper' style video for her latest single with band, The Pretty Reckless.
SEE ALL THE LATEST GOSSIP GIRL PICS HERE!
The vid for the group's latest single Miss Nothing sees the scantily dressed star singing amongst the religious set up.
Crawling across a long table set up to look like DaVinci's painting, The Last Supper, Taylor sports lashings of blood red lipstick and heavily kohled eyes, and appears to be dressed in nothing more than lacy lingerie.
No stranger to controversy, the star – who has in the past admitted to carrying knives around in her handbag – recently told how late Nirvana rocker Kurt Cobain is her idol.
'Everyone always compares me to Courtney Love because they think we like dress the same and we both have blond hair, wear lipstick and dresses,' she said.
'But I'm sorry, don't a lot of girls dress like that? I look at Nirvana. I don't look at Hole.'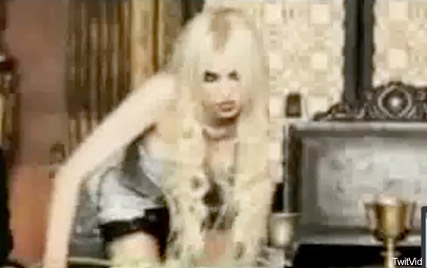 But moody Miss Momsen almost had a very different career. She lost out of the role of Disney's Hanna Montana to squeaky clean Miley Cyrus, and now seems to hold a grudge against the star, recently blasting her music.
'Miley is furious – who wouldn't be?' one source said of the spat.
'She thought Taylor was pretty cool until this happened, which has left her totally confused.
'Miley gets a little risky on stage, but she knows that it's a performance, whereas Taylor doesn't seem to know where to draw the line. It's sad, really.'
WATCH Taylor's Miss Nothing video here…
What are your thoughts on Taylor's latest offering? Will it hit the big time, or has then teen gone one step too far? Let us know in the comments box below.
TAYLOR'S LATEST GOSSIP GIRL STYLE