The real reason Beyoncé and Rihanna's 'sold-out' Wembley gigs were half-empty
Not great for the fans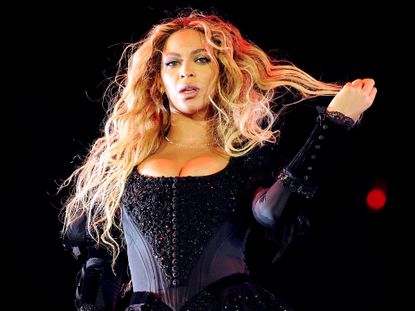 (Image credit: Rex)
Not great for the fans
In case you missed it (who are we kidding, of course you didn't), the last couple of weeks on Instagram have been collectively devoted to Beyoncé and Rihanna. Literally a day doesn't go by on social media without a friend, or a friend of a friend, posting a blurry photo captioned with an empowering mantra from their time watching Bey on her Formation world tour, and/or Rihanna on the UK leg of her Anti world tour.
Incredible performances aside, the incongruous fact remained; despite the gigs being listed as 'sold out', Wembley Stadium looked half empty for both Bey and Rihanna. As in, half the seats were sad and bum-free.
But why? The hype surrounding the shows alone would have been enough to fill Wembley Stadium tenfold. Don't blame the fans, blame the ticket touts.
According The Daily Mirror, over-eager touts bought thousands of tickets for Rihanna's gig on the on 24th June and Beyoncé's Formation Wembley gig, and whilst (some) devoted fans bought the tickets at extortionate prices, it did mean that, according to gig-goers, nearly half of the 90,000 capacity-stadium was left empty.
It's not just these two power-houses that were affected by ticket touts, a number of tickets for the Harry Potter And The Cursed Child West End show were left unsold after they were listed at a staggering £2,000 on resale sites. Let's just remember you could buy a ticket for part one and part two of the play for £70 on official sites.
'We work hard to make the face value of the ticket as accessible to as many of the fans as possible', explained Mumford & Sons manager Adam Tudhope to The Daily Mirror.
'So there's nothing worse for the band playing a "sold-out" show than looking out at empty seats because touts bought the tickets and tried to sell them on secondary sites at massively inflated prices.' We're right with you on this one, Adam.
Celebrity news, beauty, fashion advice, and fascinating features, delivered straight to your inbox!
Holly Rains is the digital editor of Marie Claire UK. She has over 10 years journalism experience, working as an editor and writer, specialising in digital media, content strategy and dog breeds. Prior to Marie Claire, she has held senior staff positions at ELLE UK, Grazia and Company magazine.
Holly is a frequent speaker, panelist and interviewer on a range of subjects including media trends, careers and entertainment. From working with Reuters to provide global red carpet coverage for events like the BAFTAs, to discussing fashion and beauty trends on network TV, she was also the host of the Marie Claire series 'Holly's First Dates', where she regularly interviewed a mix of inspiring woman and A-list celebrities (including Jack Black, Dakota Fanning and Renée Zellweger) - a series which garnered half a million views in its first two months. And was approved by The Rock.
Her love of office-based meetings means that the days of discovering the melting point of Cadbury's Flakes are long gone, but when she isn't dreaming of scheduling in meetings, she likes to think about social media, and how best to avoid it whilst still retaining the title of 'digital' editor. She also likes learning about emerging technology, Influencers and how to become a Financially Responsible Adult.
Contact Holly: holly.rains@futurenet.com