Martin Scorsese's Boardwalk Empire hits UK screens
Wave goodbye to your social life - the most talked about TV sensation since Mad Men has begun on Sky Atlantic so we're bringing you the low-down and the who's who of the hit show, Boardwalk Empire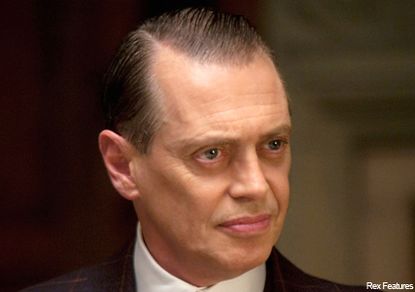 (Image credit: Rex Features)
Wave goodbye to your social life - the most talked about TV sensation since Mad Men has begun on Sky Atlantic so we're bringing you the low-down and the who's who of the hit show, Boardwalk Empire
Wave goodbye to your social life - the most talked about TV show since Mad Men has begun on Sky Atlantic.
Set in prohibition era Atlantic City and dressed to impress, the series directed by Martin Scorsese and created by Sopranos writer Terence Winter has already picked up two Golden Globes (for Best Dramatic Series and Best Actor in a TV Series for Steve Buscemi).
STAR STYLE AT THE GOLDEN GLOBES
The big-budget production launches the new Sky channel, which is the official UK home of HBO and will also air the fifth series of Mad Men in the summer.
Boardwalk Empire is on Saturday nights at 9pm.
Who's who?
Nucky Thompson
The corrupt politician and gangster is the most powerful person in Atlantic City capitalizing on the prohibition era. As charming as he is dodgy, the character is a fictionalized version of the political boss Enoch Lewis 'Nucky' Johnson. Played by Steve Bushemi The 53-year-old, who's already bagged a Golden Globe Award for Best Actor in a Television Series Drama, previously starred in Reservoir Dogs and The Big Lebowski.
Jimmy Darmody
Former Princeton student and combat veteran of the Great War and a former protégé of Nucky, Jimmy returns to Atlantic City looking for a land of opportunities. Played by Michael Pitt The Leonardo DiCaprio-alike, 29, played Blake, a character based on Kurt Cobain in Gus Van Sant's Last Days in 2005.
Margaret Schroeder
A young Irish-American mother with a violent husband, she turns to Nucky for help before eventually becoming his mistress. Played by Kelly Macdonald The 34-year-old who made her name in Trainspotting, has also starred in Nanny McPhee and Gosford Park.
Nelson Van Alden
A zealous and puritanical Federal Prohibition agent who has his eye firmly on Nucky – or is that Margaret? Played by Michael Shannon The 36-year-old co-starred in Revolutionary Road in Kate Winslet in 2008.
Arnold Rothstein
A powerful New York gangster and gambler who goes into business with Nucky. In real-life he was nicknamed "the Brain". Played by Michael Stuhlbarg The 42-year-old is best known for roles in US series like Ugly Betty and Law and Order and starred in The Coen Brothers' A Serious Man in 2009
Al Capone
In his early days, the Chicago mob boss was an impulsive and violent young gangster taking advantage of the opportunities prohibition presented. Played by Stephen Graham The 37-year-old Brit actor last starred in the much talked about C4 film This is England '86.
Lucy Danziger
Nucky's girlfriend gave up her life as a Ziegfield Follies girl to lap up the life of luxury her partner-in-crime hands her on a plate. Played by Paz de la Huerta The 26-year-old actress and model got her big break in the series.
Celebrity news, beauty, fashion advice, and fascinating features, delivered straight to your inbox!