REVEALED: David and Victoria Beckham's A-list beauty regime
Mrs B has opened up on the couple's Hollywood grooming routine, revealing that they enjoy swanky oxygen facials - and that their home is a fake-tan free zone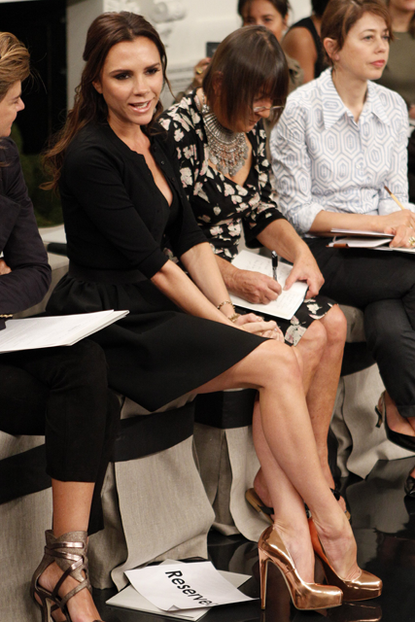 (Image credit: PA Photos)
Mrs B has opened up on the couple's Hollywood grooming routine, revealing that they enjoy swanky oxygen facials - and that their home is a fake-tan free zone
No wonder they look so good! Victoria Beckham has opened up on her and hubby David's A-list beauty regime, revealing they enjoy swanky oxygen facials and have his and hers bathrooms in their Hollywood home.
SEE DAVID AND VICTORIA'S RELATIONSHIP IN PICS HERE!
The fabulous fashionista also lifted the lid on their favourite facialist ('Dr Lancer has really sorted my skin out,'), and how she wants to avoid going under the knife, and grow old gracefully.
'I have no problem with surgery at all but for me, it looks ridiculous when you have a face that looks 25 and a body that looks 65,' she told InStyle. 'I think it's much more modern to go for a more natural look. But ask me next year and that might change.'
Mrs B revealed the pair are fans of alternative therapy, and are really into crystals.'We both like crystals, as in crystal energy,' she revealed, going on to describe their swanky bathrooms.
'David's is all dark wood, very masculine. Mine is very modern, black and white. David's products are all hidden away, whereas mine are quite on show.'
And one more thing? Posh has finally ditched the fake tan.
'I've embraced whiteness,' she joked. 'I don't use any tanning products. Sometimes in photographs I look orange, which is really random, because I don't use any fake tan at all'.
What are your thoughts on David and Victoria's beauty secrets? Let us know below.
SEE DAVID AND VICTORIA'S RELATIONSHIP IN PICS HERE!
Celebrity news, beauty, fashion advice, and fascinating features, delivered straight to your inbox!