Princess Eugenie doesn't seem to be annoyed at Meghan Markle for that alleged wedding faux pas
Instagram investigators are on the case.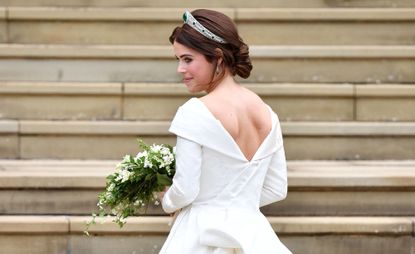 Instagram investigators are on the case.
When something incredible happens to you and your family, all you want to do is shout it from the rooftops. However after Meghan Markle and Prince Harry reportedly blurted out their own happy news - namely that they were expecting a new addition to the family - at Princess Eugenie's wedding, the internet wasn't too jazzed. While the couple waited until the Monday morning afterwards to make an official public announcement, they reportedly spilled the beans to royal guests at Eugenie's wedding and some read that as a bit of a faux pas - slightly upstaging Jack and Eugenie on one of the happiest days of their lives.
That said, it seems like Princess Eugenie really doesn't have a problem with her. In fact, we'd go as far as to say that she's something of a fan as Eugenie was spotted on a Meghan Markle fanpage on Instagram.
In a post by the unofficial account called @_duchess_of_sussex, it was revealed that Princess Eugenie had actually liked an image of the former Suits actress. Not entirely 'I resent you' territory TBH.
Unsurprisingly, the royal fanpage immediately spotted Princess Eugenie's like and shared a screenshot of the surprise appearance by Eugenie.
The post itself was a cute one of Meghan in side profile, taken from the second day of her tour across Australia.
The account, which identifies different fashion pieces that the royal wears, revealed what earrings the royal was wearing and if Eugenie's like was anything to go by - she definitely approves of the Duchess' style choices. And hey, if you're interested, these are the earrings in question below.
Priced at £1,881, available at Natalie Marie Jewellery
Princess Eugenie is one of the rare royals that is actually allowed her own personal Instagram account, as she's not technically a working royal. (That said, she does however do a lot of charity work - particularly towards raising awareness about scoliosis and supporting relevant treatment centres.) Her account is a lovely little behind the scenes of what happens in a royal's daily life and we're interested to see who else she's following on the 'gram.
As for whether or not Meghan and Harry actually upstaged Princess Eugenie on her big day? The jury's out on that one as Harper's Bazaar revealed that Eugenie, Jack Brooksbank as well as Queen Elizabeth, Prince Philip, Prince Charles and Camilla were apparently all told prior to Eugenie's nuptials. On the other hand, a source told PEOPLE that 'it was a happy family event, and that's where news gets shared'.
In any case, the secret's out now and royal baby fever has officially taken over the globe. It's a pretty joyous year for the royals - what with two weddings, Prince Louis' arrival and this baby announcement - so here's hoping there's nothing but happiness in store for all of them over the coming months.
Celebrity news, beauty, fashion advice, and fascinating features, delivered straight to your inbox!
Megan is a freelance journalist who covers entertainment and all things lifestyle, with a particular passion for fashion, beauty, travel and Keanu Reeves stories. She has previously worked on staff for titles including Marie Claire UK, CNN Style and The Evening Standard and has written for titles such as Bustle UK, Wallpaper*, Forbes and Hong Kong Tatler. She splits her time between London and her hometown Hong Kong, where she currently lives with the love of her life - an elderly dog named Poppy - and her husband.