PICS: Make-up free Teri Hatcher bares all on Oprah
The star filmed a video diary of her daily Desperate Housewives transformation, going make-up free to glammed up in a matter of hours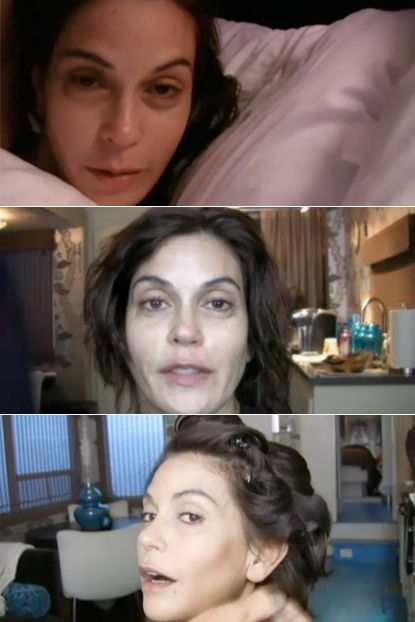 The star filmed a video diary of her daily Desperate Housewives transformation, going make-up free to glammed up in a matter of hours
Teri Hatcher has bared all on Oprah, after filming a video diary of her daily Desperate Housewives transformation for viewers on the show.
SEE TERI'S BOTOX-FREE PICS HERE!
The lovely lady filmed her working day, showing how she goes from make-up free to glammed up in a matter of hours, with the help of a large team of hair and beauty experts, of course.
Teri's journey started at the early hour of five in the morning, when she was filmed waking up to be transported to set.
'Good morning, I'm tired,' the sleepy starlet said, barely managing to lift her head off the pillow. 'Lets go see what magically happens on the set of Desperate Housewives to take me from this to television.
Fast forward an hour, andTeri is sitting on-set in the make up artists chair, ready to be transformed into her glam alter ego Susan.
'Now I'm heading off to the set to get my TV face on,' she said. 'So the first thing I do is get my hair taken from this massive rats nest into something that looks pretty.'
Ms Hatcher is primped and primed to perfection – transforming into a camera-ready starlet before the viewers' eyes – before taking up her place on set. And at the end of the day, the star shows her screen siren journey in reverse, heading home to remove her stage make-up.
'Now I go from the glamorous TV actress to the hardworking mom at home,' she says. ''I'm having a glass of wine to unwind after the end of a long day. The best thing about the end of the day is a long hot bath and that's where I take my make up off.
'So that is me without make-up - eye-brows, wrinkles and dark circles,' she says.
'The only thing I can say is that I'm willing to be filmed naked in the bathtub on behalf of woman feeling good about themselves.'
This is not the first time the Teri has bared all on camera. Earlier this year, the star posted a series of close up make-up free snaps on facebook, in an effort to dispel rumours she's had plastic surgery.
What are your thought's on Teri's daily transformation? Let us know in the comments box below.
SEE TERI'S BOTOX-FREE PICS HERE!
Celebrity news, beauty, fashion advice, and fascinating features, delivered straight to your inbox!