Megan Fox removes 'negative' Marilyn Monroe tattoo
The actress confirms she's having laser treatment to remove her inking of the screen legend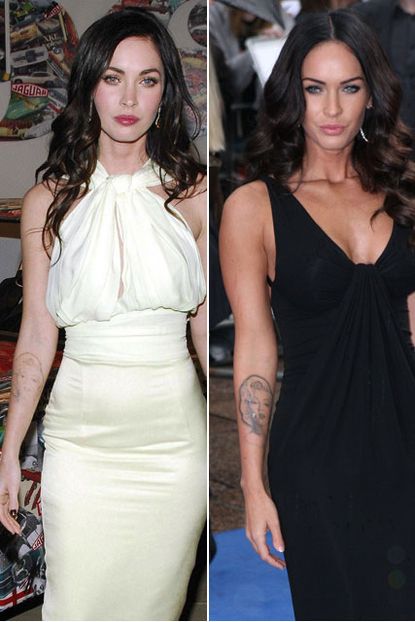 (Image credit: Rex Features)
The actress confirms she's having laser treatment to remove her inking of the screen legend
She once idolised her enough to have her face tattooed on her forearm, but now Megan Fox is having her Marilyn Monroe inking removed because she feels it has 'negative energy'.
The sexy actress, who has a total of nine tattoos, has confirmed that she's having the portrait of the Hollywood legend lasered off her right inner arm.
Megan told Italian magazine, Amica: 'I'm removing it. She was a negative person, she was disturbed, bipolar. I do not want to attract this kind of negative energy in my life.'
SEE MORE CELEBRITY TATTOO PICS HERE
What's more, the former Transformers actress hasn't ruled out having more laser removal treatment on her vast tattoo collection, which includes a quote from William Shakespeare's King Lear on the back of her right shoulder, a tribute to her Passion Play co-star Mickey Rourke on her ribcage and her husband Brian Austin Green's name on her hip.
She said: 'Who knows, maybe I'll remove the others too, but the laser hurts.'
We first spotted the star's Marilyn Monroe tattoo fading back in April this year – a telltale sign of the first stages of laser removal.
But back in 2009, Megan spoke about the inking and its special significance to her.
She said: 'She was one of the first people I saw on television, like, literally moments after I was born. Every time I heard her voice growing up I would always cry. I wouldn't know why when I was younger, but now have my own theories. I've just always empathised with her.'
What do you think of Megan's Marilyn Monroe tattoo? Do you like it and think she should have kept it? Or is she right to have it removed? Tell us in the comments box below.
SEE MORE CELEBRITY TATTOO PICS HERE
Celebrity news, beauty, fashion advice, and fascinating features, delivered straight to your inbox!