Lily Allen in furious Twitter row
The outspoken songstress branded columnist Julie Birchill a 'bitter old troll'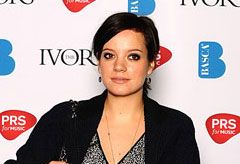 (Image credit: PA)
The outspoken songstress branded columnist Julie Birchill a 'bitter old troll'
Brit singer Lily Allen is no stranger to a Twitter spat or two, and has hit out at Piers Morgan, Perez Hilton and even her own wedding guests since joining the social networking site.
And yesterday the star was at it again, launching into a furious war of words with writer Julie Burchill, after the columnist referred to Ms Allen as an 'over-privileged cry-baby'
Burchill began by talking about Cheryl Cole in the piece, but then got on to the subject of her much-publicised 2007 spat with Lily, which led to the pair feuding for years.
'I adore the way she [Cheryl] spat back at that over-privileged cry-baby Lily Allen when the public-school tool took a poke at her way back in the day,' she wrote.
On reading the article Lily clearly couldn't miss the chance to retaliate, and hit back at Julie Burchill on Twitter.
'Julie Burchill, you are an ignorant and bitter old troll, but I guess you know that already,' she wrote on the social networking site.
'The amateur psychiatrist in me says see's a lot of her younger self in me, and she's a bit of a "self-loather". #poorjulieburchill,' Lily later added, to which Burchill retorted: 'No, Lily, dear. I Love me. I Loathe you! And BTW being called self-loathing by you is like being called fat by Dawn French. Clown!'
Meow.
Celebrity news, beauty, fashion advice, and fascinating features, delivered straight to your inbox!