Gwyneth Paltrow on dinner with Jake Gyllenhaal and Taylor Swift
It's thought the American actress could even have played matchmaker, when she and hubby Chris Martin invited the pair to a private party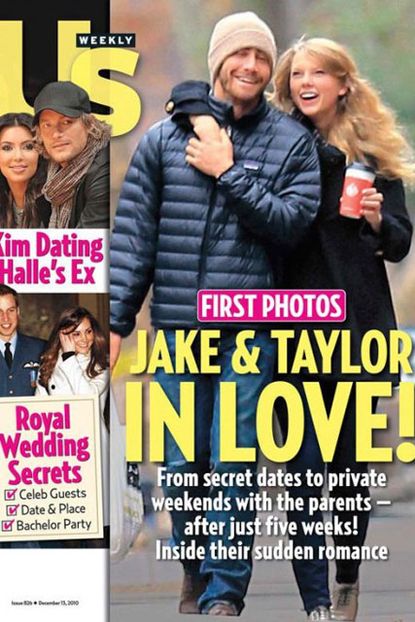 (Image credit: US Weekly)
It's thought the American actress could even have played matchmaker, when she and hubby Chris Martin invited the pair to a private party
Jake Gyllenhaal and Taylor Swift are fast becoming one of Hollywood's hottest new couples. But we've long been wondering how exactly they got together.
Now new details have emerged, and it seems the pair could have Gwyneth Paltrow and hubby Chris Martin to thank for their blossoming romance, after they reportedly invited the musician and actor to dinner at their London home.
It's thought Gwyneth and Chris could even have had a hand in encouraging the relationship, and are said to have hosted the low key dinner party when Jake and Taylor were both working in London, back in November.
'Jake and Taylor were driven from the Dorchester hotel to Gwyneth and Chris Martin's house in Primrose Hill for dinner,' one insider told American magazine Us Weekly.
'Gwyneth seems to have played a role in their relationship.'
But when asked about the secret soiree, coy Gwyneth kept quiet, telling show USA Today, that she's 'scared to say,' too much about the cute couple's blossoming romance.
'Where is this coming from?' she asked, when quizzed on the relationship by a reporter.
Eventually, Gwynnie admitted to hosting a dinner for the pair - revealing that it was 'a while ago' – but remained tight lipped on Jake and Taylor's relationship.
'It's so weird. I wonder how people find out these things. It was a while ago, so I don't know why it would come out today,' she said.
'I've just known Jake for a long time and he's a great guy, and Chris has a friendship with Taylor.'
The first pictures of Jake and Taylor emerged as they celebrated Thanksgiving last month, after they paid a surprise visit to Jake sister Maggie in New York.
It's thought the pair are planning more time together over the festive season, and just last week, Jake was spotted splashing out on a £7,000 guitar as a gift for his new beau.
JAKE GYLLENHAAL'S $160,000 DATE WITH TAYLOR
Celebrity news, beauty, fashion advice, and fascinating features, delivered straight to your inbox!