Gangster Squad: Our verdict
An A-list cast tell the tale of real-life mobster Mickey Cohen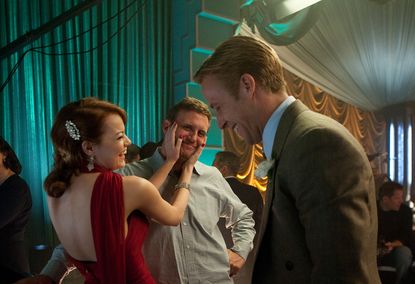 An A-list cast tell the tale of real-life mobster Mickey Cohen
We had high hopes for Gangster Squad. After all, how can a film that combines both Ryan Gosling and Emma Stone's chemistry and forties fashion go wrong?
Gangster Squad, directed by Ruben Fleischer, is the story of real-life mobster Mickey Cohen (played by a very shouty Sean Penn) and the off-the-record police squad assembled by John O'Mara (Josh Brolin) that was tasked with the job of ending Cohen's violent rule of Los Angeles in 1949.
Plenty of violence ensues - people are burned alive, a man is torn in half and there are countless bullet sprees. It's not for the squeamish.
There's no denying that the fashion is fabulous. Emma Stone shines as Grace Faraday in a variety of 1940s gowns and frocks, with the glamorous curls and dramatic makeup of the era suiting the gorgeous actress perfectly.
And then there's the adonis that is Ryan Gosling. He plays the cheeky and charming Jerry Wooters, who falls for Emma Stone's character. Each moment that Ryan's face takes up the screen is a wonderful one. He has some of the best one-liners and the best wardrobe. Our only qualm is that he and Emma didn't get more time to show off the incredible on-screen chemistry that we first saw in Crazy, Stupid, Love.
Overall, the film is fast, funny, brutal and slick - all pulled together by an A-list cast. Where it falls down is with its lack of depth, emotion and dimensional characters. We'd verge on calling it cartoonish.
A good watch. Especially for you Ryan Gosling lovers out there.
EMMA STONE STEALS THE SHOW AT GANGSTER SQUAD PREMIERE
BEHIND THE SCENES OF GANGSTER SQUAD
Celebrity news, beauty, fashion advice, and fascinating features, delivered straight to your inbox!