Daniel Radcliffe and Rupert Grint 'never see each other'
The Harry Potter co-stars are far from friends in real life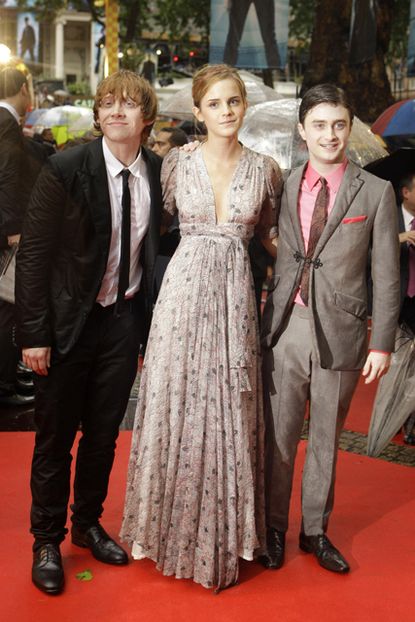 (Image credit: REX)
The Harry Potter co-stars are far from friends in real life
In a devestating blow for Harry Potter fans, Daniel Radcliffe has revealed he is far from close to his wizard co-star, Rupert Grint.
They spent a decade of their childhoods on the set of the Harry Potter movies and their characters were the best of friends, so many assumed their on-screen friendship transferred into real life. But, alas, it is not the case.
Daniel Radcliffe has revealed that while he does keep in touch with Emma Watson, he rarely hears from Rupert Grint.
Radcliffe, 22, told The Mirror newspaper: 'There's this idea that Emma, Rupert and myself are the best of friends who always hang out together.
PICS: EMMA WATSON STYLE HIGHS AND LOWS
'I'm just going to put out there, Emma and I text all the time but Rupert and I never text each other, we never see each other.
'If I see him every six months or so, it's a friendly "hello, how's things with you" but that's about it.'
PICS: HARRY POTTER STARS THEN AND NOW
The Harry Potter star, who is promoting his latest movie, The Woman in Black, also revealed that the trio were once offered roles in a Wizard of Oz remake.
SEE: THE WOMAN IN BLACK MOVIE PICS
'I had a lot of offers post-Potter but I just try and stay away from any of the next big fantasy franchises... or anything crap, really,' he said.
Good idea.
Since the final film was released in 2011, the three stars have all pursued solo projects, with Radcliffe acting on stage in Equus, Grint starring in up-coming movie Into the White, and Watson forging herself a successful modelling career, fronting campaigns for Burberry and Lancome.
Celebrity news, beauty, fashion advice, and fascinating features, delivered straight to your inbox!