Why 2016 was still the year of the woman
From prime ministers to would-be presidents, we look back on a game-changing 12 months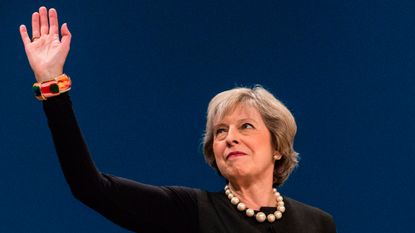 (Image credit: Rex Features (Shutterstock))
From prime ministers to would-be presidents, we look back on a game-changing 12 months
May, Sturgeon, Merkel, Clinton (almost). There has been a dramatic worldwide shift in what power looks like, and it's altogether more female. Despite Clinton's shock defeat, for the first time ever we saw a woman run for the US presidency, while the UK gained its second female prime minister. It's not equality. But in a year when we were horrified by the murder of Jo Cox MP, divided by Brexit, and politics reached peak misogyny (courtesy of Trump's 'locker room' banter), women's determination is stronger than ever.
By January 2017, news platform Politico predicts that up to 21 countries could be led by a woman. 'Women coming to the political fore, regardless of your allegiances, is thrilling,' says journalist and presenter for BBC 5 Live, Emma Barnett. 'Let's not get complacent, but one can't help but feel excited when you see Theresa May shaking hands with Angela Merkel or Nicola Sturgeon.' In a world where Britain and the US have been bitterly divided, it's something to cling on to as we head into 2017.
As the next generation look up to see women leading governments and running for presidencies and a power base that includes IMF managing director Christine Lagarde and Dr Margaret Chan as director-general of the World Health Organisation, this new female landscape is inspiring. 'The message sent by these women, especially in their senior years, is powerful,' says Barnett. 'But just because more leaders are women, it doesn't mean they will be wiser, kinder or better. They need to focus on improving global conditions enough to ensure their success is replicable by more women.'
The upshot of a divisive Brexit battle and a messy US presidential campaign is that the political conversation became about equality, bringing issues such as sexual assault, abortion and LGBT rights to the fore. For the next generation, it was a rallying cry to rise up. Bearing in mind 75 per cent of young people voted to remain in the EU, and a US pre-election map showed a blue-wash (473 Clinton votes to 32 Trumps from voters aged 18-34), the future looks in better hands than the present.
Of course, a female leader is not a fix-all solution to gender equality. 'Look at Margaret Thatcher – she pulled the ladder up behind her instead of helping other women,' says Rosie Campbell, professor of politics at Birkbeck, University of London. 'I'm more optimistic about May. She is a Conservative feminist – the rhetoric is hard and right when it comes to immigration, but left and soft when it comes to women. May cares about women and that makes me hopeful that she won't roll back on any of her promises. She has a coterie of female MPs around her that Thatcher never had.'
May has spoken out in support of shared parental leave and equal pay. And in her previous role as home secretary, she pushed for action on domestic violence, including making coercive control and forced marriage criminal offences. But Labour MP Harriet Harman has criticised May, saying, 'While she's been in government, she's voted for cuts to the vital programmes that we [Labour] brought in, like Sure Start centres and tax credits for childcare. May is a woman, but she's no sister.'
May has inherited a mess created by men and what she does next is crucial, says The Times columnist Janice Turner: 'May came to power under challenging circumstances after the Brexit vote. She faces the glass cliff effect whereby countries or businesses hit difficulties because men have screwed up for so long that people say, "Let's give women a go" as the men don't want to ruin their careers by trying and failing to sort it out.'
The overwhelming reaction to May's leadership is one of cautious optimism. 'She was surrounded by male egos as home secretary and kept her counsel. Overall, I think it's satisfying to see May getting on with her job in a measured, calm way.'
According to the Inter-Parliamentary Union, the number of women in national parliaments worldwide sits at only 22.8 per cent, so women are still massively underrepresented. And of course, the election of an openly sexist president to the White House, who is facing charges of sexual assault and looking to ban abortion, can't help but feel like a massive setback. But whether through desperation, default or sheer determination, change is afoot for women.
'We're no longer seeing the token woman,' says Turner. 'Conservatives Anna Soubry, Amber Rudd and Andrea Leadsome, and in Labour, Lisa Nandy, Stella Creasy and Jess Phillips – they all have different accents, backgrounds and takes on the world. We don't agree with them all, but their presence is a great thing for diversity.'
Having a female leader in diverse countries correlates with a 6.6 per cent higher GDP growth rate compared with a male leader, according to a Journal of International Affairs study. The study also showed that when women are involved in negotiating peace deals, those deals are 35 per cent more likely to remain in effect for at least 15 years. Clinton called it when she said: 'We have still not shattered the highest and hardest glass ceiling, but someday, someone will, and hopefully sooner than we might think right now.' For 2017, it's up to us to keep on going, onwards and upwards.
Celebrity news, beauty, fashion advice, and fascinating features, delivered straight to your inbox!