Marie Claire is supported by its audience. When you purchase through links on our site, we may earn commission on some of the items you choose to buy.
Ange's determination to perform all her own stunts in new movie Salt saw her suffer a nasty cut to the head
And Action Ange is at it again… Angelina Jolie's determination to perform all her own stunts on the set of new movie Salt, saw her land a nasty cut to the head.
The actress revealed her on-set accident during an appearance at the annual Comic-Con convention in San Diego, where she was promoting the action-packed flick.
SEE ANGE ROCKING THE LEATHER LOOK AT THE COMIC-CON CONVENTION HERE

She described how she was filming a 'ridiculously' easy scene which involved rolling onto the floor – but she misjudged the amount of space she had, and hit her head hard against a desk.
'I was bleeding and I have a little scar now,' she said.
'I couldn't hear everybody well, and I thought "Oh god, I've done it. I've got a concussion,'' she laughed. 'But it turns out I just still had my earplugs in, so I was fine.'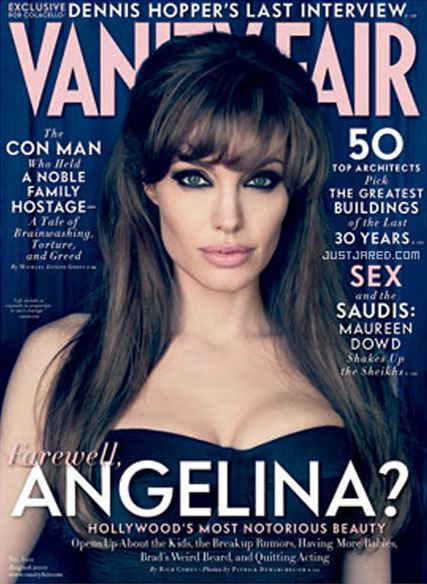 SEE ANGELINA'S STYLE HIGHS & LOWS HERE!

'I love doing action,' the actress continued.
'I got to play with just about everything – including using a fire extinguisher in a way I'd never used it…'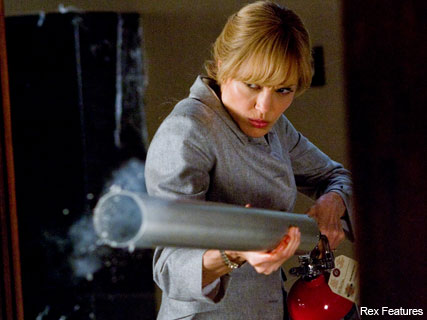 But her stunt-woman antics clearly impressesed her co-star, Liev Schreiber…
'She wanted to do every stunt, and she did,' he said at the convention.
'No CGI in the movie, no stunt double, it's all her.'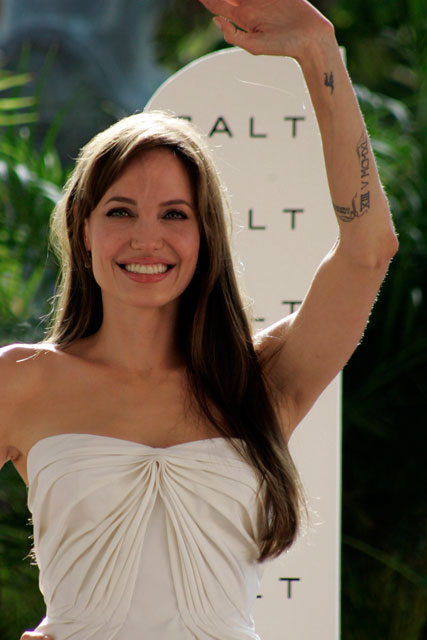 Angelina stars as Evelyn Salt in the thriller flick, a CIA Agent who goes on the run after being accused of being a Russian spy.
SEE BRAD, ANGELINA, AND ALL THE SALT RED CARPET PICS HERE!