Who is Cameron Norrie? Here's what to know about the tennis player
He's the last British tennis singles player left in the Wimbledon tournament.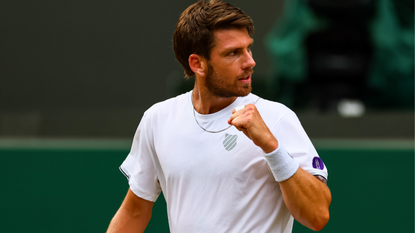 He's the last British tennis singles player left in the Wimbledon tournament.
With Andy Murray, Emma Raducanu and Heather Watson all knocked out of the Wimbledon Championships, there's only one Brit left standing in the singles tournament: Cameron Norrie.
The British No 1 is up against Belgian player David Goffin in the men's singles quarter final this afternoon. If you're wondering who Cameron Norrie is, then don't worry, we've got you. Here's your crib sheet.
Swot up and share the facts knowingly when Cameron hits the grass courts of SW19 later today. Strawberries and cream, optional.
He's 26-years-old and grew up in New Zealand
Cameron Norrie was born in Johannesburg, South Africa on the 23rd August 1995 (making him a Virgo, in case you were wondering).
His father, David, is Scottish and his mother, Helen, is Welsh but the family moved from South Africa to Auckland, New Zealand when Cameron was three-years-old. He also has a sister called Bronwen.
He was introduced to tennis at the age of six on his driveway
Both of Cameron's parents played squash to university level, according to the Lawn Tennis Association, and it was in fact, his mum who introduced him to tennis when he was a youngster. Thanks to her, young Cameron started playing tennis on his driveway in New Zealand. This is where the tennis player grew up before leaving for the US to attend university.
His nickname is Noz
Noz or Nozzer apparently are the affectionate nicknames of this professional tennis player. He can be found on Instagram under @norriee or on Twitter at @cam_norrie.
As you'd expect, his Insta is heavy on tennis: him playing, winning matches and training. But, when he's off court, it seems like the tennis player enjoys a spot of chilling down the beach, surfing and exploring new spots with his girlfriend.
He went to university in Forth Worth, Texas
After growing up in New Zealand, Cameron attended Texas Christian University in Forth Worth, where he studied sociology. It's not really a surprise, but the talented player was on his college tennis team known as The Horned Frogs.
He's been representing Great Britain since 2013 and turned pro in 2017. Just eight months later he won his debut Davis cup match, which former Davis Cup captain John Lloyd called "one of the most impressive debuts of all time."
Wimbledon is his favourite tournament
We imagine Cameron is pretty chuffed then to be playing in the quarter-finals of his favourite tournament. As well as training in Forth Worth, Cameron also practices at the National Tennis Centre in Roehampton, south-west London - not far from the Wimbledon courts.
The UK capital is also where he calls home. According to The Guardian, he doesn't own a car and was seen cycling into the famous tennis courts on Monday for a practice.
Andre Agassi and Rafa Nadal are his tennis idols
Another interesting fact (and definitely one to throw out before or during today's match) is that Cameron is the first British man to reach the singles quarter-finals since Andy Murray in 2017 and the first British player since Johanna Konta in 2019.
If he wasn't a tennis player he'd work in real estate
Imagine. Selling Sunset calling? We'd say the profession he's chosen is working out all right for him anyway.
Good luck Cameron...Noz...Nozzer!
Celebrity news, beauty, fashion advice, and fascinating features, delivered straight to your inbox!
Amy Sedghi is a freelance journalist, specialising in health and fitness, travel, beauty, sustainability and cycling.
Having started her career in The Guardian newsroom working with an award-winning team, Amy's proud to have reported on a variety of topics, speaking to a range of voices and travelling far and wide to do so. From interviews on ski lifts to writing up breaking stories outside courtrooms, Amy is used to reporting from a range of locations (she's even been known to type up a story in a tent).
She also loves being active, spending time outdoors and travelling - with some of her favourite features she's worked on combining all three. Cycling and eating her way round the Isle of Man, learning to sail on the Côte d'Azur and traversing the Caminito del Rey path in Spain are just some of her highlights.
Covering a diverse range of subjects appeals to Amy. One minute she may be writing about her online styling session with Katie Holmes' stylist and the next she's transporting readers to the basketball courts of Haringey where she joined a group trying to lower knife crime in the capital.
While at university, Amy was awarded The Media Society bursary. Following her stint at the Guardian, Amy worked at Google and as well as writing for Marie Claire, she regularly contributes interviews, features and articles to National Geographic Traveller, The Guardian, The Independent, The Telegraph, Stylist, Refinery29, Glorious Sport, Cycling Weekly and Rouleur.
When she's not writing, Amy can be found trying to get through her towering stack of books-to-read, cycling down at Herne Hill Velodrome or looking for the next place to eat and drink with friends.