How Women Having Periods Is The Last Taboo In Sport
Heather Watson has opened up a frank discussion about periods in sport.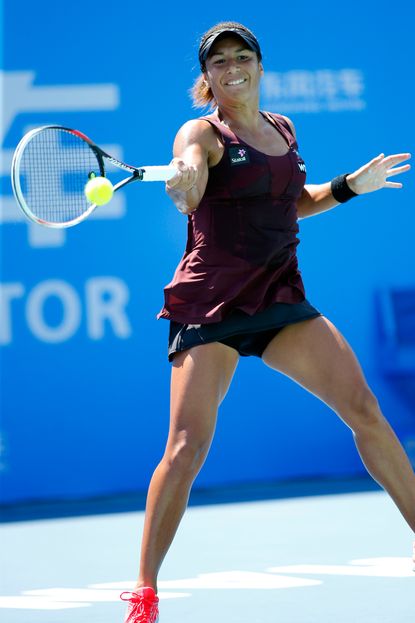 (Image credit: Rex)
Heather Watson has opened up a frank discussion about periods in sport.
Heather Watson did something really brave after she went out in the first round of the Australian Open: she told the world that she had struggled because she was on her period.
The 22-year-old tennis star said she suffered from dizziness, nausea and low energy levels during her defeat at the hands of Bulgaria's Tsvetana Pironkova. 'I think it's just one of these things that I have - girl things,' she told BBC Sport.
The British player's honesty has sparked a conversation about women, periods and sport. And it seems it can't come soon enough.
Former British number one tennis player Annabel Croft joined the discussion by saying that talk of periods is still taboo in sport and that women suffer in silence.
'Women's monthly issues seems to be one of those subjects that gets swept under the carpet and is a big secret,' she told BBC Radio 5 Live. 'Women dealing with these issues at any time is hard enough, but actually trying to go out there and trying to play top-level sport at one of the most crucial times in the calendar year. It is just really unlucky. I think women do suffer in silence on this subject. It has always been a taboo subject.'
Current British number five Tara Moore told The Telegraph that she's had her period during a major tournament for the past six years, adding that it's a real worry.
At the moment tennis players can only take a toilet break once a set, but Moore thinks the sport's governing body should consider changing the rules for women.
'At Wimbledon we have to wear white, so it's quite a big deal. Especially because male players don't understand that we have another element to deal with.
'[Bleeding on your uniform] is something you feel quite worried about. If something like that happens it's mortifying – it's a nightmare,' she added.
The effect that periods can have on our physical ability is a big issue for women and nothing to do with simply feeling uncomfortable. 'Often, the physical pains - cramps or chronic migraines - don't let us participate in any sports activities, especially certain activities that involve a lot of endurance (such as long-distance running),' Mags Sikora, co-founder of PeriodBox told Marie Claire. 'It becomes physically impossible to take a part.'
'We should talk about menstruation more openly; it is quite surprising that in this day and age there is still such a strong reaction to a female athlete's comment admitting that her period can impact her performance.'
So, well done Heather for opening up the discussion. Hopefully this is a step towards making period chat less less of a taboo.
Celebrity news, beauty, fashion advice, and fascinating features, delivered straight to your inbox!