9/11 tenth anniversary sparks terror threat
Security will be heightened in New York and Washington DC after US intelligence has detected a potential threat to coincide with the tenth anniversary of the twin towers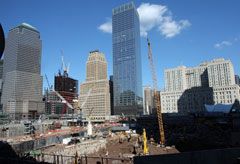 (Image credit: Rex Features)
Security will be heightened in New York and Washington DC after US intelligence has detected a potential threat to coincide with the tenth anniversary of the twin towers
A credible but unconfirmed threat has been discovered in the lead up to the tenth anniversary of the terrorist attack on the World Trade Centre, according to the Department of Homeland Security.
President Obama has been briefed with the information and has requested that counterterrorism officials step up their response.
New York's Mayor Muchael Bloomberg asked citizens to report any suspicious activity, but added: 'For the record, I plan to get the subway tomorrow morning.'
The anniversary of 9/11 will be marked by a ceremony at Ground Zero attended by President Obama and former president George W Bush. White House spokesman Jay Carney says: 'We're hyper-vigilant to this specific report that's just coming in.'
It is understood that three people who recently entered the US are being urgently investigated by security officials over a potential plot to detonate vehicle bombs on bridges and tunnels. It has been announced that security will be increased at all these points and on public transport.
'Al Qaeda has shown an interest in important dates and anniversaries,' says FBI Assistant Special Agent Janet Fedarcyk. 'In this instance it is accurate that there is credible, specific but unconfirmed information.'
Celebrity news, beauty, fashion advice, and fascinating features, delivered straight to your inbox!