I didn't buy anything new for Glastonbury - here's why I don't think you need to for your summer festivals, either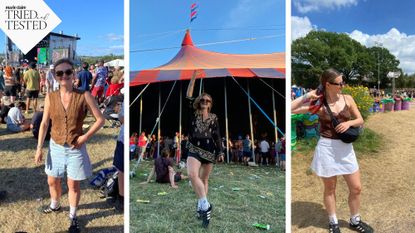 (Image credit: Ally Head)
If you know me, you'll know I'm a fan of secondhand shopping. As Sustainability Editor here at Marie Claire UK, as much as I've always loved the thrill of hunting for gold, one-off finds in secondhand and vintage stores, there's an environmental element to it, too. I like to shop mindfully - that is, take the time to think about exactly how I'm going to wear each item of clothing I invest in for years to come, and how the brand has impacted the planet in producing it.
Whether it's cowboy boots, winter coats or Levi jeans, there's nothing I love more than finding a pre-loved bargain. There's something about knowing you're doing good by the planet in how you choose to shop, not to mention the thrill of the chase - the excitement of hunting through the racks and arguably questionable material. Will you find an item you like? Better still, will it be from a designer brand at a far-more-affordable price, and in your size?
While we're all making steps forward in this regard and being more mindful when it comes to our own carbon footprint, I can't help but feel this goes out the window when it comes to festivals. Glastonbury Festival has always paved the way in this regard, encouraging a "Leave No Trace" approach and asking festival-goers to respect the land. At Worthy Farm, you're encouraged to take your litter with you, recycle appropriately, make the most of the many compost loos on site, and educate yourself in the Greenpeace field, where stallholders and charities teach you how to live more sustainably.
That said, it doesn't seem to span to the fashion. I've been to Glastonbury Festival five times in the past and this year marked my sixth trip to the largest performing arts festival in the world. So, what to wear? Was it time to scour Amazon, ASOS and H&M for flower crowns, mesh tops, and polyester fringed jackets that would go straight to charity (or worse, in the bin) once I'd worn them? Not for me - instead, scouring my summer wardrobe, I got to work pairing some of my more fun and wearable items into timeless, festival looks.
Keep scrolling to see how I fared - and why I now truly believe that you should never buy anything new when it comes to dressing for a festival.
How I fared buying no new clothes for Glastonbury Festival
The planning stages
Before getting into what I wore every day and why (plus how it fared competing against feather boas and sequin dresses galore), let's chat planning. Spoiler alert for you: I'm a planner. I love a list, and I love planning what I'm going to wear before an event. Sure, we don't always have the luxury of time, but part of the fun of building new looks from clothes you already own is taking the time to get inventive and pair wardrobe items you wouldn't have thought to pair before.
My top tips? Scour your go-to influencers' social media pages (I checked out my friend Polly Sayer, Poppy Almond, and Georgie Hyatt, founder of rental app Rotaro, before I headed off - they all have great style) or Google your favourite celebrities. That way, you can see what they've worn recently or to similar festivals and then try and recreate a similar look from your own wardrobe. It can be the whole look or even just inspiration for a certain item or colourway - you can take note of literally anything and build a whole look from there. Whatever works for you.
If this doesn't lead to any inspiration, do as our Fashion Ed Zoe Anastasiou suggests and grab a non-negotiable "hero" item that you know you want to wear - aka one you know you love and will feel comfortable in. She's written a whole guide to what to wear to Glastonbury here, but topline: there's no point in wearing shoes that will look great but rub, or a top that sits well for photos but falls down every time you jump to your favourite song. (Plus, they aren't great investment pieces if they're that impractical, anyway).
All of the above helped me whittle down my three Glastonbury looks - I went for timeless outfits featuring clothes I already had at home that would also be supportive for walking 35,000+ steps a day.
Day 1:
Glastonbury day one and emerging from our sauna of a tent, I'm already worrying my outfit isn't "festival-y" enough. As soon as we meet the crowd of festival-goers, we're met with a sea of colour, bikinis, and bucket hats as far as the eye can see.
It's hot, though - like 28 degrees hot - so I'm quick to forget my outfit and instead spent the day dancing to Carly Rae Jepsen, Fred Again, and Arctic Monkeys. For Friday, I went for an old Reformation silk vest ordered in the Net-a-Porter sale (one of my favourite sustainable brands), a white adidas tennis skirt I've had for yonks (actually ideal for jumping up and down at a festival in, I later find out, as the skirt has inbuilt shorts), and my trusty Samba trainers (also ideal for tens of thousands of steps, as I've worn them so much they're pretty much guaranteed not to rub at this point).
I finished the look with sustainably-produced jewellery from the small, independent brand By Glaze, ethically-designed sunglasses from Jimmy Fairly, and tied a vintage silk scarf in my hair for an added pop of colour. The beauty of versatile items like silk scarves, too, is they can be used as head scarves, hair ties, or tops - whatever you fancy.
Day 2:
Day two, and just when you thought it couldn't get any hotter, it does. Nearing 30 degrees, all my plans for donning cute dresses go out the window because yep, you guessed it - they're long-sleeved.
Luckily we were invited down to check out The Pop Up Hotel, a shiny new glamping option on site where festival-goers can enjoy luxury yurts, showers, a spa, and a pool from £2,999 for the four-day weekend.
Showered and opting for the coolest thing I have packed, I pop on a loose pair of linen shorts (yes, it was that hot) and a cool, breezy Kaftan that I originally bought in a vintage shop around ten years ago. It's a firm holiday favourite as it's great for protecting your shoulders from the sun when by the pool or beach, and always comes in handy for Glastonbury as it'll see you through the day to night (yes, I've worn it every time I've been).
Pairing with my trusty Samba trainers again (my boots were a no once the temperature soared over 28 degrees) and my favourite Les Specs sunglasses, the outfit got many a compliment (without damaging the planet, along the way).
Day 3:
The final day rolls around, along with bubbling excitement for Elton John's final ever UK performance, and spoiler alert: I'm a little bit hungover, so don't whack on the PE Nation jumpsuit I had planned. Instead, I throw on some vintage, low-waisted Levi shorts and a comfy suede vintage waistcoat from TTFN Vintage in Camberwell, where I live.
Surprisingly, this look is the biggest crowdpleaser, and while isn't as "festival" as some of the amazing Elton costumes I see throughout the course of the day, it is something that I'll wear time and time again for the next few years (and have already worn loads previously).
I finish the look with the Cinnamon speckled Jimmy Fairly sunglasses and my Uniqlo bumbag (a Christmas present from my sister), which is obviously a lifesaver for the entire weekend, packed full of hand sanitiser, tissues, and snacks. One tip, though: make sure you've got a clip, scarf or keyring on your bag so you can identify it from the thousands of other bumbags that will undoubtedly be at the festival.
Final thoughts?
It turns out that I'm not alone in turning to pre-loved fashion for my festival looks this year - a quick scout of the Glastonbury site and I saw hundreds of charity and secondhand stores selling unique, one-off finds.
Similarly, a straw poll with the friends I'm camping with found that hardly anyone actually bought anything new this year. "I've gone for a much more refined, paired-back look," one friend told me. "I didn't want to buy anything new, rather make the most of what I already had at home."
Others, like Bethany Lewis who spoke to the BBC about her festival looks, turned to secondhand sites like Vinted to invest in new clothes for this year's festival season. In doing so, she's lowered both her carbon footprint and impact on the planet. She shared that cost was a large factor for her too, adding: "Rather than buying it new, I knew that I got it cheaper. I was also reducing my impact on the environment by buying it [secondhand]."
While the cost of clothes is certainly an inspiration for some (you can save as much as 70% on items on secondhand sites like Vinted, Vestiaire Collective, eBay and so on), I can't help but feel that perhaps it's an age thing, too. My friends and I are nearing our thirties, so we're far less likely to cover ourselves in glitter than we once were (plus we're now better educated on how bad it is for the environment). We're also less likely to wreck nice clothes should we take them to a festival, something I know I always used to worry about when I'd make my yearly pilgrimage to the festival site.
Similarly, I know my style more now - something Caitlin Smith shared with the BBC too. "I don't tend to buy anything that doesn't work with at least five pieces in my wardrobe - if I'm looking for a festival 'fit, I'll only buy items that I know I'll wear again," she shares. "I don't like feeling like I've wasted money on something I'll wear once, that way" she goes on.
There's also the option of renting something fun and "out there" from rental sites like Hurr, Rotaro, and By Rotation. I use the latter regularly, renting out my own wardrobe and borrowing dresses for engagement parties and birthdays, but noticed they have a whole section for festival clothes last time I went on the app.
It's undoubtedly the way forward in my opinion and certainly possible if you give yourself a bit of time to plan. You'll save money, reduce your impact on the planet, and feel smug returning home knowing you won't be making trips to the charity shop any time soon. Plus, letting go of what you think you need to wear and instead having fun with what you own gives you a chance to celebrate the wardrobe you already have. So, will you give secondhand, pre-loved or rented fashion a go at one of your festivals this year?
Shop Ally's secondhand festival favourites
Celebrity news, beauty, fashion advice, and fascinating features, delivered straight to your inbox!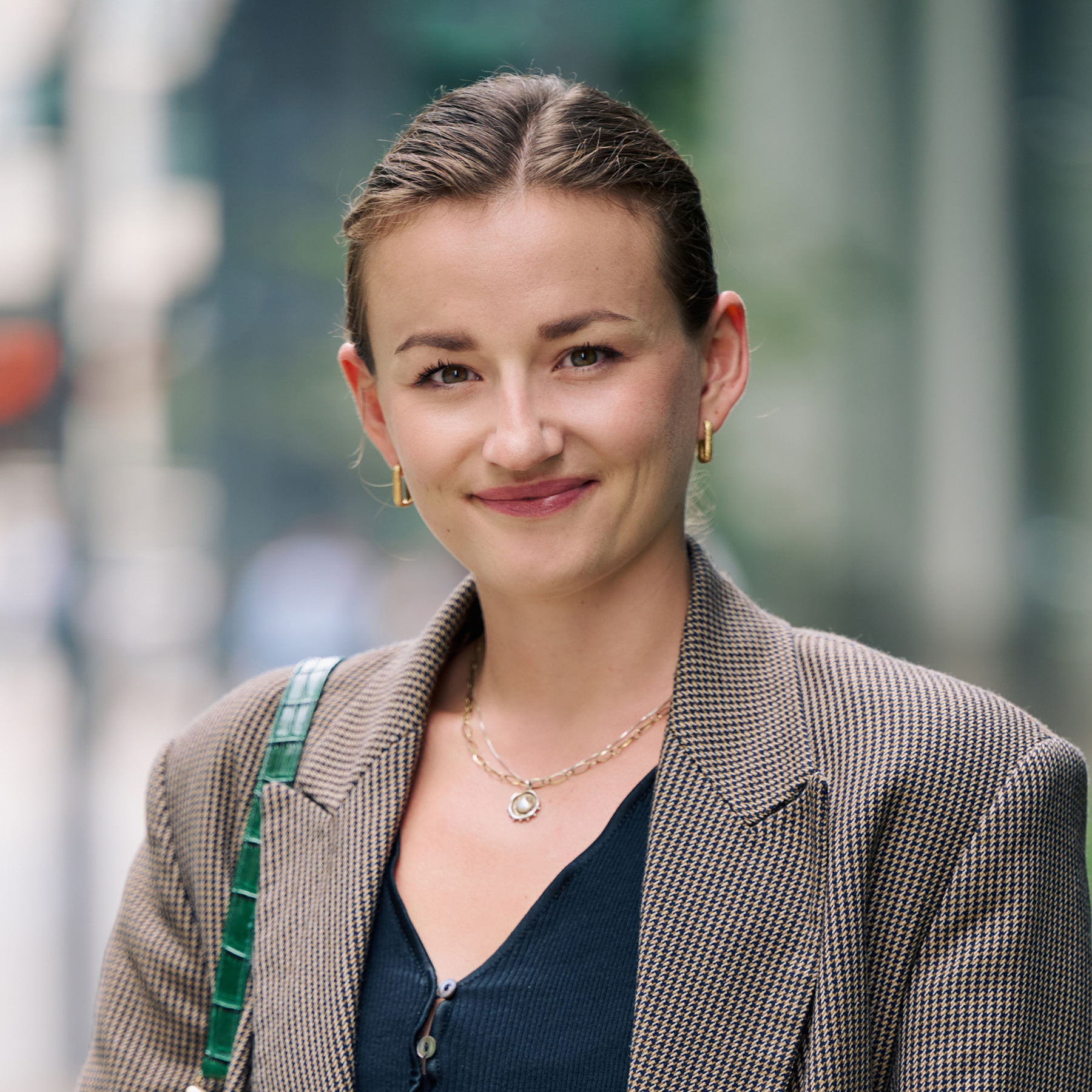 Health, Sustainability and Relationships Editor
Ally Head is Marie Claire UK's Health, Sustainability, and Relationships Editor, eight-time marathoner, and Boston Qualifying runner. Day-to-day, she works across site strategy, features, and e-commerce, reporting on the latest health updates, writing the must-read health and wellness content, and rounding up the genuinely sustainable and squat-proof gym leggings worth *adding to basket*. She regularly hosts panels and presents for things like the MC Sustainability Awards, has an Optimum Nutrition qualification, and saw nine million total impressions on the January 2023 Wellness Issue she oversaw, with health page views up 98% year on year, too. Follow Ally on Instagram for more or get in touch.