LinkedUp: What You Need To Know About The New Dating App For Professionals
LinkedUp! just might change the way you view that mysterious colleague across the hall...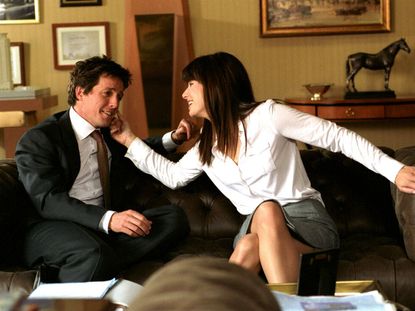 (Image credit: Rex)
LinkedUp! just might change the way you view that mysterious colleague across the hall...
If you're single, under 50 and own a smartphone, you've probably already given Tinder a try. But if you're single, own a smartphone and are really focused on your career, there's a new dating app that you may want to schedule into your agenda.
LinkedUp! is a new dating app that pulls in information from your LinkedIn account to create your profile. It's aimed at professionals looking to meet other career-minded singles. If you're more comfortable sending a meeting request than asking your crush out on a date, then it might just be the answer to your dating prayers.
You know the men you'll meet on LinkedUp! will have a job (or at least be interested in finding one), so that's one major plus. But what else do you need to know before downloading and dating? We'll break it down for you...
1. It's free. The targeted clientele may be hard-working execs who pull in a pretty paycheck - but you won't have to shell out any of your salary to use the app.
2. It doesn't mix business and pleasure. The app uses info from your LinkedIn account, but it promises to never post anything from your LinkedUp! account onto your LinkedIn page. No need to update your old boss on all your new hot dates...
3. It's not really part of LinkedIn. The app isn't at all associated with the business networking site. It's simply a spin-off of the idea.
4. It promises 'higher quality matches' than apps like Tinder. Max Fischer, the former investment banker who created the free dating app, told The Wall Street Journal why he thinks LinkedUp! is better than its competitors. 'People get a really true sense of where someone's from, what they do, and where they went to school, which are the main questions people ask in terms of dating,' he said.
5. It works like Tinder. If you're a fan of swiping right (hot!) or left (ew!), then you'll feel right at home using LinkedUp!. Just like Tinder, the dating app lets you pass snap judgements on your potential matches. But instead of being served a shirtless selfie and a cheeky one-liner, you get a suited headshot and a brief job description.
6. You can narrow your search. If you get five of your friends to download LinkedUp!, then you unlock the ability to search for dates based on industry. Make sense if you're looking for a creative type or someone with similar interests. But we can also see this getting potentially creepy if someone is looking to date their way to the top of their field.
7. The founder is only 28. Sounds like Max Fischer might be the next Mark Zuckerberg. Now the question is, is he on LinkedUp!? Time to start downloading...
Celebrity news, beauty, fashion advice, and fascinating features, delivered straight to your inbox!
Ali Gray is an award-winning content director and digital strategist. Most recently she was the Director of Branded Content at Hearst, and helped to bridge the gap between the editorial and commercial worlds working across all Hearst brands, including ELLE, Cosmopolitan, Esquire and Harper's Bazaar. Prior to that she worked as an editor contributing to several brands such as The Telegraph, iVillage UK.