Is THIS Why We're All So Hooked On Tinder?
If you're not on Tinder, we bet most of your friends are. The app has become huge this year, and introduced younger women to the joys of online dating.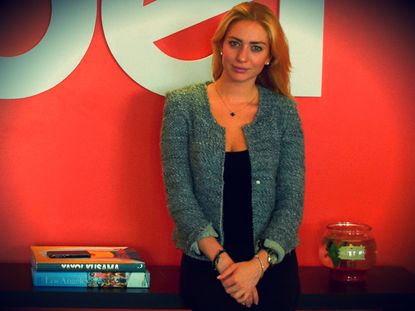 (Image credit: Victor Colomes)
If you're not on Tinder, we bet most of your friends are. The app has become huge this year, and introduced younger women to the joys of online dating.
We've spoken to Whitney Wolfe, who is Tinder's VP of Marketing and helped set the whole thing up, to find out why we're all so hooked...
1. Women have resonated with Tinder because they have control.
'Women love Tinder because they cannot be bombarded or overwhelmed. The ball is in their court, and they determine who they want to connect with. Often in life or even on social media, girls feel overwhelmed by being approached when they don't want to be. There is also no fear of rejection. When you get a match, you know that the other person has already expressed a mutual interest, which makes saying hello much less intimidating. Linking Tinder to Facebook also establishes trust and makes it a very honest experience because Facebook does a wonderful job of keeping their user profiles authentic.'
2. Tinder emulates real life.
'When you walk into a coffee shop or a restaurant the first thing you notice about someone is their physical appearance, and Tinder is designed to give our users the same experience. Once you decide that you want to connect with someone on Tinder based on mutual friends, common interests and photos, you can then begin to chat with your match and connect on a deeper level.'
3. Tinder's emphasis is on looks, but it's not that superificial. Honest.
'The first thing you notice about a person when you meet them is their physical appearance, before you get to know their personality. On Tinder, you are shown a picture and you have the opportunity to learn more right away. A photo is worth a thousand words - maybe the person is wearing a t-shirt of your favourite band or doing an activity you love. We also show you mutual friends and interests, which helps give you more context.'
4. It actually seems to be working.
'I'm in a relationship and we actually flirted for the first time on Tinder! We had already met each other but when we matched on Tinder it really changed the context of how we saw each another and gave us the atmosphere to get to know each other better. All of my friends use Tinder. It's a great tool for socialising, and making new friends and contacts. A lot of my friends are in very serious relationships because of Tinder, while others have used it to make friends in new cities. We hear of at least one new marriage proposal per day - it's pretty incredible!'
5. Tinder empowers women.
'It's the perfect ice breaker because it allows a woman to feel confident enough to say hello first because she has the peace of mind of knowing that there is mutual interest on the other end.'
What do you think? Have you tried Tinder? Do you agree with Whitney Wolfe? We'd love to know your thoughts in the comment box below...
Celebrity news, beauty, fashion advice, and fascinating features, delivered straight to your inbox!