I tried the Lumen tracker that promises to measure metabolism and help you lose weight for six months - currently at its lowest price ever for Cyber Monday
It's currently £64 off.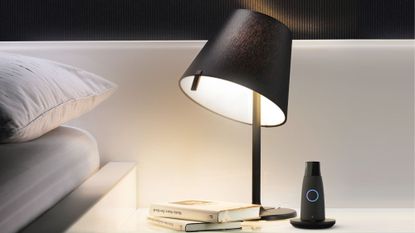 (Image credit: Lumen)
Reasons to buy
+

Its the only device of its kind

+

Easy to use

+

There's an incredible amount of data—that is both useful and easy to understand
Reasons to avoid
-

It is very expensive

-

It requires a fair bit of effort—but this can keep you dedicated

-

It looks like a vape, so some people might think you're vaping at your desk—true story
Wherever you are on your fitness journey—whether you're a beginner or you indulge in half-marathons for breakfast—arming yourself with one of the best fitness trackers can be a helpful tool to aid your training and help you reach your health goals.
With a slew of new technology on the market, measuring your resting heart rate, tracking your readiness score (make sure you check out the Oura ring) or carrying your personal step tracker in your pocket has never been easier. Hacking your metabolism has always been a long-debated topic in the fitness world, and now, thanks to the Lumen, you're able to do so on the go.
I'd been seeing Lumen all over my social media for a while, which first piqued my interest in trying it out for myself. There has been a 50% increase in searches for the Lumen Metabolism Tracker over the last year, so the hype clearly isn't dying down any time soon.
If you've been on the fence about buying, now's a good time to invest as it's currently on offer (save £64) in the Cyber Monday sales. To read how I got on putting the Lumen to the test over a six-month period, keep scrolling. Below, I cover everything there is to know about its latest technology and most importantly, if it actually worked.
Shop the best Cyber Monday health deals now
So, what exactly is Lumen?
Put simply: Lumen is a handheld device that helps to identify where you sit on the metabolic spectrum.
Lumen was developed by two sister doctors, Drs. Michal and Merav Mor who were training for an Ironman Triathlon. They wanted to understand how to fuel for their competitions, what to eat and also what to avoid. They had the idea to create a handheld version of the RER (Respiratory Exchange Ratio) equipment that you find in hospitals and clinics, which lets you know your metabolism by measuring the amount of C02 in your breath.
"It has always been our goal to contribute more knowledge on metabolism to the scientific community and make personalized nutrition more accessible so that we can finally understand the question of what we should be eating on a daily basis which actually works for our unique body", shares Dr. Merav Mor, Chief of Science at Lumen.
It took three engineers and over five years of work to perfect the device, with one 2020 study confirming it as the gold standard for measuring metabolism.
Lumen is all about working out a nutrition plan—completely tailored to your body—and aims to be the anthesis of the restrictive diets we've seen over the years.
Save 27% this Cyber Monday Friday
Specifications
Dimensions: 4.02 x 1.63 x 1.31 inches
Weight: 95 grams
Materials: Stainless steel mouthpiece and cover
Battery: Lithium Polymer battery with up to two weeks (depending on daily usage)
How does Lumen work?
Lumen's main goal is to understand and improve your metabolic flexibility (the body's ability to switch between burning fat or carbohydrates for energy and, in turn, help you work out which foods to eat to boost your energy and mood.
It's no surprise that sleep and diet can have a direct effect on our metabolism (the brand recently published a peer-reviewed study with ARU Cambridge on the effects of high and low-carb diets and metabolism) and Lumen can help to identify how other lifestyle factors may contribute to metabolic flexibility.
So, how does it work? By monitoring your body's carbon dioxide concentration - all you have to do is breathe into the handheld device. The levels of C02 in your body indicate the type of fuel your body is using to produce energy.
Lumen says, they "developed the CO2 sensor inside the device from scratch, and that's the key hardware that reads the levels of CO2 in your breath. If you have elevated CO2 levels in the breath, your body is burning carbs and lower CO2 levels means your body is burning fats."
Top tips for using Lumen
Before I got started with the device, I set up a call with Mia Johanna Dige, metabolic coach at Lumen, to ask for advice for starting my journey. If you're starting with Lumen too, then make sure you read the below:
Get the most out of Lumen: "To get the device working at its optimum, you need to do a measurement in the morning before you've eaten anything and have the option to do several other measurements across the day (before and after exercising and before bedtime)".
Protein, protein, protein: "Protein not only keeps you feeling fuller for longer but it helps with muscle growth and recovery," says Dige, And, that we should be aiming for "at least 30% of each meal to be compromised of protein".
Knowing when to consume carbs: "Try to eat carbohydrates in the middle of the day and opt for more veg and protein in the evenings". "Use your measurements to work out what types of carbs you eat as everybody responds differently to specific types of carbs"
Lumen and Intermittent fasting: For those doing intermittent fasting, Dige recommends, "doing a reading every hour to see where you are and if you're maintaining fat burn. This enables you to find the perfect window of fasting for your body."
Lumen Metabolism review
So, how did I get on with it?
I'd first seen the device over my Instagram feed and after what I initially thought sounded good to be true, I decided to look into it and give it a go.
It's worth stating that I'm a complete novice when it comes to macros—and let's face it, exercise in general. I had a fairly sporty childhood but rather embarrassingly, after the age of 18, I stopped doing any form of exercise apart from countless hours spent raving on the dancefloors around Europe (does that count?).
I'm giving you this information because I want you to know the complete picture. Fast forward to today, and I'm on a journey of looking after and wanting to better understand my body. That's where Lumen—and my recent love of biohacking—comes in.
I've been using the Lumen device for around six months now. Full disclaimer: I really struggled to get into the habit of using it at the very beginning, but now, it's become a part of me and completely slipped into my lifestyle and routine. Word to the wise: the chances of you becoming that guy that shares their newfound love and understanding of how their metabolism works, are quite high. At a recent dinner party (more on those later), I met a fellow Lumeneer—I'm coining that—and we extolled the virtues of said device to anyone that would listen.
Whatever your reasons may be; understanding how your body works so that you can choose the right training activities or foods that work for you, looking for something to provide insights to inform your training programmes, or if you simply want to use it for weight loss, there is no question about it, the Lumen is an extremely handy bit of kit.
I quickly worked out just how much the device points to sleep and, of course, diet. There wasn't anything that I wasn't allowed to eat. Instead, the daily-tailored nutritional plan focused on macros: carbohydrates, fats and proteins.
Once I got into the swing of it, the morning reading—done just before my hot water with lemon—no longer seemed like a chore. I will admit though, that during particularly busy periods I sometimes skipped a day or just didn't have the time. For example, travelling around cities for various fashion weeks often means I am sleep deprived, time-poor and make terrible decisions when it comes to what I'm consuming. It's also worth noting that I would eat whatever I wanted when I was out for dinner for either work or with friends and family.
For me, maintaining a level of distance from the incessant recording of data was key. I didn't want to become obsessed with it. When I missed a day or two (or a week, in some cases) then I simply made peace with it knowing that I would return to regular programming when I was ready.
Does Lumen help with weight loss?
Now to the question you're all thinking - can this device actually help me lose weight? The answer - well, it's a journey, but what you put in will most likely be presented in the results.
There are no quick fixes. My weight fluctuated by 5kg across the six-month period of use. I will be the first to admit that I didn't always completely stick to the plan and instead used it as rough guidance, so I know that this could've been better if I did.
However, several people that I bumped into made comments about my appearance—as an aside, maybe we need to look at the culture around that—and to be honest, I felt like I had shifted some of the weight. So, for me, it most definitely worked.
I was making better choices when it came to food and being more active by making small changes: instead of getting the tube, I decided to walk. I was averaging over 12,000 steps a day.
How much does it all cost?
So far so good. Now, let's talk about the cost. The Lumen is available as a subscription service. An initial plan includes the device and app starts from around £249 for a 6-month subscription, renewing at £25 monthly.
Obviously, this is not cheap. However, it is cheaper than a gym membership but more expensive than your Netflix subscription. I've seriously had to question whether it was something that I would like to continue doing as the cost is significant. But when looking at the entire package and everything that is included, I think it's a great investment.
The monthly subscription includes:
Meal ideas - It can be a challenge working out what to eat initially, so I found this extremely helpful.
Food lists - This makes it super easy to categorise your ingredients.
Portion guidance - I've gone 36 years with a rather skewed understanding of what one recommended portion size of rice actually is.
Menu hacks - Very useful for when you're eating out.
Resources to help you along the way: It also has a library of easy-to-ingest—and understand—videos in handy categories such as little tips for getting the most out of the device, nutritional education as well as inspirational—but not in a naff way—messaging on your goals and mindset.
The 6 month plan includes the device and tracking for 6 months, with the option to continue tracking monthly thereafter.
Here's what the experts say:
"Lumen provides the necessary biofeedback to make necessary health and nutrition changes", Dr. John Whyte, chief medical officer at Web MD.
"Based on this device, I get personalized recommendations for nutrition, sleep, physical activity, to help me improve my metabolism." Dr. William Li, author of Eat to Beat your Diet.
The verdict on the Lumen—Could I do all of this without the device?
You can measure your macros intake, track and record your workouts, and track your sleep via some other well-known trackers and apps but, to my knowledge, there is no other device currently on the market that enables you to track your metabolism.
Whilst some attempts to eat better or switch up your diet are often fads and short-lived, IMHO, Lumen provides the bases for a long-lasting approach to not only eating better but also understanding your body, Taking that into account, I do think that overall I will continue my subscription—even though it is quite pricey. It's helped me on my journey.
Who should avoid using the Lumen device?
The Lumen might not be accurate for some people.
According to their website, Lumen advises that readings might not be accurate and so therefore is unsuitable for anyone with: Diabetes, Severe Asthma, COPD or for anyone that is pregnant. Plus, they go on to suggest that the nutrional recommendations may not be suitable for anyone with Cancer, Thyroid Disease or Cancer.
What does the device include?
Apart from the initial purchase and various plans, what else does the Lumen come with?
The device comes equipped with a travel case, charging dock, USB-C Cable, and Premium Customer Support. Users can download the app for free on the Apple App Store and on Google Play.
Today's best fitness tracker deals