Looking for a sex app? 15 best for sexual wellness and no strings hookups
Aka, the pro's top picks.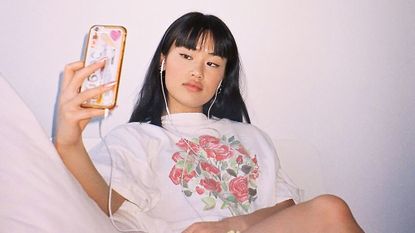 (Image credit: Getty Images)
On the hunt for a sex app that's safe, secure, and simple to use? You're in the right place. Here at Marie Claire UK, we're all about promoting sexual wellness and know that, for some, dating apps aren't what you're after (we're all prone to the occasional right swipe, but might not be looking for a relationship).
Tinder is notorious for being one of the best sex apps out there, but it certainly isn't the only one. So, why use a sex app? As relationship expert Alex Griffiths explains, sex has been proven to be good for both your physical and mental health. "It has a huge impact on your mental health," he shares.
How? Well, data suggests that if you masturbate or have sex once a week, the influx of oxytocin and dopamine seriously boosts your mood. "Taking a moment for release and to escape from worldly pressures is important for all of us, and frankly, what better way to improve our wellness," Griffiths goes on. Who needs a fitness tracker when you can enhance your quality of life with, well, sex?
We've asked some of the best experts in the business to share their go-to sex apps - you'll find the perfect Netflix and chill buddy in no time. Trust us - there's an app for everyone.
Don't miss our guides to the best fitness apps, best yoga apps, and best sleep tracking apps, while you're here.
Testing process for the best sex app
Things like price, user experience, and quality of in-app navigation were considered - plus, how easy the app was to use.
Sharing their go-to- sex apps are our trusted board of pros, including:
15 best sex apps to try for casual hookups
1. Feeld
How does Feeld work?
Always wanted a threesome but never known where to find that special (extra) someone? Well, just like 3Fun, Feeld is a dating app to help you out. Feeld works much like Tinder; log on through Facebook (there's an option to change your name), choose the composition of your group (2+1, or 1+1+1) and swipe through hundreds of potential matches in your area.
Why is Feeld one of the best sex apps?
This app has the ease of tinder, and much like that, most of the fun lies in the swiping. Once you've matched, how things proceed is up to you. Just remember to keep your friends informed of your whereabouts - taking extra precautions when meeting strangers is always advised.
What the experts think:
Alex Griffiths, Co-Founder of Roam, says: "I definitely suggest giving the Feeld app a go if you're keen to connect with a community of sex-positive members looking to explore. I think it's one of the best sex apps because it brings interesting, open-minded people together at scale. It's worth a go, even if you're just dipping your toe in."
Kotziamani agrees, adding: "I'm currently in a non-monogamous relationship and we use Feeld to explore our kinkier side and for group sex. I like how upfront and respectful it is and the platform is pretty user-friendly."
Check out the Feeld website or download it for Apple or Android now.
2. Bumble
How does Bumble work?
Bumble calls itself a feminist app; for any matches that happen, the woman must start the chat within 24 hours, or it disappears. It's become one of the best-known dating and sex apps on the market for helping people to build valuable relationships. Not the best option for casual flings, but definitely worth joining the millions who use the app if you're after something a bit more invested.
Bumble is a location-based dating app that follows the "swipe right or left" format that Tinder made so famous. When two people "like" each other's profile by swiping right, a "connection" (match) is formed and messages can then be exchanged.
Why is Bumble one of the best sex apps?
Pressure is high with that time limit, but it helps you quickly figure out whether that guy is worth the initial message. Plus, the control is totally in your hands, and you know that rules and safety regulations should be strict, as it's such a well-known and developed app.
What the experts think:
Jessica Leoni, sex and relationship expert at IllicitEncounters.com says: "Bumble is best for choosy women. With the app, only the female in heterosexual matches can make the first move with matched male users. So initially at first, everything is done on the woman's terms. You can pick and choose exactly who you think is appropriate according to your needs."
Love, sex and relationship coach Julia Kotziamani agrees, adding: "Bumble is a great dating app for meeting people and has a less smash and dash vibe than Tinder."
Check out the Bumble website or download it for Apple or Android now.

MC UK approved sex toys to shop now:
Smile Makers The Artist Rabbit Vibrator
"This toy was designed for intuitive and unique power. You can control the internal and external heads independently, choosing from four different modes for the two heads. And lastly, the angle between the two heads can be adjusted to create an intimate fit," says Cecile Gasnault from Smile Makers.
This is rated as one of the best bullet vibrators out there by our experts in our bullet vibrator roundup. It offers intense and powerful vibrations that can lead to huge orgasms while being small enough to be used by beginners or during partnered sex.
3. Kama
How does Kama work?
Kama calls itself a sex coaching app and focuses on the idea of pleasure as a key component of your health. As per their website, their mission "is to transform how we experience pleasure and its role in our wellbeing. We want to help people of all ages, genders, and sexualities make sexual satisfaction a part of their everyday lives by connecting their mind, body, and heart."
Why is Kama one of the best sex apps?
Keen to learn new sex positions, learn the (literal) ins and outs of tantric sex and improve your sexual confidence? Then Kama is the app for you, as it offers all of this and more, with a focus on sexual wellbeing.
What the experts think:
Alex Griffiths, Co-Founder of Roam, says: "For those looking for some direction on exploration, I'd highly recommend the Kama app as a starting point. Kama is great for anyone looking to better engage with their sexual wellbeing, and has much to learn for couples and solos alike. It's basically Headspace for sex."
Check out the Kama website or download it for Apple or Android now.

4. WeAreX
How does WeAreX work?
WeAreX is a shame-free, sexually liberated social network which encourages emotional and sexual exploration. According to the team, the dating app is groundbreaking in that it promises to revolutionise the way people connect.
Providing a safe platform, their aim is to enable members to "step into their true sexual selves" through connections with others who share their passions and curiosities.
It offers individual and couple accounts and options for shared or individual login details, too. Watch out for the icebreaker questions, designed to help you connect in an authentic way, and the "meet tonight" option designed for instant connections.
Why is WeAreX one of the best sex apps?
Because it's sexually liberating and safe, too.
What the experts think:
Julia Kotziamani, love, sex, and relationship coach, says: "For sex positive content, dating, parties, and socialising, I use this app and love it. It's the only one permanently on my phone."
Check out the WeAreX website or download it for Apple or Android now.
5. Tinder
How does Tinder work?
You'll probably know - nearly everyone has tried the app. Tinder has over 55 billion matches to date and is one of the front runners for a sex app that offers a bit of everything, from casual hookups to more serious dates. As their website says, "it doesn't matter if you want to find love, a date, or just have a casual chat, you want an app that's the right match for you. And it's not always black and white – when you want to meet new people, your friends at Tinder can help you out with features designed to make the impossible possible. Dating online just got easier."
Why is Tinder one of the best sex apps?
The proof is in the stats, really. Plus it's really simple to use - download the app and swipe left or right to skip or like other members' profiles. If they've swiped right too, you'll have a match and you can get chatting.
What the experts think:
Jessica Leoni, sex and relationship expert at IllicitEncounters.com says: "While it is predominantly a younger person's app - a third of Tinder users are aged 18 to 24 - there are lots of people aged 35 plus giving it a go. Stats show a quarter of users are 25 to 34, and around 20% are aged 35 to 44."
"Given its popularity, you would be a fool not to give it a go if you are 40-plus and looking for some fun. Yes, you might well find some younger guys turned on by the whole Mrs. Robinson thing - and what is wrong with that? They could be a lot of fun and the sex could be great. You are only as old as you feel - get out there and see how it goes."
Check out the Tinder website or download it for Apple or Android now.
6. Thursday
How does Thursday work?
Perhaps surprisingly, Thursday only works on... yep, you guessed it, Thursdays. The new app is based around the premise that you should actually be having IRL dates, so only gives you a short but sweet 24 hours to chase those matches and arrange those dates.
It's invite-only, and according to the app, 110,000 lucky users are already signed up. Plus, catfishing is banned, and all users must be verified and prove their identity (with a passport or driver's license scan) pre-joining.
Don't worry if you don't live in London or New York - the app is available in Manchester, Birmingham, Cardiff, Liverpool, Glasgow, and Dublin, too.
Why is Thursday one of the best sex apps?
Well, it's very talked about at the moment, semi-exclusive, and encourages you to get off your screen and spend more time actually out there dating... what's not to like? Plus, they're hosting members-only events from the summer. Enjoy.
What the users think:
Smudge897 says: "My kind of dating app! I've been using Thursday since it launched and I'm a big fan. The concept of the app really works for me and I've been on a few dates with matches from Thursday already. It's great to cut the small talk and make plans off the bat, especially knowing that matches are expecting that."
"Having been on it since the start, I can already see its growth and how the team are taking feedback on board and making improvements to the user experience. I'm excited to keep using Thursday and to see what comes from it!"
Check out the Thursday website or download it for Apple or Android now.
7. Be Naughty
How does Be Naughty work?
Designed for adults on the lookout for a new partner or love interest, Be Naughty lets you get straight to the point, actively encouraging no-strings-attached encounters. Sound up your street? Get downloading.
Why is Be Naughty one of the best sex apps?
It's safe, easy to use, and brings together a community of like-minded individuals looking to hook up.
What the experts think:
Barbara Santini, psychologist, sex therapist, and relationship adviser at dimepiecela.com, says: "I highly recommend this app to anyone looking to better their sex life, dating, and no-strings-attached relationships. With over 13 million users globally, Be Naughty is the app you need to satisfy your sexual needs. It's easy to operate, fun to look for matches, safe, and fast. The like features allow you to connect with potential matches with a simple swipe in the gallery. Get to learn new naughty ways to spice things in your sex life from this amazing app."
Check out the Be Naughty website now.
More MC UK approved sex toys:
Jordan Dixon, clinical psychosexual and relationship psychotherapist at The Thought House, shares that lots of her clients rave about the Satisfyer. FYI, it's an oral sex stimulator and as close as you'll get to the real thing in machine-form.
Scotty Unfamous, an award-winning erotic romance author and sexfluencer, says that the Bed Geek wand is surprisingly quiet, powerful, and have lots of different settings to enjoy.
8. Lover
How does Lover work?
Fun fact: 87% of people said they felt 'greater sex life satisfaction' having used Lover for just a week. Not bad. Lover promises to offer a science-based approach to sexual hiccups and issues and essentially acts as a personal sex therapist. Think research-based content and guides covering exactly what you're keen to explore sexually.
Why is Lover one of the best sex apps?
As above, it comes complete with guides, videos, and educational games, so you can watch, listen, play and learn. Not only will it spice things up in the bedroom, but it'll help you educate yourself on how to improve your sexual wellbeing, too. Think feeling more relaxed during sex, getting connected with your partner, and expressing your sexual desires. Because having a healthy sex life = better health generally. Hear, hear.
It's free to download but to unlock all content, you have to pay a £9.99 weekly subscription fee.
What the users think:
Kevin_Mackey says: "Amazing at the insight and connection to me. It feels as if the author is or has been on the path I am walking. How quickly and accurately I was able to identify areas and reflections about me and my experiences."
"I truly feel the positive possibilities about making amazing improvements and changes in my our sexual journey."
Check out the Lover website or download it for Apple or Android now.
9. HER
How does HER work?
Forget Grindr, Her is a hook-up app for LGBTQ+ women, by LGBTQ+ women. While it sells itself as more of a lesbian/bi/trans community rather than a dating platform, it's one of the most popular apps for the audience in the entire world. Beyond meeting other like-minded individuals, you'll also be able to find out about gay-friendly news and events going on in your area so you can take things offline.
Why is HER one of the best sex apps?
There aren't enough apps out there for our LGBTQ sisters and as far as they go, this is one of the best. We love the news and events updates, too.
What the users think:
JustMeAshe says: "I downloaded this app by recommendation of a friend to branch out and explore my pansexuality more than I have been able to in the past. I really liked the app and I made some friends on there but the biggest thing that came out of this app is my now girlfriend of 4 months."
"I didn't expect anything from this app, was going to just keep things casual but this girl is literally my world, my literal better half and soulmate and it's been probably the best 4 months of my life. I don't think I would have ever met her if it weren't for her app. It allowed me to meet someone outside of my small town and it's been the best thing to have happened to me truthfully. She is truly my best friend and my world."
Check out the HER website or download it for Apple or Android now.