We talk to photographer Carla Coulson about life behind the lens
Her iconic 'Italian Joy' and 'Jeune Fille En Fleur' photographs have become collectable items for fine-art fans worldwide. But it's Carla Coulson's azure-blue beach shots that have sent our wander lust levels stellar. Now living in Paris, Carla Coulson has her eye set on snapping the Med's luxury shorelines next. Here, she speaks to Nicola Moyne about following her heart, Leicas and the art of shooting beach life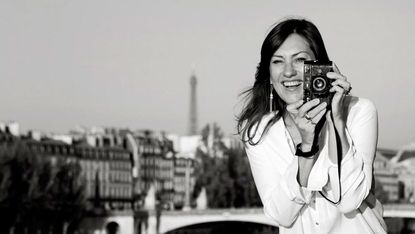 (Image credit: Loc Boyle)
Her iconic 'Italian Joy' and 'Jeune Fille En Fleur' photographs have become collectable items for fine-art fans worldwide. But it's Carla Coulson's azure-blue beach shots that have sent our wander lust levels stellar. Now living in Paris, Carla Coulson has her eye set on snapping the Med's luxury shorelines next. Here, she speaks to Nicola Moyne about following her heart, Leicas and the art of shooting beach life
You had been running a successful business in Sydney before you started studying photography. What made you take the leap? I had a camera and took photos, but I didn't know how to use it on manual. When I started at photography school in Florence I didn't know anything about how the photography business worked. At that point I really was really focused on learning and the first time I developed something in the darkroom I was obsessed. I would take my camera with me day and night and I adored shooting daily Italian life.
Who has inspired your career and style of photography? I had a teacher at photography school who was really passionate about reportage, so I looked to all the great humanist photographers of the 1950s, such as Robert Doisneau and Henri Cartier-Bresson. I spent hundreds of hours 'learning' by looking at images and discovering new photographers. Paolo Roversi set my heart and imagination on fire; I love the joy and fun in the photos of Ellen Von Unwerth; and Richard Avedon has an innate class that inspires me. Over the years I have looked at so many different photographers but at the moment I am letting my inner voice speak. I had the great fortune to work with a fashion editor, Marta Innocenti Ciulli who was the editor of Collezioni and she told me not to worry about the clothes but shoot images that were from the heart and full of emotions. She told me, 'If the photos were beautiful people would feel connected to them'. I think you can go on learning for ever.
Your fashion and travel photography is so immersive. How would you describe your style? I am obsessed with life and all the nuances. I adore people and creating photos that have a connection. I get bored when there are no emotions so I work to create emotions in a picture even on first glance when there appears there are none. I would describe my style as emotive. I am inspired by Italy and the emotions of life. Where there is life you will find me.
Do you have a favourite camera? I love my old Leica's, the M6 and M7. They are so small and unobtrusive and people almost don't notice that you are taking pictures. I would like to go back to having a smaller digital camera that I can take everywhere with me like the new Fuji's. I hear so many photographers - particularly women - who find the bigger cameras too heavy and cumbersome to take out on a daily basis and this is a problem with you like to shoot street photography and life.
Are you a fan of film or digital? I love both and I think there is a place for both. The thing I love about film is that once you have stopped shooting your job is finished. With digital we spend way too much time at a computer.
What, or who, do you love photographing the most? The beach and flowers. For me, there is nothing other than joy in shooting these two series. I adore selecting the flowers, picking them up and then trying to create magic.. The beaches are my natural home - I shooting love the Amalfi Coast, including Atrani - I would be going anyway. I also recently shot Heidi Middleton formely of Sass and Bide in a mini castle in France. A spectacular person in a spectacular place.
Is your house filled with gorgeous photos? Paint a picture for us… Yes I have a lot of photos and art around. Not only mine, but those by friends and artists I admire. I love to be surrounded by images and have a wall behind where I sit with racks filled with images and art. (To purchase Carla Coulson's fine-art prints, visit carlacoulson.com)
What advice would you give any aspiring photographers out there? Follow your heart and don't try and make money out of it too soon. There is an enormous value in letting your eye and style develop without the pressure of a job. It's wonderful to let your heart lead you and see where it takes you. If you give yourself enough time in the beginning and develop a style and an opinion, it will ultimately make your journey to wherever you want to go shorter.
Celebrity news, beauty, fashion advice, and fascinating features, delivered straight to your inbox!