Best air fryers: after testing, team MC recommend these 4 as the best you can currently buy
Plus, hear a nutritionist's take on whether the popular cooking method is actually healthier for you.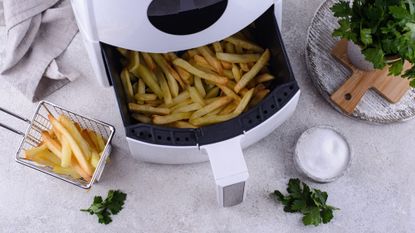 (Image credit: Getty Images 1352201890)
So, you're on the hunt for one of the best air fryers. No kitchen appliance has been quite as popular over the last couple of years (apart from coffee machines, of course). In fact, searches have increased by 50% in the last twelve months, and during Black Friday they practically flew off the shelves.
Their USP? Well, the machines promise to cook food in less oil than appliances like a deep fat fryer, but still make the food as crispy. Similarly, they promise to use less energy than, say, an oven, making them a good investment during the current cost of living crisis.
While one 2015 study found that food cooked in an air fryer was lower in fat thanks to the cooking process, there aren't many other papers on their effectiveness. So what does a nutritionist think - do its promises stand true, and is it healthier and more energy efficient?
Here, nutritionist and co-founder of ARDERE Lauren Windas shares her take, plus team MC share their pick of the best air fryers genuinely worth the investment. Don't miss our edits of the best wellness planners and sunrise alarm clocks to up your self-care as we head into Spring.
Best air fryers: 4 to buy now
1. Instant Vortex ClearCook 7.6L Dual Air Fryer
Best air fryer for the whole family
Specifications
Cooking compartments: 2
Cooking functions: 6
"I really have no negatives about this air fryer and can see why it's regarded as one of the best you can buy. It's easy to use, quick and efficient, and looks smart thanks to the stainless steel trim. I thought it might be a bit of a faff to use, but I was pleasantly surprised by just how many things you can cook in it."
"So far, we've cooked potatoes, chicken breasts, and sprouts for a roast and they all cooked in around 30 minutes - they tasted great and used minimal electricity and oil, too. I found the set up and controls pretty simple and intuitive, plus liked that there were two separate drawers, meaning you can cook, say, your chicken and potatoes at the same time (also handy if, like my partner and I, you have a vegetarian and a meat eater in the family)."
"Only thing to note - it's about the size of a large coffee machine and comes in lots of packaging, so do make sure you've got room for it in your kitchen before you buy. That said, I'm impressed and a fan - I'll definitely be continuing to use." - Ally Head, Health Editor
2. Ninja 3.8L Air Fryer and Dehydrator AF100UK
Best compact air fryer
Specifications
Cooking compartments: 1
Cooking functions: 4
"If you're looking for something a bit smaller, you can't go wrong with this compact air fryer from Ninja. It arrived in minimal packaging, and I was pleasantly surprised by how narrow it was. That said, it is on the taller side, so it's still worth measuring your kitchen to ensure it will fit in the space."
"Something I really liked about this air fryer is that the instructions manual comes with lots of recipe ideas, making it ideal for someone like me who has never cooked in one before."
"The screen is a little smaller than other models but it's still super easy to use, and the minimal design compliments my kitchen perfectly."
"If you aren't the most experienced cook and only tend to prepare meals for no more than two people (I'm more of a beans-on-toast-for-two kind of person myself), I couldn't recommend this enough. However, if you are slightly more advanced and like to cook for the whole family, I would probably recommend one of the other designs." - Grace Lindsay, Ecommerce Writer
3. Salter Dual Air Fryer With 12 Cooking Functions
Best dual air fryer
Specifications
Cooking compartments: 2
Cooking functions: 12
"I recently tried the Salter Dual Air Fryer and it has revolutionised the way I cook. Why? Well, the product was really easy to set up and didn't take long at all. The unit itself is smaller than I thought, too, so it didn't take up lots of space in the kitchen (that said, the actual capacity proved to be more than expected, which was a real bonus)."
"The instruction manual was easy to follow and came with suggested recipes to try. A quick Google search did prove to be essential to clarify a few set-up points not covered in the manual (I also watched a few online videos, which definitely helped)."
"I started off with a low-key dinner of french fries which were cooked to perfection with just a little spray of oil. The controls are simple and can either be synced together or set manually, which allows you to cook different foods at different times and temperatures. The two trays also come in handy when cooking multiple foods simultaneously."
"Cleaning the air fryer was easy, too - all I had to do was remove the cooking trays and wash with warm soapy water. All in all, I would highly recommend it." - Grace Lindsay, Ecommerce Writer
4. Tefal FW201 EasyFry 3in1 Digital Air Fryer, Grill & Steamer
Best digital air fryer
Specifications
Cooking compartments: 1
Cooking functions: 3
"Last but by no means least, if you want something a little bit more hi-tech, say hello to this digital air fryer by Tefal. This product offers a whole host of cooking options, from frying, to grilling, to steaming."
"After speaking to Windas, I opted for the steam setting, knowing it was an easy way to retain more of the nutrients in my meals."
"Not only does it come with this handy steam setting, but it also looks sleek thanks to the monochrome design and digital screen. The touchscreen controls are easy to navigate, but if you get stuck, the air fryer also comes with handy diagrams to show you how to use it."
"The only downside? It's price point. It's a little more expensive than other models, so if you are looking for a more affordable option, I recommend one of the others above." - Grace Lindsay, Ecommerce Writer
Air fryer nutrition need-to-knows
What is an air fryer?
In short, a new kitchen appliance that promises to cook your food quickly, efficiently, and healthily. "Air fryers have grown in popularity over the last couple of years," shares the nutritionist. "These appliances are used to make fried foods such as meat and chips, by circulating hot air around the food to produce a crunchy outer texture," explains Windas.
That said, as we've highlighted, you can cook pretty much anything in an air fryer - meat, potatoes, veg and more.
"This is considered as a healthier alternative to cooking food in a deep fat fryer," the nutritionist goes on. "Deep fat frying involves submerging food in extremely hot oil until it reaches a safe internal temperature."
What are the nutritional benefits of cooking with less oil?
By cooking with less oil, you're reducing the risk of releasing free radicals in your body, which are atoms that can cause inflammation and in turn heart disease, diabetes, low immunity and more.
Similarly, your food will likely have a much lower calorie content compared to foods that have been submerged in high amounts of cooking oil, she continues.
It's worth pointing out here that nutrition is about far more than calorie density (high calorie foods, like avocados, are powerhouses of nutrients and minerals, for example), and calories are only really important if you're dieting or tracking your macros. That said, if you are looking to lower your daily calorie intake, then an air fryer could help.
Finally, according to Windas, when air frying, your food you won't be exposed to acrylamide, a known carcinogen produced when starchy foods are cooked at very high temperatures such as in deep fat fryers.
What foods would you recommend cooking in an air fryer?
Good question. Windas recommends cooking nutrient-rich foods like:
Vegetables
Whole grains
Fatty fish
Lean meats
However, she does advise also utilising other modes of cooking alongside air frying, such as steaming, boiling and oven-baking.
Still not sure what to opt for? These Deliciously Ella recipes, vitamin D recipes and healthy snack ideas might help.
Can air fryers destroy nutrients in your food?
If you're wanting to preserve nutrients in your food, you may want to think about how you are preparing it.
As Windas explains, "any food that is cooked at a high temperature can lose some of the nutrients during the cooking process. Steaming is one of the best cooking methods for preserving nutrients."
Is an air fryer a healthier option when it comes to cooking?
Overall, when comparing air frying to deep fat frying, it's definitely a healthier alternative, according to the nutritionist. However, when comparing air frying to conventional oven frying, it's a little bit harder to work out which one is better for you.
As Windas points out, "it ultimately boils down to what foods you cook in the air fryer. You want to go for nutrient-rich foods, and be careful about what oils you cook with as well. I would advise heart-healthy fats such as extra virgin olive oil, for example."
So, there you have it. Everything you need to know about air fryers. Will you be trying one out?
Celebrity news, beauty, fashion advice, and fascinating features, delivered straight to your inbox!
Grace Lindsay is currently Junior Beauty Editor at Who What Wear UK and previously was Marie Claire UK's E-Commerce Writer. With over three years of experience in the fashion and beauty industry, she covers everything from the best make-up and skincare deals to how to shop the stand out trends of the season. When she's not typing away at her laptop, Grace can be found shopping her favourite vintage markets IRL, or catching up on her never-ending list of books to read.