"Participating in real, lasting change is my purpose. I'm just moonlighting as a performer"
Star of The Good Place and founder of the I Weigh movement Jameela Jamil has graduated from T4 presenter to lobbying congress. Here, she talks to Sophie Goddard about self-acceptance, cancel culture and why last year set her free
DIRECTOR AND PHOTOGRAPHER YU TSAI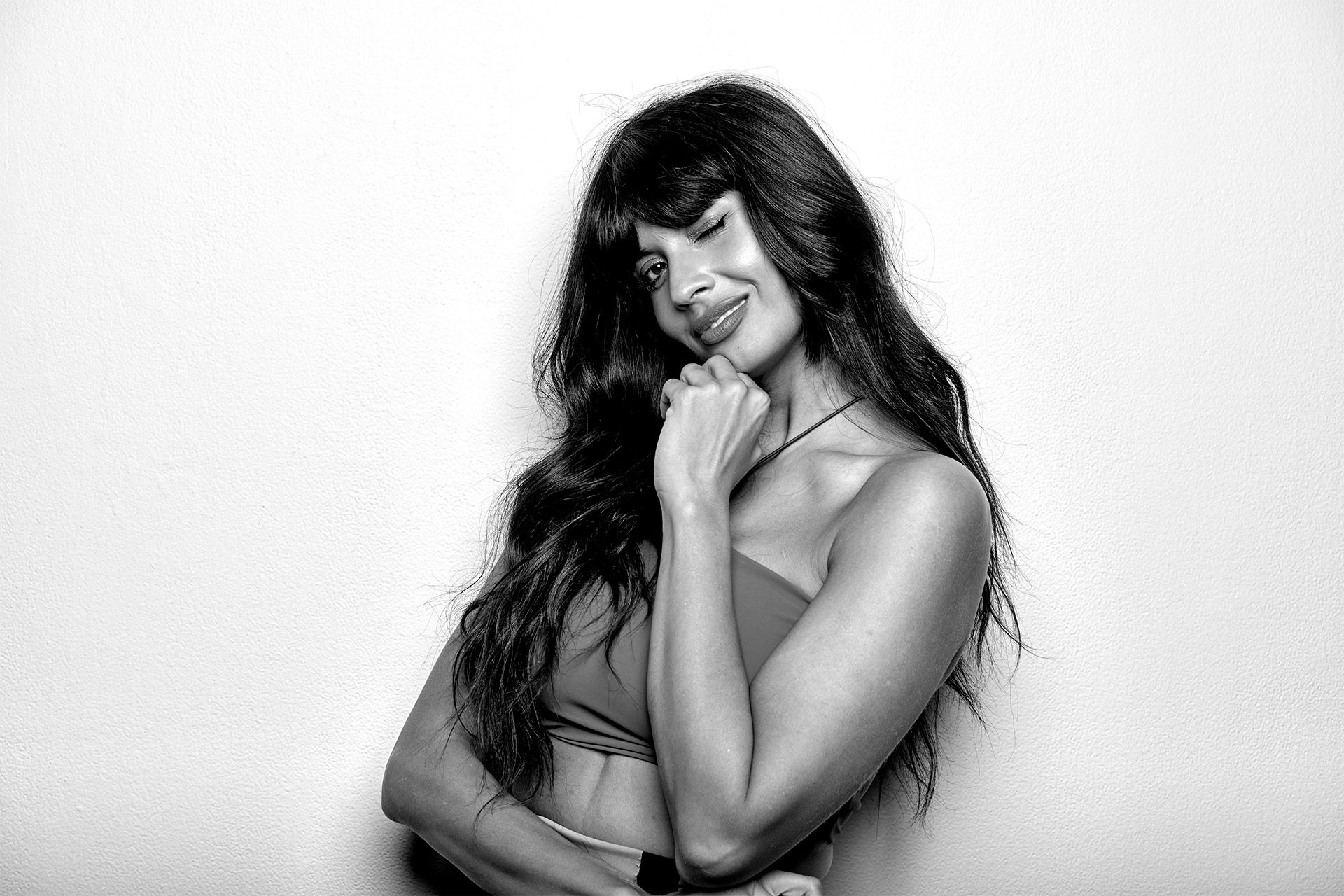 THE BODY SHOP CREDITS: THE BODY SHOP CAMOMILE SUMPTUOUS CLEANSING BUTTER, £11, THE BODY SHOP HIMALAYAN CHARCOAL PURIFYING GLOW MASK, £18, THE BODY SHOP DROPS OF YOUTH™ CONCENTRATE, £36, THE BODY SHOP CBD RESTORING FACIAL OIL, £25, THE BODY SHOP TEA TREE OIL, £12, THE BODY SHOP VITAMIN E MOISTURE CREAM £20, THE BODY SHOP SHEA NOURISHING BODY BUTTER, £16, THE BODY SHOP ALMOND MILK BODY YOGURT, £9, THE BODY SHOP HEMP HAND PROTECTOR, £12
FASHION CREDITS: TOP BY ALIX
'It wasn't hard for me to say what I said. I didn't think it was going to create such a stir because I've been saying it for so many years, but it went viral in a way I could never have predicted. I'd made my bed, so I had to lie in it – and I did.'
Jameela Jamil is talking to me from her home in LA via Zoom, and recounting the moment she called Kim Kardashian a 'terrible and toxic influence on young girls' for promoting appetite-suppressant lollipops. It was 2018 and almost every news outlet around the world immediately shared the story, framing it as a celebrity catfight or, worse, a personal vendetta launched by Jamil on the Kardashian family (Jamil later pulled Khloé Kardashian up for promoting weight-loss teas, too). Except it really wasn't.
'I'd been doing it for fucking years by that point,' Jamil says, still clearly exasperated by the narrative. And who could blame her? For the record, it's not just the Kardashians she's called out in the past – they just get the bigger headlines. But, having cut her teeth as a presenter on T4 in 2009 (landing the gig while still working as an English teacher), Jamil is no stranger to making headline news.
Today she's speaking to us the face of The Body Shop's Global Self Love Index, a first-of-its-kind global study, commissioned to assess and improve self-worth, wellbeing and happiness. It feels fitting. If anyone has the experience to talk on these subjects, it's Jamil. In 2012 she made history by becoming the first female solo presenter of BBC Radio 1's Official Chart Show – a move that cemented her status as a household name in the UK. This coincided with a shift towards social advocacy (a term she prefers to 'activist', which she saves for those on the 'front line').
It provided the perfect conditions for Jamil to tackle the dark side of the diet industry following a spell of toxic tabloid interest. Having recovered from anorexia, which she developed as a teen, Jamil was prescribed steroids by her GP for her asthma while working at BBC Radio 1. Within months, she'd gained five stone and the paparazzi began to hound her. 'That was my first moment of rebellion because I got offered so many weight loss and diet deals, where they secretly train you and make you pretend it's down to a diet product or fitness DVD,' she says. 'The rebellion of just being like, "No, fuck off, I'm not joining a gym, I'm not going to lose this weight, I'm going to let his body do what it's doing because I've given my life to anorexia". I had to turn the narrative around.'
So that's exactly what she did. In 2014, a powerful speech Jamil gave at the House of Commons on self-esteem, body image and the media (in which she cited newspapers running a piece about her gaining two dress sizes instead of 200,000 new listeners) won her a new legion of new fans. A year later, she was using her platform to actively talk about her experiences of trauma, body image and eating disorders, and even launched a size-inclusive clothing line.
"I never planned on being famous, so I've never had anything to lose"
THE BODY SHOP CREDITS: THE BODY SHOP CAMOMILE SUMPTUOUS CLEANSING BUTTER, £11, THE BODY SHOP HIMALAYAN CHARCOAL PURIFYING GLOW MASK, £18, THE BODY SHOP DROPS OF YOUTH™ CONCENTRATE, £36, THE BODY SHOP CBD RESTORING FACIAL OIL, £25, THE BODY SHOP TEA TREE OIL, £12, THE BODY SHOP VITAMIN E MOISTURE CREAM £20, THE BODY SHOP SHEA NOURISHING BODY BUTTER, £16, THE BODY SHOP ALMOND MILK BODY YOGURT, £9, THE BODY SHOP HEMP HAND PROTECTOR, £12.
FASHION CREDITS: SUIT BY LOUIS VUITTON, TOP BY ALIX, SHOES BY STUART WEITZMAN
'By the time 2018 came along, I was five or six years into really going at this in the media,' she points out. 'The difference was that I wasn't known anywhere outside of the UK. I was a fat activist in my twenties and then, suddenly, an actress – now a slim actress – going up against the most powerful family in the world. [The Kardashians] are the monarchy of America,' she notes. 'But I never planned on being famous, so I've never had anything to lose. It's important to me that this thing that has propped up my entire life – an eating disorder – is something I'm not complicit in. As we all learned last year, sometimes silence can be complicity.'
Having just turned 35, Jamil is in a good place (pun intended). She's full of energy on our LA-based shoot, dressed in Tommy Hilfiger (having stipulated no re-touching of the photos in advance) and applying her own makeup using a small compact mirror. Now a recognisable face in America, Jamil has enjoyed international success as an actor since 2016 playing Tahani Al-Jamil in Netflix's Golden Globe-nominated series The Good Place alongside Ted Danson and Kristen Bell.
Landing the role was the result of a life-changing decision to up sticks and move to LA following a breast cancer scare (she's OK, thankfully). She now lives with singer-songwriter boyfriend James Blake, their dog Barold and two guy friends. So, how did she celebrate bagging the role that turned her into a star overseas? She laughs. 'I never celebrated it. I still haven't. It was too surreal to me and too big an opportunity.' While there's good reason to celebrate now, there's sadness too, she explains. 'I feel the best and the strongest I've ever felt internally, but I feel the saddest at the world I've ever felt externally. It makes me feel very charged to keep things in perspective and fight harder now.'
It's difficult to imagine Jamil fighting any harder than she currently is. I Weigh, the community allyship platform she founded in 2018 with friend and COO Erin Finnegan, now boasts 1.3m followers on Instagram (Jamil's own account stands at 3.3m), plus its own podcast and YouTube channel, both hosted by Jamil. Built to 'share ideas and stories to mobilise activism', the platform was born after Jamil saw an Instagram post guesstimating how much the Kardashians weigh. 'Who gives a fuck what weight you are?' she asked, incensed. 'This is how women are taught to value themselves. In kg.' It prompted Jamil to encourage her followers to share their own 'weight' by way of achievements and successes instead – hers included, 'lovely relationship, great friends, I laugh every day, I love my job'.
"As we all learned last year, sometimes silence can be complicity"
The platform's success has influenced social media giants' global policies (Facebook and Instagram now tackle toxic diet and detox posts). It's seen Jamil speak at congress ('I didn't sleep for three days beforehand; it's an intimidating thing and the responsibility is immense as the closing speaker'), and campaign for two bills – one to limit the sale of diet pills; another to tackle altered imagery in advertising – to reach the senate (at the time of speaking, an outcome has yet to be announced). It's also entirely self-funded. 'I don't want to answer to anyone else,' Jamil says. 'We made a YouTube series with young activists and I was able to pay for that and not be told which activists I could have, or [question] if they had a big enough following. I am in control of everything.'
I Weigh is her proudest achievement – not that she's shouting about it. 'I watched Shonda Rhimes stand on stage when she said women don't brag enough and that was a really powerful moment. She went on to say she was the highest-paid showrunner in the world. And as a fairly young, black woman stating that about herself, she got a standing ovation. It's really true – we are told to never, ever congratulate ourselves. So I find [defining my proudest achievements] difficult but, yes, it's I Weigh – and the fact that we are, hopefully, participating in real, lasting change.' Has she found her purpose? 'Oh yes, this has been my purpose since I was 19. I just moonlight as a performer,' she adds.
THE BODY SHOP CREDITS: THE BODY SHOP CAMOMILE SUMPTUOUS CLEANSING BUTTER, £11, THE BODY SHOP HIMALAYAN CHARCOAL PURIFYING GLOW MASK, £18, THE BODY SHOP DROPS OF YOUTH™ CONCENTRATE, £36, THE BODY SHOP CBD RESTORING FACIAL OIL, £25, THE BODY SHOP TEA TREE OIL, £12, THE BODY SHOP VITAMIN E MOISTURE CREAM £20, THE BODY SHOP SHEA NOURISHING BODY BUTTER, £16, THE BODY SHOP ALMOND MILK BODY YOGURT, £9, THE BODY SHOP HEMP HAND PROTECTOR, £12.
FASHION CREDITS: TOP BY ALIX
Indeed, a full-time force for self-acceptance, Jamil is often officially billed as an actor/activist. 'If I had an app that told me how many minutes of the day I'd spent thinking about how I could improve my face or body, I think those would devastate me,' she says when asked why tackling self-esteem and eating disorders is so important to her. 'I've wasted my time, my life, my access to joy. My potential for more fun, for sex. I wasted all of that.' She credits her recovery to Eye Movement Desensitisation and Reprocessing (EMDR) therapy: 'I feel very much recovered, even if I can't stand in front of a mirror and be like, "Whoop!".' Now, she wants to help others do the same. 'I've just had so much more time, so much more energy,' she enthuses. 'I am a better friend, a better girlfriend. I am a more successful person. I'm able to be funnier on camera and I'm not consumed with other people's expectations.'
But juggling a meteoric rise to international fame – and the huge platform that comes with it – takes some getting used to. 'I think it's still taking time for me to understand my own position in the world; it's so surreal,' she says. 'I don't look around imagining millions of people looking at what I'm saying or doing. I think last year gave me a bit of time and space to actually get it into my skull. I became significantly more successful in a very short space of time between 2018 and 2020. It was so fast. No one outside of London knew me. And then suddenly I was on the news all around the world regularly. I was moving so fast, flying so much, speaking on so many panels, writing so much and acting 18 hours a day. I was in chaos. I was not able to update and think,"You have a much bigger platform, be more careful".' So, does she feel differently now? 'I've had time to process and I feel calmer about everything, and more sure of how to move forward. I'm not saying I'm never going to make a mistake again, because the world is updating constantly and we update with it. But I'm saying that I think we all learned a lot last year.'
"Our culture is so punishing towards women. We champion a man who speaks up, but we will absolutely destroy a woman for it"
THE BODY SHOP CREDITS: THE BODY SHOP CAMOMILE SUMPTUOUS CLEANSING BUTTER, £11, THE BODY SHOP HIMALAYAN CHARCOAL PURIFYING GLOW MASK, £18, THE BODY SHOP DROPS OF YOUTH™ CONCENTRATE, £36, THE BODY SHOP CBD RESTORING FACIAL OIL, £25, THE BODY SHOP TEA TREE OIL, £12, THE BODY SHOP VITAMIN E MOISTURE CREAM £20, THE BODY SHOP SHEA NOURISHING BODY BUTTER, £16, THE BODY SHOP ALMOND MILK BODY YOGURT, £9, THE BODY SHOP HEMP HAND PROTECTOR, £12.
FASHION CREDITS: BLAZER BY TOMMY HILFIGER, TOP BY ALIX
Jamil is quick to reference other women who've been pivotal in her journey, too, like #MeToo movement founder Tarana Burke. 'You can't deny there wouldn't have been a huge shift without Tirana Burke. My work wouldn't have been received the way it was. None of us could have done that without her.' But she understands that not everybody is able or willing to speak out. 'I get a lot of messages and private letters from very public women telling me that they are too afraid to speak up about issues because our culture is so punishing towards women. We champion a man who speaks up, but we will absolutely destroy a woman for it. And the only advice I can give – because there's no way around the scrutiny or misogyny – is to keep going. Have therapy and build your support system before you start to speak out. The more of us who do it, the more hyper-normalised and easier it will become.'
In a world where past tweets or comments are constantly dredged up, does she have any regrets about anything she's said? 'Oh my God. So many regrets. Yeah, especially my old misogynist bullshit, when I spoke recklessly and carelessly about women from a place of trauma. I was sexually assaulted at 22 and after that I developed really immature and ignorant opinions about women who were overtly sexual. I took that out on famous women because I was a young, traumatised person who had dehumanised these celebrities. I was projecting all of my emotional pain onto them, thinking they'd never read it and it would never harm them. I really thought I was "doing feminism". But I hadn't had any therapy.' She namechecks digital campaigner Seyi Akiwowo. 'She says activism should be trauma-informed, not trauma-led and my form of feminism back then was trauma-led. I was angry at the wrong target.'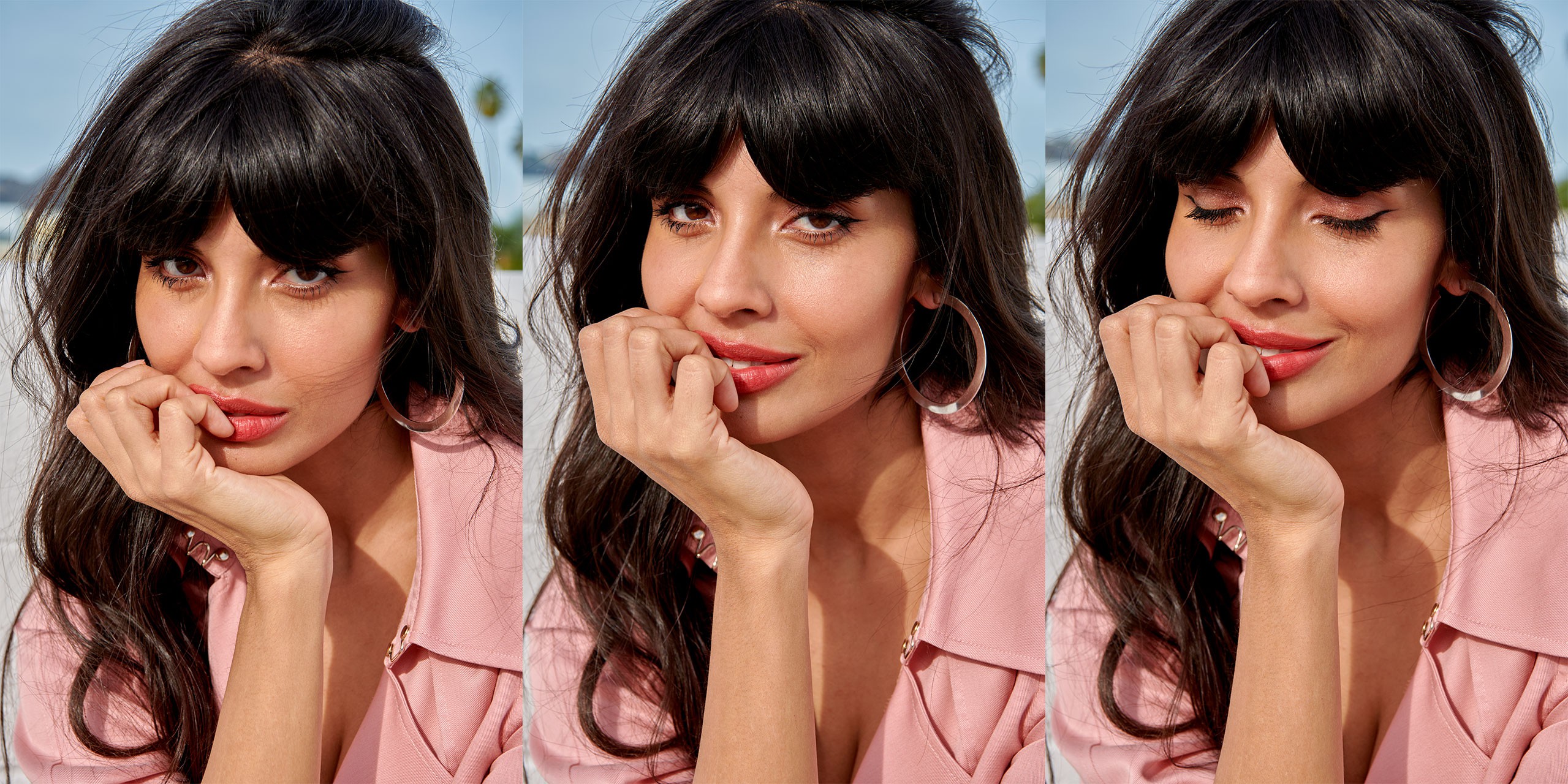 THE BODY SHOP CREDITS: THE BODY SHOP CAMOMILE SUMPTUOUS CLEANSING BUTTER, £11, THE BODY SHOP HIMALAYAN CHARCOAL PURIFYING GLOW MASK, £18, THE BODY SHOP DROPS OF YOUTH™ CONCENTRATE, £36, THE BODY SHOP CBD RESTORING FACIAL OIL, £25, THE BODY SHOP TEA TREE OIL, £12, THE BODY SHOP VITAMIN E MOISTURE CREAM £20, THE BODY SHOP SHEA NOURISHING BODY BUTTER, £16, THE BODY SHOP ALMOND MILK BODY YOGURT, £9, THE BODY SHOP HEMP HAND PROTECTOR, £12.
FASHION CREDITS: TRENCH BY TOMMY HILFIGER, BRA BY AGENT PROVOCATEUR, EARRINGS BY JENNIFER FISHER
Perhaps it's Jamil's willingness to own those mistakes so publicly – and her refusal to be shamed for them – that makes her such a powerful force to be reckoned with. After all, she laughs, she's proof there's life after being cancelled. Last February, for example, she received backlash for her involvement in HBO's LGBTQ voguing show, Legendary, from those who felt she was not representative of the black LGBTQ community (Jamil later explained she identified as queer and that her South Asian heritage had made coming out publicly challenging). 'I feel like I am the ghost of cancellations past come back to tell everyone there's life after death! It's freeing and liberating to officially know that people disapprove of you. Now I know how Mick Jagger felt,' she jokes. 'It's exhausting trying to be approved of and liked by everyone – all these different individuals with individual tastes and experiences all expected to like you at the same time and in the same way, for the same reason. I cannot be arsed. Last year set me free and now I can just get on with it.'
"I believe in growth, progress, and I want to be a champion for that. Rather than a champion for perfection"
THE BODY SHOP CREDITS: THE BODY SHOP CAMOMILE SUMPTUOUS CLEANSING BUTTER, £11, THE BODY SHOP HIMALAYAN CHARCOAL PURIFYING GLOW MASK, £18, THE BODY SHOP DROPS OF YOUTH™ CONCENTRATE, £36, THE BODY SHOP CBD RESTORING FACIAL OIL, £25, THE BODY SHOP TEA TREE OIL, £12, THE BODY SHOP VITAMIN E MOISTURE CREAM £20, THE BODY SHOP SHEA NOURISHING BODY BUTTER, £16, THE BODY SHOP ALMOND MILK BODY YOGURT, £9, THE BODY SHOP HEMP HAND PROTECTOR, £12
FASHION CREDITS: TOP BY ALIX
So, how would she like to be remembered? 'I hope to be someone young women look to as an example of someone who, against all odds, continues. Who is growing and learning. [I'm a] very unprofound, uneducated woman, so if I can improve right in front of your eyes, anyone can. I believe in growth, I believe in progress, and I want to be a champion for that. Rather than a champion for perfection.'
She's done so much already that I'm hesitant to ask what's next. 'I don't have plans,' she replies. 'Part of the magic of my career is there's no path – the only pattern is there is no pattern. I'm excited for the adventure of the unknown.'
CAST
TALENT: JAMEELA JAMIL USING THE BODY SHOP
DIRECTOR AND PHOTOGRAPHER: YU TSAI
EDITOR IN CHIEF: ANDREA THOMPSON
BEAUTY AND STYLE DIRECTOR: LISA OXENHAM
WORDS: SOPHIE GODDARD
CREATIVE DIRECTOR: LAW ROACH AT THE ONLY AGENCY
HAIRSTYLIST: ROBERT LOPEZ AT SOLO ARTISTS USING THE BODY SHOP
PRODUCER: TREVER SWEARINGEN
PRODUCER: SARAH BARNES
VIDEOGRAPHER AND POST FILM EDIT: GREG WONDER
DESIGN: ANA OSPINA AND OLIVER BOURNE
RETOUCHING: 88 PHASES
DIGI TECH: LUIS JAIME
PHOTO ASSISTANT: DANYA MORRISON
PHOTO ASSISTANT: MAX MAMUROV
STYLIST ASSISTANT: JUSTIN RAMIREZ
LOCATION: CACTUS CUBE STUDIO LOS ANGELES