6 designers on the swimwear trends that are set to rule this summer
From silhouettes to shades, here are all their top predictions.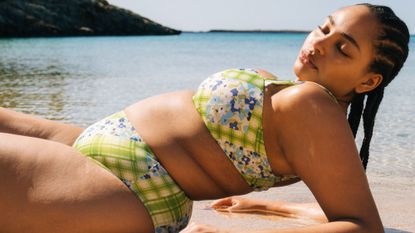 (Image credit: Tona )
With balmy temperatures here to stay and summer officially upon us as of this week, you might find yourself thinking about your warm-weather wardrobe. And whether you have day trips planned or a longer holiday on the agenda, it's true that no summer packing list is complete without swimwear.
From bikinis to one-pieces, finding a swimsuit that makes you feel like the best version of yourself can often be a key to a great holiday. That is why, this week, we've turned to the experts to understand exactly which swimwear trends to buy into this season.
We spoke to the talented designers behind Triangl, Fruity Booty, Renia Olga, Tona The Label, Boteh and Masarà, to get an insight into looks they predict will take over for Spring/Summer 2023, and of course, they did not disappoint. From bright shades to vintage-inspired prints and textured fabrics, this summer is all about having a little fun with your swimwear, while ensuring your feel comfortable and supported in the process.
If you're after something a little more timeless, two of our designers called out chocolate brown as a key shade for the season, while several spoke to the enduring nature of buying into classic silhouettes that will stand the test of time.
Of course, if you're looking for styles that can go beyond the beach, many of the designers below outlined pieces which can easily be paired alongside wide-leg trousers or skirts, for a post-swim aperitif.
Without further ado, keep scrolling as six designers offer their take on the biggest swimwear trends for 2023.
Triangl
"'Less is more is the Summer 2023 motto," Jaynee Wehbe, the Creative Director of TRIANGL tells Marie Claire UK. "For this season, we have gone with less fabric, expect to see cheekier bottoms as well as tops that show off under boob (the 'ESTE'). We also continue to hero textured fabrics (like terry towelling, lurex, velvet and ribs), ensuring you can transition your swim into styled outfits."
When it comes to prints, Wehbe explains, that 2023 is all about stripes. "Our number one print for the season is the stripe, you'll see this across different fabrications and bold colours as well as shorts, skirts, dresses and shirts."
Fruity Booty
Minna Bunting and Hattie Tennant, the founders of Fruity Booty, say this season is all about "modern interpretations on classics." The brand creates its products from repurposed and sustainable fabric, and for 2023 has utilised traditional materials found in vintage swim pieces. The brand has reimaged cotton seersucker fabrics and textured materials, using them to create modern shapes.
Aside from this, Bunting and Tennant say, tropical colourways also inspired by "vintage prints from the '60s - '70s era" are in, as well as "comfort silhouettes." The brand is also "focusing on higher rise briefs that elongate legs and wired bras that provide support."
Tona The Label
Tona The Label is a sustainable swimwear brand made with all women in mind. The brand specialises in creating supportive swim with sizes that range from a D to a G cup.
In terms of Summer 2023 trends, the label's founder Tona Stell, says "Brown has been gaining more and more popularity as the new neutral so I think we'll see that as a big swimwear trend this summer." She continued, adding that she also predicts vibrant shades will be on the agenda. "Bright colours are always popular in swimwear but I think we will see lots of clashing colours and pop prints on the beach."
When it comes to silhouettes, Stell explained, "I think people are moving away from itsy-bitsy triangle bikinis and looking for something with more substance." She continued, "I think a sculptural design with curved silhouettes will be a big win."
Renia Olga
"The cut-out trend is the hottest at the moment, and we fully embraced this in our latest collaboration with Valentina Ferragni Studio," said swim designer behind Renia Olga, Guia Cleps. "Having the support of a swimsuit but adding playful cut-out detailing makes it a really transitional item for your suitcase, taking you seamlessly from beach to bar."
Aside from this, Cleps says you'll be shining on the beach this summer. "The first drop of our Lurex Collection sold out in just 72 hours - there was a crazy demand from our customers shopping for glitter and statement beachwear this year. We have also just launched the 'Oldie' bikini set to fully embrace the metallic trend, giving you a retro golden glow."
And finally, if you're looking for a one-piece but still want to show a little skin, monokinis are trending, according to Cleps. "The monokini is one of our key search terms. It's a swimsuit, but in the usual Reina Olga style, always elevated! Our Augusta Scrunch defines this well and following demand we've continued to make this in a variety of block and two-tone colours."
Masarà
At Masarà, founder Francesca Fabris says her products are made to transcend trends. "I would say that when designing Masarà, I give more attention to timelessness rather than trends, as we're an eco-centric brand," she explains.
"We want customers to enjoy and keep their pieces for as long as possible; however, by coincidence, we are proposing styles that coincide with some very influential SS23 trends this year."
"The first is Barbiecore. It's great as there has been a wide variety of pinks on offer; we, however, have gone with a more "grown-up" version of the colour with our Cherry Blossom Pink styles this summer."
She continued, highlighting that the neutral tones within the collection make them easier to style. "I've also seen nuances of beige and earthy tones! We have the Cappuccino and, this season introduced the Chocolate shade. With these colours, I personally believe that the pieces are much easier to accessorise with."
"And last but not least, the bandeau strapless trend. This classic style is versatile and very day-to-night appropriate with wide long pants and skirts."
Boteh
"Print and palette wise it's all about pastels for this summer, yet with a bright undertone; marigold with lilacs, Aegean blues and '60s pink. Think shades that are reminiscent of colourful coastal towns across the Med," Amelia Mather, founder of Boteh tells Marie Claire UK.
"For silhouettes, I can't go past the classic triangle this season, tortoise trimmings and high-waisted bottoms are also eternally chic," she continues.
"Bodice styling and soft structure is something I'm loving in swimwear, for both one piece or bralettes," Mather adds. "A more structured bodice can be worn with wide-leg pants or a wrap skirt for a dressier look."
Celebrity news, beauty, fashion advice, and fascinating features, delivered straight to your inbox!