Gwyneth Paltrow Style Evoltion
Take a look back at Gwyneth's fashion hits and misses from over the years...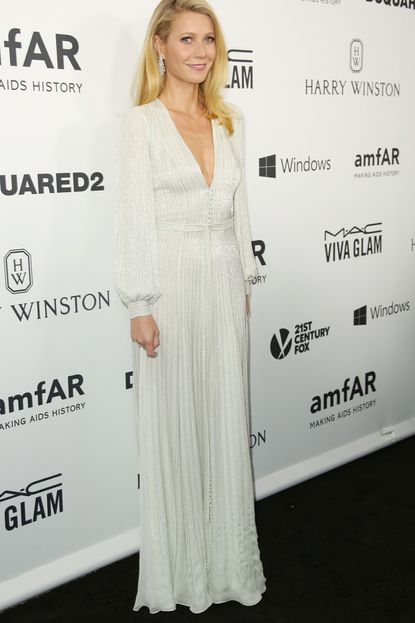 Take a look back at Gwyneth's fashion hits and misses from over the years...
Gwyneth Paltrow is an Oscar winning actress, lifestlye entrepreneur, Mum of two and part-time country singer (did you know all that?). She was born in 1972 in Los Angeles, California into a showbiz family - her mother was an award winning actress and her Father a producer so it's no wonder she headed down the same route.
She gained prominence as an actress in films like Se7en alongside Morgan Freeman and Great Expectations but really burst into the public consciousness in 1998 when she won an Oscar for her performance in the film Shakespeare In Love.
And although her Oscar winning speech was memorable, who could forget that bubblegum pink Ralph Lauren dress she wore on the night? Gwyneth's style choices over the years have been as memorable as her acting and she really has come far. The California native started out in slinky, silky numbers in the 90s, which were often pink or black but now favours a more paired-back, effortless style when on the red carpets.
Her hair and make-up has stayed the same for the past few years although if you look at our images you'll see that she's ditched her dark brown dye and glossy lips from the earlier days.
Gwyneth's marriage to Coldplay front man Chris Martin might have ended in 2014 but her career contines to go from strength to strength - her Goop lifestyle website nets her some extra income and has designers falling over themselves to dress her ever since she attained leading-lady status in Hollywood.
These days Gwyennie favours British labels like Victoria Beckham and Stella McCartney as well as old favourites like Lanvin, Valentino and Armani. And pretty much everything looks stunning on her. We're totally not jealous...
Here we have Gwyneth looking ethereal in this off-cream dress in the amfAR gala in LA on October 29th 2015. We love the billowing sleeves and button detail.
Click through to see just how much Gwyneth's sartorial choices have changed through the years...
Click through to see just how much Gwyneth's sartorial choices have changed through the years...
A smart tailored dress for the red carpet means Gwyneth looks gorgeous.

Wearing a sparkly Stella McCartney number, Gwyneth shines.

Gwyneth Paltrow Style Highs and Lows
Even yellow satin looks great on Gwynnie

Pulling off the everlasting nude trend, this dress showcases Gwyneth's amazing figure.

More sparkles and glamour. If it ain't broke...

Wearing this silver Calvin Klein dress to the 2011 Oscars, Gwyneth turned heads.

This white Emilio Pucci dress from 2010 revealed a lot of skin and of course, Gwyneth looks show-stopping.

Performing on stage. Did you know she can sing too?

This 2010 dip-dye number is a bit Britney-esque. Thoughts?

Keeping in simple in black.

An asymmetrical number flatters Gwenyth's long lean figure.

This stand out Prada number in hot pink was worn to the National Movie Awards in London in 2010. Thoughts?

In a great a-line dress for a television appearance.

Diane Von Furstenberg's dinner in 2010 saw Gwyneth Paltrow show off her amazing figure in a plunging black dress and strappy shoes. Chic yet statement. We love.

At the Louis Vuitton New Bond Street Maison Store Opening in May 2010.

Wearing her good friend Victoria Beckham's designs.

Making a bold statement at the Women in Hollywood Tribute Party in 2010.

Gwyneth showing she is good for a laugh whilst performing on television.

In a strapless black and white number for a red carpet event. We're also liking the hair-up look.

She looks stunning in this delicate nude, lace dress from 2010 by Antonio Berardi.

With legs like that who would hide 'em?

2008: It will be all white on the night with this Stella McCartney cocktail dress.

Gwynnie did love black and simple back in the day. But then again don't we all?

Wow what a showstopper. Can we raid her wardrobe?

A pretty shift dress to work the red carpet.

Rocking a dark purple skirt and smart black top, Gwynnie looks effortlessly chic.

Slashed necklines look GREAT on Gwynnie. (No surprise there).

Although Gwyneth's got some amazing A-list looks, she can also dress down.

This Armani tux jacket and shorts is stunning. Worn at a film premiere in 2010.

A short, silk, belted dress is carried off pretty well here, too.