Game of Thrones season 8: Everything we know so far
Upcoming storylines, spoilers and theories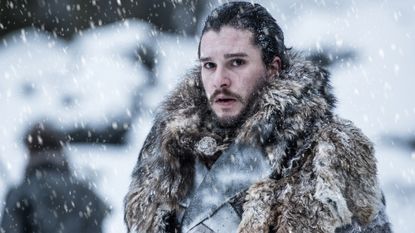 Upcoming storylines, spoilers and theories
Words by Jadie Troy-Pryde
If it feels like Game of Thrones season 7 came and went in a flash, that's because it did. All the key players are now in place to take on the war that matters, in the words of Jon Snow (or should we say Aegon Targaryen). But what can we expect when the show returns for its final stint? Here's everything you need to know about Game of Thrones season 8...
When is the Game of Thrones season 8 release date?
While HBO has not confirmed a release date for the final season, it is expected to hit our screens late in 2018 or - gasp - in 2019. The cast are yet to start filming Game of Thrones season 8, so it's more likely to be the latter. They will need to raid every IKEA for the costumes, after all. Of course, no one is too happy about having to wait two whole years to find out whether or not a worthy leader will get seated on the Iron Throne, but if we want things to be just as epic and full-on as the most recent season then we're going to have to suck it up.
How many episodes will there be in Game of Thrones season 8?
David Benioff and D. B. Weiss, the masterminds behind the show, have confirmed that the final season will have just six episodes. If you thought that season 7 was short, then prepare for this next one to feel even shorter. Plus, now we know Ed Sheeran's character didn't die he might show up again. But probably not.
Anyway, things will probably feel far less rushed because all the key players are in place and, to be honest, there aren't really that many more characters you can kill off at this point. Except Cersei - she needs to go, asap.
Will Game of Thrones season 8 be the last one?
It hurts to admit it, but yes. The last six episodes will wrap up the storylines we've watched unravel for the past six years. Sob. Still, there's a chance that Jon Snow might get a hat this time round.
Will Game of Thrones season 8 follow the books?
The most recent season was the first one to run completely singularly and separately from the books. The first six seasons used the books as source material, although many of the storylines or characters were omitted or altered slightly for the show. Author George R. R. Martin has reportedly had a hand in steering the ship, to ensure that it stays true to the books, and David Benioff and D. B. Weiss have previously said that they had a big chat with Martin to hash out the show's endgame. Eek.
What's going to happen in Game of Thrones season 8?
You're going to want to get settled for this, because we've got a lot of theories, spoilers and speculation about the dramas that will unfold in Game of Thrones season 8. It might be two years away, but we are so ready.
Gendry's fake name predicts how important he will be in the war
Robert Baratheon's bastard son might have spent a good few years rowing, but now he's back and fighting alongside Jon Snow. He survived the trip beyond the wall and ran at a speed that would impress Mo Farah. But we're hoping that Gendry didn't get caught up in that whole debacle at East Watch, and the fake name that Ser Davos gave him when he picked him up from the workshop holds a huge clue that he's not just live and kicking but that he'll play a pivitol role in the war to come.
There's proof that Bran is actually the Night King
From their matching outfits to their social awkwardness, there are many things that point to Bran secretly being the Night King. But how? Well apparently it all starts with a little warging that goes wrong. To be fair, they're both hugely powerful but also hugely void of personalities so we see it.
Is there another secret Targaryen we don't know about?
As far as theories go, this is one of the juiciest. By now we know that Jon is categorically of Targaryen decent, but not just that - he is the legitimate heir to the Iron Throne. However, are Daenerys and the dragon blooded northerner the only two Targaryens left in the whole of Westeros? Maybe not. Because there could be a third one that has been right under our noses since the very start of the show...
Brienne's happy to ditch a Tormund romance for a bit of Jaime loving
We know, we know - we're divided about this one too. On the one hand, we've been gunning for Tormund to get with Brienne since he announced he wanted to make 'monster babies' with her - but we also feel warm about a possible Briaime union. Will the female knight go for the rugged, pro-beastiality Wilding or an incestuous king slayer? Choices.
But it might not last considering this is what the future holds for Jaime Lannister
When Cersei threatened to squash Jaime like a bug, he did the smart thing and left her insane self in Kings Landing. Okay, it took him a long time to realise that his twin was completely unhinged, but he got there. However, if he is actually heading up north to help Jon and Dany with the war against the wights, will the Targaryens accept him into the fold? Don't count on it...
Is Ned Stark alive?
Six seasons after he died, fans are still praying that Ned Stark has somehow managed to come back from the dead and is sneaking around Westeros in disguise. Think it's too far-fetched a theory? Probably. But it's very convincing...
This is how Cersei will die
There were rumours that Cersei's downfall might be at the hands of her twin, Jaime, but considering he has just skipped town to avoid a slicing from The Mountain there's a very plausible second theory.
Daenerys will be betrayed by one of her closest allies
A prophecy from the books announces that Dany will be betrayed once for blood, once for gold and once for love. The first two have already happened - but the third is likely to come in season 8. Which of her closest aides will be behind the betrayal though?
Tyrion is hiding a huge secret
When we last saw him, Tyrion was glaring creepily at the door that stood between him and Jon and Dany's incestuous hook-up. But why? He's hiding something - but is it simply his love for Dany, or is he part of a huge betrayal? Hmm...
This is how Game of Thrones will end
Will the wights get any of our northern goodies? Will Dany and Jon ever find out they're related? But, more importantly, how is Cersei going to get booted off the Iron Throne?
Also, we hope Jon Snow's hot dad makes another appearance
We love a good throwback scene when Bran decides to actually use his massively helpful power to find out what went down in the past. More of these and more of Rhaegar, please.
We've potentially got two years of speculating until we get the final chunk of the story.
Until then, keep the spoilers and theories coming...
Celebrity news, beauty, fashion advice, and fascinating features, delivered straight to your inbox!
The leading destination for fashion, beauty, shopping and finger-on-the-pulse views on the latest issues. Marie Claire's travel content helps you delight in discovering new destinations around the globe, offering a unique – and sometimes unchartered – travel experience. From new hotel openings to the destinations tipped to take over our travel calendars, this iconic name has it covered.