Why new Channel 4 show This Is Us will make your heart sing
A new show created by Crazy Stupid Love writer Dan Fogelman is coming to Channel 4. Here's why it will suck you in from the first few minutes (and probably make you weep)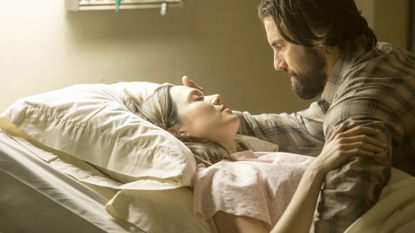 (Image credit: Channel 4)
A new show created by Crazy Stupid Love writer Dan Fogelman is coming to Channel 4. Here's why it will suck you in from the first few minutes (and probably make you weep)
This winter we've been spoiled with a glut of sophisticated television. We've had the brain-spinning mastery of Westworld, the rich historical fabric of The Crown, the edge-of-your-seat tension of The Missing. But what we haven't had is a really simple, sucker-punch-to-the-stomach story about love. Enter This Is Us, the new show created by the writer of Crazy Stupid Love, Dan ('It's like you're photoshopped!') Fogelman and directors John Requa and Glenn Ficarra.
After showing on NBC, This is Us has already proved a massive hit with American audiences, including the singer John Mayer who tweeted that he was 'crying and hooked' after watching episode 1. The trailer alone had more Facebook views than last year's Star Wars sequel (AKA one of the biggest movies of all time) and, cottoning onto a pretty hot ticket, Channel 4 announced they were picking it up in late September.
So what's it all about? There's a lovely twist in the first episode so we won't say too much. This Is Us opens with a cast of characters, a heavily pregnant Rebecca (played by Mandy Moore - yes, Mandy Moore's back!) and her husband Jack (Milo Ventimiglia), a commodities trader called Randall (Sterling K. Brown) who is attempting to track down the father who abandoned him, a famous actor called Kevin (Justin Hartley) who hates his day job in a successful but lowbrow sitcom called The Manny, and his twin sister Kate (Chrissy Metz) who is struggling to lose weight. As the first episode unspools, we gradually discover that all these seemingly disparate characters are connected.
As we crawl into the final month of 2016 (what a year), it would seem we're all crying out for the comfort of a good old fashioned love story. This Is Us delivers - and then some. If you haven't yet watched it we'll leave you to find out why.
Catch This Is Us every Tuesday night at 9pm on Channel 4
Celebrity news, beauty, fashion advice, and fascinating features, delivered straight to your inbox!