The best face massage tools that'll sculpt and de-puff
Face massage could be the difference between OK skin and the type of gleaming complexion that we all wish for...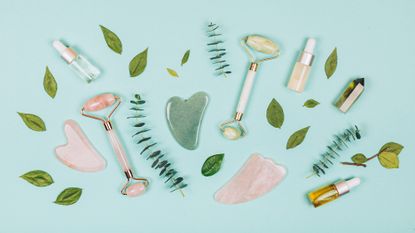 For me, the best part of any facial isn't the deep-dive pore purge or the high-tech gadgetry - it's the face massage. EVERY. SINGLE. TIME.
I'm clearly not alone. Such is our appetite for mimicking the physical and wellbeing benefits of a professional sculpting facial, the market for at-home skin-perfecting tools is now worth upwards of £463 million.
What exactly are the benefits of face massage?
'There are so many,' says A-list facialist Joanna Czech whose own Facial Massager is currently the best-selling tool on Net-A-Porter. 'It can speed up circulation and bring more oxygen to the tissue, resulting in brighter, healthier skin. By kick-starting your lymph system, a facial roller also helps drain away excess fluid and toxins. And finally, it can change the shape of your face; lifting the brows, the jawline and emphasizing long-lost cheekbones.'
Face massage also makes your skincare products work harder, adds LA-based aesthetician Nurse Jamie, whose clients include the Kardashian clan.
'You can have the best ingredients and consistently apply creams but a face massage will help increase product absorption and results,' she says.
Ice Globe facial massagers
You've probably seen these aesthetically pleasing globes on social, lovingly used by influencers to de-puff and de-stress in ASMR style videos. But these are so much more than just an Instagram-fad. These cryotherapy-inspired globes from Sundry Skincare are our pick to deal with puffy, dull skin using the cold temperature from the frozen globes to help reduce blood flow and encourage better circulation leading to a more glowy complexion.
Filled with anti-freeze liquid, Ice Globes stay cold for much longer than your average ice cube and don't drip, leading to a far more user-friendly and relaxing experience.
How to use Ice Globes
Put the two globe-rollers in your freezer for 30 minutes (I leave mine in overnight so they're ready for the morning) and then simply glide the globes across your face in a gentle rolling motion, applying a little pressure as you move around your eyes, forehead, cheeks, and neck for around 10-15 minutes.
Top tip: Sundry recommend using one globe at a time, to avoid potential cracking and then cleaning the globes after use with rubbing alcohol to keep them fresh and hygienic.
The best face massage tools on the market RN
From microcurrent to sonic technology, there's a gamut of different high-tech face massage gadgets to arm yourself with in the quest for firm, glowing skin. 'High-frequency sonic vibrations help to rejuvenate cells and encourage fluid drainage around your brow and jaw area,' says Nurse Jamie.
Meanwhile, those with microcurrent send gentle waves through the skin, stimulating the underlying tissues and facial muscles for both instant and cumulative results.
But a cursory glance at the flat lays on Instagram reveals a love-affair with one tool: the facial roller. In particular, the jade roller. Perhaps this is because, by happy coincidence, the upward and outward motion of a facial roller is almost meditative. So your breathing becomes slower and deeper and, much like a gym workout, the face massage it delivers releases feel-good endorphins.
If you like the sounds of this, we've rounded up the best face massage innovations, from the boundary breaking to the downright practical, that will elevate your skincare routine – plus precisely how to use them…
Joanna Czech Facial Massager, £178, Net-a-porter.com
Made of aluminium and cooling zinc alloy, the rolling heads stimulate skin and muscle, plus they boost circulation. How to use it: 'Apply your serum then, without removing the roller from the skin, use pushing and pulling motions in a cross-hatch pattern to drive the ingredients into the deeper layers of skin,' says Czech. 'To de-puff, gently push and roll from the centre of your face towards your ear then down from behind the ear to your shoulder. This helps to send excess fluid towards the centre of the body to be expelled.'
Nurse Jamie NuVibe RX Amethyst Massaging Beauty Roller, £75, Cult Beauty
Sonic vibration at 6,000 pulses per minute flows through an amethyst head to soften the appearance of fine lines. How to use it: Apply a small amount of face and eye cream. Gently press and glide the tool under the eye area, use an upward motion on the cheeks, moving from the middle to the outside of your face. Finish along the jawline, starting at the chin, moving upward toward the ear.
Herbivore Amethyst Roller, £38, Cult Beauty
Enter the new gemstone set to give the jade roller a run for its money. Here amethyst, a mood-balancing crystal thought to absorb negative energy, meets the depuffing and brightening effects of lymphatic drainage. A self-care essential. How to use it: Apply a few drops of facial oil to help the roller glide over the skin then roll upwards and outwards to help it drink up the nourishing goodness.
NuFace Fix Line Smoothing Device, £150, Lookfantastic
Much like pilates for your face, this pen-sized device uses microcurrent to firm, tighten and tone the skin around the eyes, lips and forehead in just three minutes. Side note: microcurrent has also been shown to stimulate ATP production, which drives the creation of collagen and elastin for firmer, springier skin. How to use it: Apply to the skin around the eyes, on the forehead and nasolabial folds morning and night.
Foreo Luna 3, £169, Lookfantastic
Think cleansing and toning 2.0. With a bigger brush head and longer touch points, it's easier to deep-clean tricky areas (think around the nose) and target acupressure points. How to use it: Work it over the face in circular movements. Then hit the app and choose from three guided massage programmes - eye, neck or all-over contouring.
MZ Skin Tone & Lift Germanium Contouring Facial Roller, £59
You may not have come across germanium before but prepare to hear a lot more about this dark-grey stone in the fight against pollution. It has a balancing effect on positive ions in the skin, which are responsible for ageing, and is able to neutralise particles of soot before they can do any real damage. Placed inside the rod, these stones are also designed to act as acupressure points, helping to shift blockages in the lymphatic system. How to use it: This one is simple. Gently roll the massager over the cheeks and forehead in an upward direction for 30-60 seconds. It's especially good just before disembarking a long-haul flight.
Teresa Tarmey Gold Massage Tool, £80
It's certainly the boujiest-looking facial massage tool you'll come across on Instagram. But it's as hardworking as it is pretty. The T-bar wand vibrates skincare products into cells and dissolves any tension in your facial muscles. How to use it: Move it slowly in upwards motions over just-cleansed skin.
Susanne Kaufmann Obsidian Face Roller, £230, Net-A-Porter
Originially used in Chinese medicine, obsidian - ancient molten lava - is packed with microscopic minerals making it perfect for reducing inflammation. Designed by Kaufmann's architect brother, this facial roller is so minimalist and chic, it's precisely what you imagine someone on Grand Designs would have on their bathroom shelf. How to use it: Start at the centre of the face and roll horizontally outwards. To treat the eye area, place the roller under the eye (next to the bridge of the nose) and roll toward the temple.
Disciple Firm Face Gua Sha Facial Massage Tool, £25, John Lewis
Again using obsidian, the heart shape of a Gua Sha tool means it hugs every facial contour (the V shape at its tip is particularly good at fitting against the angle of the jaw) to tone and smooth the skin, boost circulation and deflate puffiness. How to use it: Starting at your brow bone stroke upwards towards the hairline. Repeat this motion several times. Next sweep from the inner corner of the brow bone to the temple to smooth forehead. Starting at the side of the nose, glide along the cheekbone. Finally sweep down each side of the neck to encourage drainage of excess fluid.
Yu Ling Jade Facial Roller (Double), £26, Cult Beauty
Not only does the jade stone feel infinitely cool and soothing (perfect after a long day), but the rolling motion helps eliminate accumulated toxins and lifts facial muscles. How to use it: Gently roll the small roller clockwise, 3 times around the eye socket.With the larger end, roll in broad strokes upwards and outwards from the nose area.
Celebrity news, beauty, fashion advice, and fascinating features, delivered straight to your inbox!
The leading destination for fashion, beauty, shopping and finger-on-the-pulse views on the latest issues. Marie Claire's travel content helps you delight in discovering new destinations around the globe, offering a unique – and sometimes unchartered – travel experience. From new hotel openings to the destinations tipped to take over our travel calendars, this iconic name has it covered.