27 of the best party looks for every occassion
From your office Christmas party to your best friends birthday bash...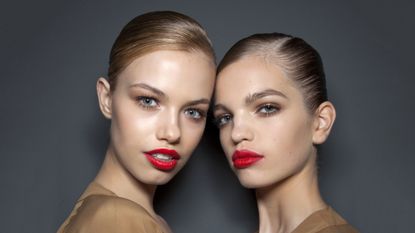 From your office Christmas party to your best friends birthday bash...
We all love make-up. And we certainly love a good party. So when the two come together, it's like an explosion of creativity that just has to be had. With that in mind, we've pulled together 27 of the best party looks for every occasion. From red carpet glamour, to off-duty models, there's a look that'll work for you.
If eyes are generally your focus, give your go-to a twist by using a different colour. A purple smokey eye looks amazing against green eyes, and a wash of orange over your whole lid will grab anyone's attention. Classics always work a treat too. So if you're after an old Hollywood look, team your favourite liquid eyeliner with the best red lipstick for your skin tone. And if you want to try something completely new, take your eyeshadow from your eyes to your temples. A sweep of pink on the side of your face will give you a kooky vibe with just enough softness to make it look modern.
If lips are your go-to thing, you're in luck, because when it comes to colours, there are no rules. Work a dark, romantic berry lip, keeping everything else bare. A touch of highlighter on your cheekbones and just below your brow will be enough. And if you need to give your face a boost of energy, try a bright orange lipstick or fuchsia lipgloss. You'll be surprised at how much a swipe of lippie can change your whole look.
Looking for the perfect red lipstick? Powder can help! Take this quiz to find the right red for you.
Whether you're in the market for a sultry look, searching for a sweet, demure style to meet the parents or want to amp up the drama with something punchy, we've got you covered. There's even the perfect hairstyle to match each one.
Scroll through to find the best party look for every occasion.
Alexa Chung
Wear it: To your mate's Christmas party. Red screams Christmas. Easy-going hair screams night out with the mates.
Barbara Palvin
Wear it: On a girl's night out. Loud and proud.
Cara Delvingne
Wear it: To a glamorous dinner. It's part 1920s glamour, part mod.
Diane Kruger
Wear it: On a date. Let the eyes take all the attention and leave your lips bare for a late night kiss.
Emma Roberts
Wear it: To your office Christmas party.
Gigi Hadid
Wear it: Whenever you need to make a serious entrance.
Hailee Steinfeld
Wear it: If you're feeling in the classic mood.
Jessica Alba
Wear it: For New Year's Eve.
Jessica Biel
Wear it: In Paris. Chic, non?
Karrueche Tran
Wear it: To meet the parents. It looks pretty for them, hot for your partner.
Kendall Jenner
Wear it: If you want a hairstyle that looks like you've spent hours in your stylist's chair, but actually only have 5 minutes to spare.
Keira Knightley
Wear it: To dinner with your partner's boss. Fresh faced and beautiful.
Kristen Stewart
Wear it: To a wild party. We absolutely love this watered-down version of Boy George's famous look.
Lily Aldridge
Wear it: When you want to make a statement.
Lily Collins
Wear it: When it's cold, dark, romantic make-up always works.
Megan Fox
Wear it: To a summer party. You'll look like you've just taken a dip in the pool of goddesses!
Naomi Campbell
Wear it: When you want your lips to do all the talking.
Janelle Monae
Wear it: To the hottest bar in town. You'll be the centre of attention when you look this good.
Rihanna
Wear it: If there's someone at the party, who's attention you're vying for. Wow. Just, wow.
Rita Ora
Wear it: When you're feeling a bit punk.
Stella Maxwell
Wear it: When you want to update a simple look.
Vanessa Hudgens
Wear it: If you're hittin' the club.
Zendaya
Wear it: While you're on holiday. Its' the best time to look like a bronze goddess.
Solange Knowles
Wear it: From office to dance floor. A bright lipstick can immediately change your whole look.
Rita Ora
Wear it: If you're looking for a way to update the classic smokey eye.
Jennifer Lopez
Wear it: To an evening soiree with friends where you expect to go dancing after dinner.
Sienna Miller
Wear it: When you need to look formal for part of the night and festive for the other.
Celebrity news, beauty, fashion advice, and fascinating features, delivered straight to your inbox!