Feeling lazy? These 22 chic (but easy) hairstyles are ideal for when you're short on time
We've got you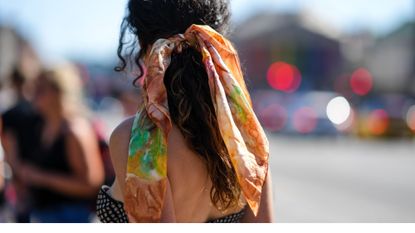 (Image credit: Getty Images/Edward Berthelot / Contributor)
Despite the endless images and videos on your TikTok and Instagram feeds showcasing all of the best hair trends, it's normal to find yourself stuck in a hair rut. You can have the best curling wand at your fingertips—but sometimes it's the low-maintenance hairstyles that come out on top.
Let's be clear, there's nothing wrong with doing the same hairstyle daily (we all love a quick, messy ponytail moment), we do understand that sometimes you want to jazz things up a little —it might even be your 2023 resolution to try more beauty looks. That's where we come in. With the help of a top stylist, we've compiled a bunch of easy hairstyles you can try out at home.
The wonderful news is that hairstylists don't expect you to be spending hours on your hair every morning if you don't want to. They understand that we're all just trying to get out the door looking somewhat presentable (and the same goes for hairstylists themselves!) as quick as possible. "It's all about confidence and technique," says hairstylist Lewis Pallett.
No matter your hair length or type, there's a style to suit. From "buns, twists, ponytails, half-up half, messy knots, and even using accessories," there are plenty of ways to achieve different looks without needing to be a hair expert or waking up an hour earlier to do them.
We've rounded up some of the very best easy hairstyles, taking inspiration from our favourite celebrities and folk on Instagram.
1. Bubble braid
Trust us, this one looks harder to master than it actually is. Although, we can't guarantee it's going to be as good as Rio Sreedharan's version on Kerry Washington. The trick is gently teasing your ponytail if you need extra volume, then using lots of hair brands (you can play around with this and go multi-coloured or embellished) to separate each section, being sure to pull out the hair in between the bands to create those bubble shapes, and finishing off with a spritz of hairspray.
2. Teeny tiny plaits
Short on time but want to add a little something to your laid-back style? Add some teeny tiny plaits throughout the front and you're done. Simple as that.
3. Relaxed claw clip
TikTok declares claw clips are back and we lazy hairstylers are thrilled. Simply get a patterned clip of your choice, twist and clip up.
4. Half-up half-down hairstyle
An oldie but a goldie is the half-up hairstyle. Perfect if your hair is a little on the greasy side but you want to keep it down and flowing without the hassle of hopping in the shower. Spritz some dry shampoo into your roots, pull the front section of hair out of your face (you can keep a few wispy tendrils down) and brush out your lengths to smooth them or define your curls with some refresh spray.
5. Bow-embellished ponytail
Perhaps the easiest way to jazz up a ponytail in literal seconds is by adding a bow. The more embellished the bow, the more your look will stand out.
6. Side parting
Not feeling any embellishments or accessories? Refresh your curls and put them into a side parting (or middle parting if you often wear a side) and you might be surprised how much it changes your overall look.
7. Colourful hair grips
Pallett says one of the easiest ways to switch up your regular style is by adding colourful hair grips. He recommends popping them in, not overthinking it and rocking the vibrancy.
8. Wet-look style
If you've got short hair, consider using a firm-hold gel to create a beautiful wet-look style like Ella Balinska's here.
9. Loose scrunchie ponytail
Always wear your hair in a tight ponytail? Maybe switching things up for you is as simple as loosening it up and popping a black scrunchie in it. The result is simple and beautiful.
10. Jewelled hairband
If you often wear your hair down but are a little bored of its simplicity, add in a hairband. There are so many to choose from, including velvet, plain black, pearl-studded, or wonderfully jewel-embellished like this one.
11. The awkward pony
Although hairstylist Zoë Irwin calls this her awkward ponytail, there's nothing awkward about it if you ask us. The idea is that you randomly wrap a big coloured hair band (try and choose one the opposite shade to your hair colour) around your ponytail. The result? An accessory that looks like it's been intricately wrapped around your regular pony.
12. Messy bun
Sometimes the messiest hairstyles are the chicest. Case in point? Ella Balinska's messy bun here. Keep tendrils out for a relaxed feel that still looks ultra-stylish.
13. Top knot
Never underestimate how incredible a top knot can look, especially with a wispy full fringe.
14. '90s hair clips
We're in full nostalgic mode in 2023 and that means bring those butterfly and snap clips out of hiding. Halley Brisker showed us exactly how to elevate the '90s classic for a modern finish.
15. Double low bun
If you often find yourself throwing your hair into a low bun, try separating them into two — it'll transform the style with very little extra effort.
16. Sleek claw clip
The claw clip isn't just reserved for messy styles—you can wear it with a sleek, middle-parted bun look too, as styled here.
17. High pony and clips
We honestly didn't know these clips could look so stylish, but leave it to Simone Ashley to convince us to try a high pony and blue accessories.
18. Rhinestone low pony
Our laziest piece of advice? When in doubt, add rhinestones! Be sure to shop for rhinestone clips and grips, rather than going for the less environmentally friendly disposable alternatives.
19. Braids with beads
Look, no one is saying braids are quick, easy or low-maintenance. But what is easy is a quick switch up by either adding, or switching up beads in your braids.
20. Braided pony
If you're getting a little bored of your braids, locs, or twists, try putting your hair up into a side ponytail to transform your look.
21. Bubble braids
Okay, this definitely isn't something to quickly do before leaving the house in a rush, but if you're looking for a style that is a little more intricate without being overcomplicated, this is it. Style two or more bubble braids, including your tendrils.
22. Pearl hair chain
Elevate any plaited ponytail by running a dainty pearl chain through it.
Celebrity news, beauty, fashion advice, and fascinating features, delivered straight to your inbox!
Tori is a freelance beauty journalist and contributor for Marie Claire. She has written for various titles, including Allure, Glamour, Elle, Refinery29, Brides, and more. Currently training to be a nail tech, Tori is a total nail enthusiast and always has time to talk all things nail art. When she's not writing about beauty and testing products, Tori can be found walking her rescue dog Pip, drinking great coffee, and eating as many croissants as humanly possible.