Curly hairstyles: Go big with a bounce, ladies, curls are back
Curly hairstyles - whether it's big bouncy volume you're after or just a little shape - you'll find inspiration with these amazing celebrity-approved looks.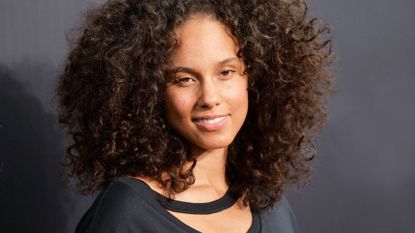 (Image credit: Rex)
Whether it's big bouncy volume you're after or just a little shape - you'll find inspiration with these amazing celebrity-approved looks.
Curly hairstyles are having a revival. This red carpet classic is making its way back into our hearts, one big volume celebrity 'do at a time. Ringlet-curled locks with a high-shine luxe finish are the epitomy of old school glamour, and this season we're favouring the bolder, bouncier retro looks, straight out of Hollywood.
There's a big difference in the type of styles that suit longer hair, and curly hairstyles for short hair. If you have long hair, you may want to try a glamorous barrel-curled 'do, like Beyonce's. Whereas, if you have short hair, it'll look better blown out, like Solange's style. There's also the tightness of curls to consider. Loose curls will give a screen siren look, while tight curls give more of an edge.
For this season, fashion-followers will love the popular medium crop - where roughed up curls like those seen in Taylor Swift's hair give that relaxed, undone appearance. A low maintenance style like this can last for days with a natural bedhead look. And of course, there's always sweet corkscrews. These ringlets seem to never go out of fashion. They simply change shape or embrace some hair colour ideas.
A whole host of curling tools will give you the desired effect, so make sure you pay attention to what each one does. You don't want to be aiming for barrel curls and end up with ringlets. For softer look, use a large barrelled tong, like Cloud Nine's The Waving Wand, £99, fabled.com. For tighter curls, use GHD Curve's Creative Curve Wand, £120, fabled.com. And for the tightest curls, use something super slim, like Lee Stafford's Chopstick Wand, £19.99, Superdrug.
Once you've got your curls kicking off, it's time to invest in the best curly hair products. After all, you don't want to go to all the effort of creating the perfect spirals, only to have them drop out.
We've called upon some of the biggest names in Hollywood to showcase their flawless big-volume hairstyles and show you what suits your style best.
Alicia Keys
Full of bounce and body, Alicia Keys rocks her curls to Keep a Child Alive's 13th Annual Black Ball in New York.
Riley Keough
Riley Keough wears her hairstyle in an iconic curly 'do, creating lustrous large curls from eyebrow height down her long rouge lengths.

Amanda Seyfried
Amanda Seyfried can wear her hair any way and we're sure to love it. With a long hairstyle like this one, low curls are an ideal style for the high glamour.

Solange
It seems like fierce curly hairstyles run in the family for the Knowles girls, as Solange debuted this fabulous natural style at the CFDAs in June. She makes big hair look so, so good.
Naomi Campbell
Naomi Campbell teamed her aztec-inpired awards ensemble with a natural curled hairstyle. This is how you work a fringe into your long curly hair.

Rachel McAdams
Rachel McAdams lays claim to some of the most versatile locks in Hollywood. With this short curly hairstyle, she creates a retro look by rolling the curls away from her face.

Zooey Deschanel
The ultimate girl nextdoor, Zooey Deschanel, wears a naturally curly hairstyle to the Golden Globes after party, proving that girlie curls can be oh-so sexy.

Beyonce
Beyonce has been rocking some seriously 'au natural' curls and most notably at the basketball with her beau Jay Z recently. She parted on one side for a real va-va-voom hair look.

Jennifer Lopez
Jennifer Lopez shows off her Latino roots with a Spanish-inspired curly hairstyle. The greatest volume is created at the top and becomes more relaxed towards the tips.

Kerry Washington
Kerry Washington's curly crop channels a classic red carpet look. She pairs a deep red lip with a Whitney Housten-esque curl that's longer and looser at the front.

Taylor Swift
Taylor Swift was once known for her naturally curly hairstyles - big, bold ringlets and fairytale waves. She returns to a former favourite with this cropped 'do, featuring some typically-Taylor retro shapes.

Kate Bosworth
Kate Bosworth channels 1920s glamour with this tight ringlet hairstyle. She sweeps it strongly over from one side and keeps the tightest of curls collected around the nape.

Rosie Huntington-Whiteley
Before her long lustrous waves, Rosie Huntington-Whiteley experimented with tighter curls with a beachy vibe. This style is suited to a more dirty blonde colour than her most recent platinum hue.

Rihanna
Rihanna returns to her most natural look of late with a gorgeous long curly hairstyle in a deepest noir shade.

Sarah Hyland
Sarah Hyland tries a curly updo hairstyle with her natural ringlets, giving it a relaxed vibe by teasing at perfectly-curled strands from the front.
Drew Barrymore
Drew Barrymore isn't one for a dead straight hair 'do. With this look, she keeps her curls messy yet controlled to give it a natural look with a touch of red carpet glamour.

Georgia May Jagger
Nailing the big volume curly hairstyle, Georgia May Jagger tries a seriously frizzy look with bigger volume at the tips as her colour is strengthened into a deep brown from a dirty blonde.

Rachel McAdams
We've loved Rachel McAdam's naturally curly hair ever since Ryan Gosling kissed her in the rain and she reemerged with a perfect halo of curls for The Notebook. She wears her usual medium length hairstyle with just the perfect amount of tight curls.

Katy Perry
Katy Perry has a achieved a big hair look by using her length to her advantage. Her thick tresses are teased at the tips to create a voluminous look.

Rihanna
Rihanna's lion's mane of a curly hairstyle is just as fiery as her flame-red dress. Her tight ringlets give her hair great shape and stay perfectly in place to frame her face.

Rita Ora
Rita Ora perfected the retro curl at the Grammys this year, rolling her short platinum hairstyle into large barrel curls, with volume at the ears and nape.

Leona Lewis
Leona Lewis maintains her natural curl at the tips, while relaxing the wave at the tips to create body around her shoulders rather than a halo shape.

Natalie Portman
Emulating a typically girl next door look, Natalie Portman's easygoing curly tresses fall elegantly around her face to sweeten her sweater-clad appearance.

Reese Witherspoon
Reese Witherspoon goes for old school glamour with a large retro barrel curl. She wears the style draped over one shoulder and curled in towards the face to decorate her bare neckline.

Jessica Chastain
With her vibrant red locks and striking rouge lip, Jessica Chastain is a vision in a ringlet-curled hairstyle. She sweeps her fringe away from her face, only create definition in the sectioned curls.

Jessica Alba
Jessica's glossy beachy locks always look great, but we rarely see them this curled. We like this new voluminous look.

Thandi Newton
Thandi Newton masters a sophisticated curly updo hairstyle, pinning all of her thick curls into a feature at the front-right-side of her face.

Imogen Poots
Imogen Poots embraces her natural curls, even down to her cute fringe. She's got the face to pull off this look, and as with all curly-haired curls, she knows how to control her frizz.

Vanessa Hudgens
Vanessa's voluminous curls pack a punch on the red carpet, especially with the ombre tips. To achieve this style, only curl the bottom half of your hair and leave the roots natural.

Jemima Kirke
Jemima Kirke is blessed with lustrous long locks. She curls it evenly down the lengths with the biggest volume at the tips.

Vanessa Hudgens
Vanessa Hudgens, an advocator of the messy, curly hairstyle, has weaved her long locks into a deceptive side plait. Keeping some strands loose to fall around her face, Vanessa opts for ethereal goddess with a traditional, natural-looking curly hairstyle.

Leona Lewis
Leona's natural curls are something of a marvel. Her style kicks into curl around her ears, which is an easy curly hairstyle to recreate. Simply twist small strands around a thin barrel curling wand starting from an underneath layer and working your way to the top.

Eva Longoria
Pulling the centre of her hair away from her face stops Eva Longoria's curly hairstyle from overpowering her face and tiny frame. She's created a little volume on top with a quiff to even out the thick curls down by her ears.

Charlize Theron
Wearing a short curly hairstyle, Charlize has nailed the wispy waves with more shape at the tips and some fly away curls nearer the roots.

Kerry Washington
Kerry's curled shoulder-length locks perfectly frame her pretty face and the subtle side-parting is flattering on her forehead. To get this look, use relatively narrow-barrel tongs and twist throughout your hair up to a few inches from the roots.

Beyonce
Beyonce's known for big hair but this is a parred down version of her big voluminous curly hairstyles. The star has used a light mouse to create a more straight curly hairstyle where there's only small kinks all the way down each strand.

Solange Knowles
Enter Solange. The little sister to music superbrand Beyonce, Solange has stepped out of the shadows with her amazing first album and totally wow-mazing hair. She's got natural curls to die for in her incredible sight-part afro curly hairstyle. That's one way to steal the limelight from a superstar sis.

Megan Fox
Sheer perfection. Megan Fox has got the longest most gorgeous thick curly hair. She keeps is sleek at the roots with big volume at the tips.

Katie Melua